Taking Care of All NYC Parks, Not Just a Few
Newly-appointed parks commissioner given mandate for more equitable park maintenance
April 17, 2014 2:45 pm Last Updated: April 17, 2014 4:56 pm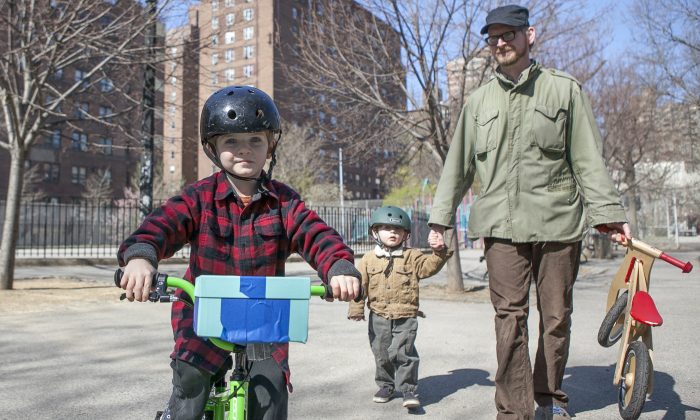 NEW YORK–Brian Crowley can see the neglected Luther Gulick Park from his Lower East Side apartment window. The park ties together two halves of the neighborhood. Affluent co-operative apartments are on one side, and on the other, public housing.
Many elderly residents who live in the neighborhood sit and gather in the park. A handful of pre-kindergartens operate nearby and the four-year-olds play in the park several times a week. "It's a great bridge of different sections of the community," Crowley said.
Even with this significant use, the park is a fenced-in section of asphalt, with bright spots and sore spots. Trees and a well-used playgrounds invite visitors, while chairs and tables had been removed and never replaced.
In New York City, some parks thrive while others wither. There are parks with well over 50 full time staff members and others with none. Nearly three quarters of the city's maintenance staff positions are internships, and there are still not nearly enough to cover the city's 2,000-plus parks. The new City Council and administration are vowing to make changes.
In 2009, Dave Bolotsky, a fourth-generation Lower East Sider who lives nearby, was finally fed up with the park's state of neglect. He wrote the mayor and received a response from the parks commissioner. Thus began the neighborhood's journey to organize and raise the money needed to make capital improvements to the park. The Friends of Gulick Park made this their goal.
This spring, State Assembly Speaker Sheldon Silver allocated $1 million to cover the $700,000 gap left in the group's plan. If all goes well, renovation will begin next fall.
Some parks are improved multiple times within a few years and some haven't had any capital improvements since they were built, says Geoffrey Croft, president of the government watchdog group NYC Parks Advocates.
Equitable Park Maintenance
Mayor Bill de Blasio has, in appointing planning expert Mitchell Silver as the new Parks Commissioner, has made another push for equitable parks.
"Every green space in this city deserves constant care and innovation," Silver said at the mayor's press conference announcing his appointment. "I'm honored to lead the department as we pursue the Mayor's vision for equal and expanded quality access to park land in every neighborhood."
Parks, by nearly every New Yorker's account, are critical to life in the city. City residents like green space. The 29,000 acres the city owns accounts for 14 percent of New York's real estate. Countless studies done over the years tout the benefits for physical and mental health, the environment, and community.
Money Matters
Meager funding forces some parks to be neglected. City Council member Mark Levine, chair of the parks committee, wants to double the department's bare-bones operational budget.
The $385 million in the preliminary budget is a slight increase from previous years, but actually lower when adjusted for inflation, Levine explains. The maintenance burden increases when the hundreds in acreage added to the parks system in recent years is added to the mix.
"Ideally, it'd be one percent," Levine said. His office is putting together a line-by-line proposal for the budget increase so as to add more full time safety officers, tree pruners, and other staff. "The headcount is nowhere near what I want."
Besides inadequate funding for operations, the department has been criticized for not keeping track of line item spending. Capital funding in the billions tripled the city's park space during the Bloomberg era, but some question whether this was done at a reasonable pace.
The solution isn't just to increase operational funding, it is to increase it by the proper amount. "Come up with an honest assessment of needs," Croft says.
Maintenance on a park-to-park basis varies when the city holds back funding. This leads to a lack of official city supervision which has spurred communities in every borough to fight for their parks.
Park Partners
Gulick Park is just one of the 750 parks the City Parks Foundation (CPF) works with. Seeing that every park has a chance is something CPF has been working towards all along, said executive director Alison Tocci. CPF, which led the campaign to revitalize Madison Square Park in the 1990s, has just 50 staff, and in 2012 raised a budget of $10 million.
"There is much, much more demand than we can supply," Tocci said. Both the parks department and her own organization are stretched to the limit. Its offices are tucked inside the Parks Department's building, and CPF is so involved with programming in parks across the city it's often mistaken for a City entity.
The city has many other partners like CPF. The Open Space Alliance for North Brooklyn (OSA), for example, functions like a conservancy for more than a single park.
"OSA works to leverage funding derived from more affluent parts of North Brooklyn to help improve parks throughout the entire community," executive director Ed Janoff explains. Though this means their resources are spread more thinly, OSA is able to make an area-wide impact across 100 green spaces.
The New York Restoration Project (NYRP) manages two upper Manhattan parks as if they were the Parks Department, says executive director Deborah Marton. The group was founded by actress Bette Midler, who was so upset with the state of city parks she resolved to restore them, even if she had to pick up the litter herself. It has since expanded to maintaining 52 community gardens across the city and, like CPF, focuses on areas of high need.
Tocci says oftentimes the biggest thing they can do is to help the community organize into a Friends group, and act as a resource so the community can navigate the city departments.
The Volunteer Debate
Park maintenance has shifted toward relying on volunteers to sustain the city's parks. Marton says that not everyone realizes it's a neighborhood responsibility yet. Some say volunteering brings benefits like fostering community, while others say it cannot be the solution. "Volunteers are wonderful and they add a huge amount, but that's not a substitute for a professional workforce," Levine said.
It's created a problem of letting the government off the hook, Croft says. His office gets constant calls from neighbors who have taken it upon themselves to fix up their parks, thinking it would encourage the city to lend a hand. What they've found is that it hasn't. "We're not asking for volunteer firefighters and sanitation workers," Croft said. "There is a limit."
Gulick Park's renovation was funded on public dollars allotted by representatives at city and state levels. The design was handled by the Parks department as well. Crowley says Friends of Gulick Park has hopes that once the park is improved, the city will take greater care in maintaining it as well with the surplus in their capital dollars.