Tainted Meat Found in Pork Produced by China's Largest Packer
March 18, 2011 6:31 pm Last Updated: October 1, 2015 5:19 pm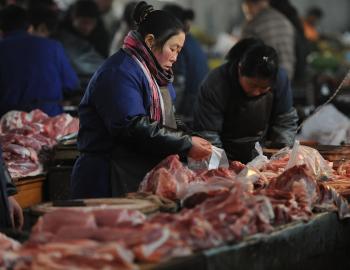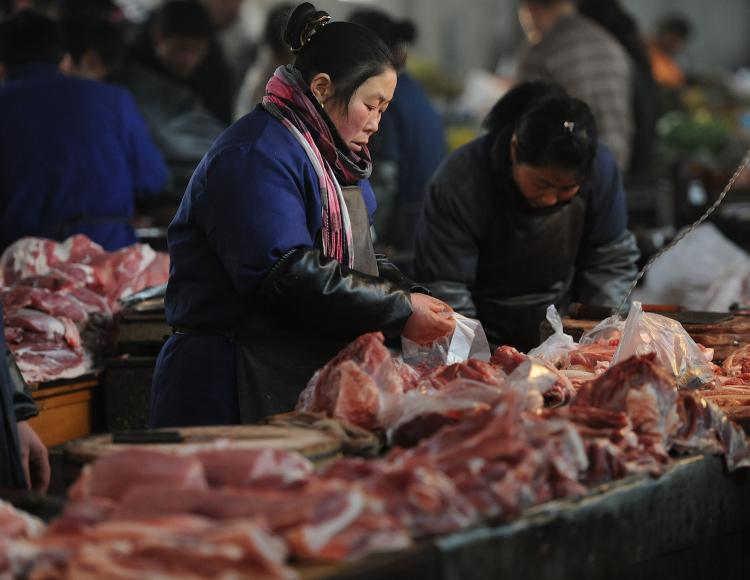 Meat products tainted with toxic lean meat powders have been found again in east China's Nanjing city, generating fear and worries among consumers.
Henan Shuanghui Group is China's largest meat processor. Ranked 160th among the top 500 companies in China, Shuanghui Group processes 30 million pigs each year. It's a popular brand with a market capitalization of 300 billion yuan, or around $45 billion dollars.
But a March 15 report by Fazhi Evening News said that a banned beta agonist animal drug was found in the sausages produced by Shuanghui. The sausage was made from so-called "lean meat" pigs.
The next day, Peninsula Metropolitan News said that its reporter investigated several pig farms in Mengzhou city, Henan Province and found "lean" pigs in every farm. In order to raise "lean" pigs, a white powdery substance is added to the feed. Pigs on such a "drugged" diet have leaner bodies and are sold at a higher price.
In the nearby Qinyang city and Wen County, the reporter went to a dozen pig farms and found "drugged" feed in every farm. Some farmers admit that they themselves never eat the meat from pigs on "drugged" feed.
The so-called "drug" is "lean meat powder," beta agonist ractopamine, a repartitioning agent that increases protein synthesis; 120 g of lean meat powder is added to every 500 kg of feed.
The problem for consumers is that the animals ingest the drug starting only 28 days before slaughter, while most conventional antibiotics and growth hormones are withdrawn from the diet at that time.
An Epoch Times reporter claiming to be a new pig farmer asked a pig farm in Zhumadian, Henan Province some questions. The farm director, Yang Li (pseudonym), said that pig farmers do not need to worry about markets for their pigs, since, as long as the pigs are raised to market weight, many meat processors would come to buy the pigs.
She also said that the profit selling a normal pig is several hundred yuan, and the "lean" pig can bring more profit and so is very attractive to pig farms.
In China, there is a four-step inspection process to turn pigs in the farm to pork on the market. The four steps are: farm inspection, transport inspection, slaughter inspection and sale inspection.
After a 3-month investigation, the Peninsula Metropolitan News reporter found out that by spending 2 yuan per pig, one can purchase three inspection reports. Another 100 yuan for the border inspectors in Henan Province will bring the pigs all the way to some slaughter houses in Nanjing. Then, for 10 yuan per pig, an "animal inspection certificate" can be purchased, all without any inspection for banned drugs such as "lean meat powder." With this certificate, the "lean" pigs can legitimately enter the Nanjing market.
According to statistics from the Sichuan Pork Trade Chamber of Commerce, from 1998 to 2010 there have been 20 "lean meat powder" poison incidents, affecting 1700 people with 1 reported death.
Shenzhen News reported that, in September 2010, 13 people were poisoned by lean meat powder found in snake meat in Shenzhen.
A Xinhua report in 2010 said over 70 Guangzhou residents became sick after eating pork tainted with "lean meat powder."
In September 2006, 336 people from 9 districts in Shanghai were poisoned by pork tainted with lean meat powder that came from Haiyan county, Zhejiang province.
In March 2006, a family of six from Huangjiang County, Dongwan, Guangdong Province, was poisoned by lean meat powder after eating pig lung soup. Five recovered shortly afterwards, but one died about 2 weeks later.
The drug is banned in Europe, Taiwan, and China; it has been implicated in a number of "downer" (non-ambulatory) pigs and in causing serious hoof problems. But long term health concerns are not clear. Ractopamine has been approved in more than 20 countries, including Australia, Brazil, Canada, Mexico, and Thailand.

Read the original Chinese article.
Correction: The original article failed to note that ractopamine is legal in over 20 countries, and that the drug's long term impact on health is unclear.