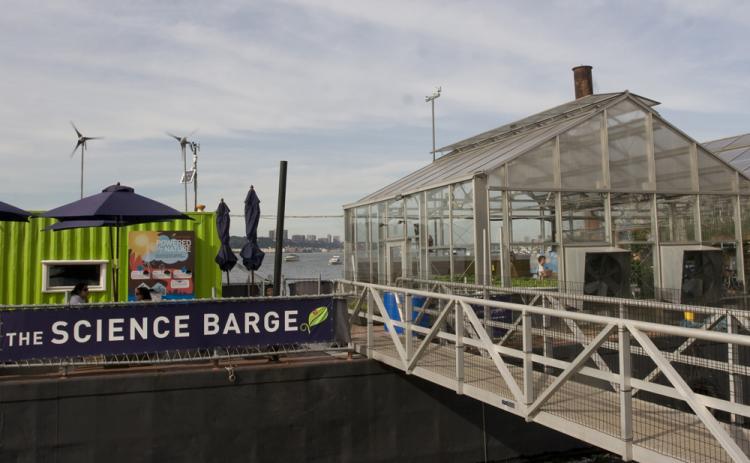 NEW YORK—Science Barge, a greenhouse farm model at Riverside Park of Manhattan, grows a wide variety of vegetables using renewable resources of solar, wind, and biodiesel. The model farm is designed with urban rooftops in mind, providing a solution to two urban challenges: long distance product transport and ever increasing emissions.
The farm is a project of BrightFarm System, which features food production with zero net carbon emissions, no chemical pesticides, and no runoff. For nourishing the vegetation, rainwater is collected in gutters around the outside of the glass building and channeled into a large tank for usage and storage.
"The main incentive from a consumer's perspective is that they can have vegetables that are fresher, more nutritious, and not necessarily shipped from thousands of miles away," said Benjamin Linsley, Public Affairs Director.
Hydroponics are used to grow the vegetables. No soil is required. Nutrients are passed onto plants in irrigation water that is reused, and therefore leaves no waste. This method of hydroponics is used in some parts of world today, and was also practiced during the period of the Hanging Gardens of Babylon.
The greenhouse is powered by three sources; wind turbines, a bio-diesel generator, and at night the building is powered by a battery that is charged in the day by solar panels. The battery will hold a charge of two nights power supply.
"It [the hydroponic farm] actually makes a building more energy efficient," said Linsley. "If you put some vegetables on the roof, what it does is that it shades the top of the building during the summer, so the building does not overheat. It also insulates the building during the winter, and this saves energy."
The project first started as a science project a year and a half a ago. Many engineering and architecture firms have already shown interest last year for the consultancy to design urban farms for their buildings. Produce such as tomatoes, lettuces, melons, and cucumbers can be grown year round on top of the rooftops in open spaces.
"There is very little local production of perishable vegetables," said Linsley. "There are certainly none in New York City. There are some in New York State, but even that can be several hours away."
According to Linsley, the cost of running the farm is quite self-sufficient. The real investment is actually in building the system, which takes about $200,000-700,000 depending on the roof.
The Science Barge is now open to public for tours at Pier I of Riverside Park South. There are free tours six days of the week for people to learn about the new technology.
"I think it's a great plan," said Ben Horner, a science teacher who was visiting the model farm. "I think it is definitely a good idea on the use of roof space; getting much better utilized, especially with the water runoff. The energy source right now is so critical because of the cost of fuel. So definitely it [the hydroponic farm] is part of sustainable means of growing food."
For more information on the Science Barge, please visit http://nysunworks.org