U.S. Supreme Court Justice Stephen Breyer has announced when he'll officially retire from the nation's highest court.
In a letter to President Joe Biden, Breyer confirmed that his retirement will come into effect on June 30 at 12 p.m. ET.
"The Court has announced that tomorrow, beginning at 10 a.m., it will hand down all remaining opinions ready during this Term," he wrote in the letter. "Accordingly, my retirement from active service under the provisions of 28 U.S.C. [Section] 371(b) will be effective on Thursday, June 30, 2022, at noon. It has been my great honor to participate as a judge in the effort to maintain our Constitution and the Rule of Law."
Breyer, who was nominated by President Bill Clinton in 1994, wrote that Judge Ketanji Brown Jackson is prepared to "take the prescribed oaths" to start her service on the Supreme Court.
Breyer's retirement also fulfills a demand from some Democrats who wanted the 83-year-old to leave the Supreme Court to allow Biden to make his first appointment to the high court. Democrats currently have a razor-thin, 50–50 majority in the Senate, as Vice President Kamala Harris, a Democrat, will cast the deciding vote in a deadlocked Senate vote.
His Replacement
When Jackson—a judge who served on the U.S. Court of Appeals—was nominated in April, the Senate Judiciary Committee deadlocked an 11–11 vote before she was advanced in a 53–47 procedural vote. She was confirmed by the full Senate by the same margin several days later, with only three Republicans joining Democrats in her confirmation.
Sens. Susan Collins (R-Maine), Lisa Murkowski (R-Alaska), and Mitt Romney (R-Utah) were the three Republican senators to join the Democrats.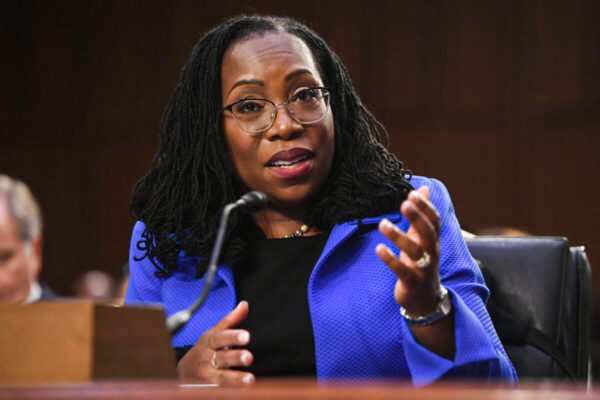 Jackson served as a clerk for Breyer between 1999 and 2000 and called it "extremely humbling to be considered" for Breyer's seat.
"I know that I could never fill his shoes, but if confirmed, I would hope to carry on his spirit," she said.
Some left-wing pundits have complained that Justice Ruth Bader Ginsburg should have retired long before her 2020 death, which allowed then-President Donald Trump and the Republican Senate majority to confirm Amy Coney Barrett to the Supreme Court.
Last week, the Supreme Court ruled 6–3 on a case upholding a Mississippi abortion ban, overturning the 1973 Roe v. Wade decision, which argued that women have a constitutional right to obtain an abortion, thrusting the issue back to state legislatures and Congress. Breyer was among the justices who dissented.
Breyer also dissented in a 6–3 ruling last week that affirmed the U.S. Constitution allows individuals to carry a handgun in public—seen as a major victory for pro-Second Amendment advocates.
This week, there are still two major Supreme Court cases involving the "Remain in Mexico" immigration policy that was established under the Trump administration, as well as a case concerning the Environmental Protection Agency's ability to regulate carbon emissions from power plants.