A little humanity goes a long way, especially for a person in dire need. For firefighter Josh Woodward, from Albany, New York, a medical emergency that began in February of 2019 almost broke his and his wife Chelsea's spirits. But after an offer they couldn't refuse, the family got by with a little help from their friends, and one extremely generous home improvement retailer.
An ordinary common cold introduced strep bacteria into a cut on Josh's shoulder, which tragically developed into full-blown sepsis. WYNT reported that Josh's doctors made a conservative estimate: he only had a 5 percent chance of survival.
"I'm living in an actual nightmare," Chelsea wrote, sharing her grief as she documented Josh's journey on a Facebook page named "Woodward Strong." She added: "I beg you to not. Stop. Praying … I need a miracle."
Josh, however, began to show signs of improvement and was dubbed a "medical miracle," according to the New York Post, but it wasn't long before Chelsea received a call from the hospital's intensive care unit. Josh's kidneys had begun to fail. Six surgeries later, Josh's vital signs improved, but at no small cost: his right hand had been amputated.
But there was more for the firefighter to endure. He lost all toes on both feet and suffered a painful open wound on his right heel, not to mention the bizarre phenomenon of phantom pain. "It feels like I have a hand that hurts," Josh said, his body grieving for the missing appendage.
However, the couple remained stoic, and celebrated Josh's slow but steady recovery. "Everything continues to trend in the right direction," Chelsea documented, as she prepared, finally, to take her husband home.
Shifting their sights to their home and Josh's altered mobility needs, Chelsea recalled speaking with friends. "A friend of ours, Pat, asked us if Josh was going to need a ramp to get in the house. When I said, 'Yes, I'm going to work on that soon,' he told me he wanted to build it," Chelsea wrote.
Pat was ready to pay for the materials himself, but a local Lowe's home improvement store heard about the project and donated all of the necessary supplies. They even thoughtfully brought donuts and coffee on the day of construction.
"Have you ever seen such humanity at work?" Chelsea marveled. "Have you ever seen such kindness from strangers? It's impossible to not feel so grateful and taken care of despite all the trauma and stress." Lowe's manager Eric Carne was quick to respond: "This was a no-brainer when my store team was contacted by Pat," he said, "who we've done business with for years. When we caught wind of what and who it was for, I knew we wanted to help."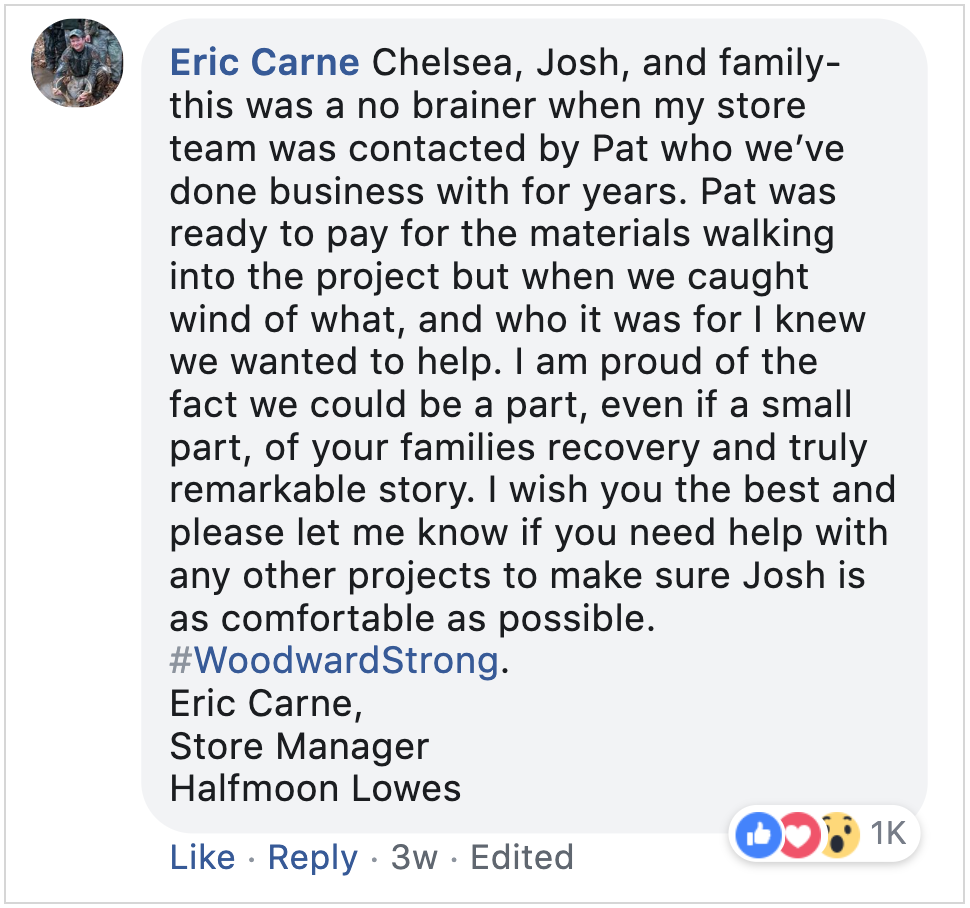 "Please let me know if you need help with any other projects to make sure Josh is as comfortable as possible," Carne added, in a direct message to Chelsea.
Josh's devoted wife, by now a dedicated documentarian, shared her recovering husband's triumphant trip home from the hospital. They passed the fire station where Josh works, and unbeknownst to him, Chelsea had been planning a surprise. "As we pulled up we were greeted with two big fire trucks greeting us with an arch of water," she wrote on Facebook.
The entire department, along with the staff of the airport, lined up in respect and admiration of Josh's recovery and to heartily welcome him home.
"It was nothing short of cinematic," Chelsea shared. "Pray for us in this new piece of the journey!"