This is the time of year when all sports fans and even non-sports fans look forward to the annual global ritual—the playing of the Super Bowl. And this is a special year among all special years—Number 50 is on tap.
Books galore have arrived trading on the event. Full disclosure—even your favorite reviewer has a worthy collectible that has been noticed:
http://frommerbooks.com/when-it-was-just-a-game.html
But not to be distracted, 'Super Bowl Gold: 50 Years of the Big Game' (Time, Inc., Books, $40.00, 336 pages) is the football book we are focused on. Grand in design, rich in photographs, the book contains short treatments of the previous 49 Super Bowls. All one has to do is to spin through the ample 36 pages of memories galore, brief as they are—they are there for the browsing or reading. This is a book to keep on your coffee table, to savor, to use for reference, reminiscence, ruminating. GO FOR IT
Those in a hockey frame of mind have two nifty reads: 'Face-Off' (Sports Illustrated Kids $19.95, 78 pages) and 'Hockey's Greatest' by the editors of Sports Illustrated Magazine ($32.95, 256 pages).
The tome targeted to the younger set is lavishly illustrated and as its sub-title proclaims contains top ten lists for everything hockey—the greatest players, rivalries, smiles, fastest skates and more. Marvelous for the younger set.
The monstrous 'Hockey's Greatest' names and showcases the top ten in more than 15 categories. Page after page in full throttle color, with stats and insights galore—adorn every page of this sumptuous effort. WORTH OWNING
For all those who are fans of hockey—'Face-Off' and 'Hockey's Greatest' are splendid efforts that belong on your sports bookshelf.
Booknotes: 'Baseball Maverick' by Steve Kettman (Grove Atlantic, $16.00, 369 pages, paperback) is a must for fans of the New York Mets and worth looking act for others—incisive and detailed look at the man with the many baseball moves and moments. WORTHWHILE
GET IT NOW FROM YOUR LOYAL REVIEWER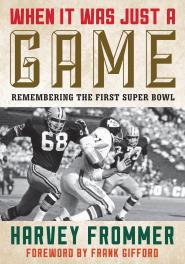 Written by acclaimed sports author and oral historian Harvey Frommer, with an intro by pro football Hall of Famer Frank Gifford, When It Was Just a Game tells the fascinating story of the ground-breaking AFL–NFL World Championship Football game played on January 15, 1967: Packers vs. Chiefs. Filled with new insights, containing commentary from the unpublished memoir of Kansas City Chiefs coach Hank Stram, featuring oral history from many who were at the game—media, players, coaches, fans—the book is mainly in the words of those who lived it and saw it go on to become the Super Bowl, the greatest sports attraction the world has ever known. Archival photographs and drawings help bring the event to life.
Dr. Harvey Frommer is a noted oral historian and sports journalist, the author of 42 sports books including the classics: best-selling "New York City Baseball, 1947-1957″ and best-selling "Shoeless Joe and Ragtime Baseball," the acclaimed Remembering Yankee Stadium and best-selling Remembering Fenway Park.
Frommer mint condition collectible sports books autographed and discounted are available always from the author.