The Summer Saturday Series threw up some performances to savour and some to forget.
Sunshine and a good breeze brought out 38 boats for the fourth day of the Hebe Haven Quest Yachting Summer Saturday Series on July 14 for the seventh and eighth races in the planned 12-race regatta. There were performances to savour for Catch 22, Kiasu, Taxi and Stella and ones to forget for Bits & Pieces and Barnstormer.
Sportsboats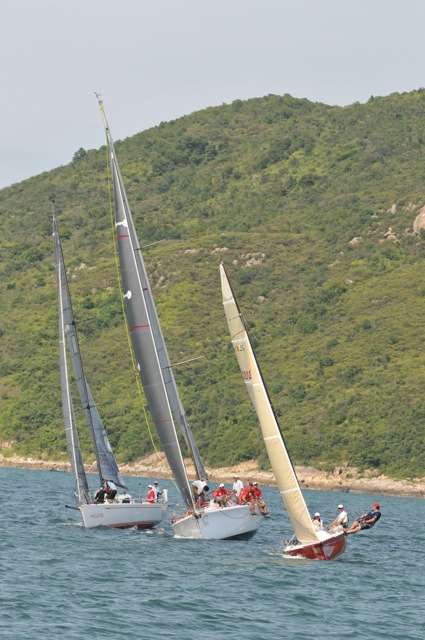 Catch 22, a Magic 25, was fastest round the course in race seven.
"This is the first time that a 25-footer has beaten a fully crewed 40-footer such as Stella in two years," Steve Bourne of Merlin remarked to The Epoch Times.
Englishman Mark Phillips was helm for Catch 22, with the other two members of the crew flying in for the race; one from Bangkok and the other from the Philippines. Meanwhile, R2B2 and a few other Sportsboats achieved a similar feat in the second race.
R2B2 came second behind Catch 22 in the first race and first in the second race. Merlin (with 13 points) is still leading in the series, despite struggling a bit in the stronger winds; R2B2 (20) is second. Good Vibrations, Chrisargo and NL are a little adrift (37, 38 and 40, respectively).
HKPN Division
Kiasu also had a good day, winning line honours and on corrected time in both of the races in the HKPN Divisions.
"Herman Wong today sailed a Flying Tiger, he came from Impala's and he got line honours in his fleet and showed incredible skill. He was beating us round the course today," Bourne explained about Kiasu's feats.
However, Wong, in his reserved manner, said his crew deserved the credit.
"Today we did good because we had one of the professional crew on board [Mr Yan]. He has come from the China team for the Americas Cup. He is good, he did not tell so many things, but just the tricky and important ones and we can manage based on his advice.
"When the water is calm and the wind is at 12 to 15 knots, it is perfect to every boat. We have a very good race officer that set the course correct, no heavy bias and long enough [5 nautical miles] for every boat to perform. It's good," added Wong.
While Kiasu was the star of the day in both HKPN Division races, X-Terminator came in second and Epekwit and Bucephalus took third spot in the seventh and eighth races, respectively.
With those two wins and double line honours, Kiasu has jumped from third to first in the overall standings. Tara stays in second place with X-Terminator third. Jive, now having moved back into HKPN Division from J80, is lying fourth.
IRC Division
While several in the IRC Division raced well, for some others—although they had valuable lessons—Saturday was a day they may rather disregard.
Stella took line honours in both of the races in the IRC Division, but lost out on corrected time to Taxi in the first race and to both Taxi and Moll in the second.
Overall, after seven races in IRC Division, Impala Taxi (with 16 points) leads, Moll (22) is in second place, and Bits & Pieces (34), although having a bad day, is still lying third.
Impala 1, now in fifth place, is moving up the field. She was initially held back due to missing the first two races.
Stella, a beautiful looking racing craft, has not been out of the top three in the races she has contested; but, missing four of the seven races puts her down in seventh spot.
Bits & Pieces had a fraught day with several technical problems in the first race: a six-foot tear in her foresail in the second race and, to cap it all, one of her crew was hit on the head by a swinging boom and took a precautionary visit to hospital.
Barnstormer, while leading and only 100 metres from the finish, lost a man overboard and had to circle to collect him before crossing the line, putting her in ninth position.
Dragon Division
In the Dragon Division, Zephyr holds overall lead, with Moonraker II second, and Eaux Vives, although not performing so well this week, still retains third place.
Next weekend: A geometric course outside Port Shelter will be set when the Hebe Haven Nautica Typhoon Series 2012 holds its fourth race day on Sunday July 22.


The Epoch Times publishes in 35 countries and in 19 languages. Subscribe to our e-newsletter.