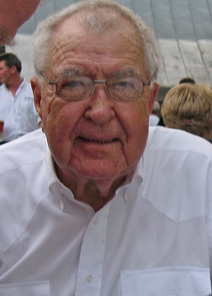 Sports car driver, builder, and team manager Carroll Shelby died in a Texas hospital at the age of 89.
Shelby is probably best known for the Shelby Cobra sports car, with which he earned America its first international racing championship in 1965, but the tall Texan lived a life full of accomplishments. He won Le Mans in 1959, and three national driving titles before retiring in 1960 due to a congenital heart defect.
Unable to drive, Shelby bought up the rights to the AC Cobra, rebuilt the frame and stuffed in a Ford V8, creating the Shelby Cobra in 1962. The Daytona coupe version of this car dominated GT racing in 1965–5, bringing home the FIA GT Championship in 1965.
Next, Shelby owned and managed the Ford GT-40 racing team which won Le Mans in 1966 and 1967. He also created the Shelby GT-350 Mustangs which was tremendously successful in Trans-Am racing.
Shelby continued to transform ordinary cars into high-performance sports cars for Ford and Dodge; his 2012 Shelby 1000 is one of the most powerful street cars on the market.
A lifetime of heart surgeries culminated in a transplant in 1990; seven years later Shelby needed a kidney transplant. He never let his health hold him back; he was constantly coming up with new cars, new business ideas, including chicken farming, real estate development, and hotel ownership.
Shelby also started the Carroll Shelby Foundation, to provide funds for children needing heart surgery.