Spiderman Encourages Children to Participate in I Love My Park Day
April 24, 2014 7:52 pm Last Updated: April 24, 2014 7:54 pm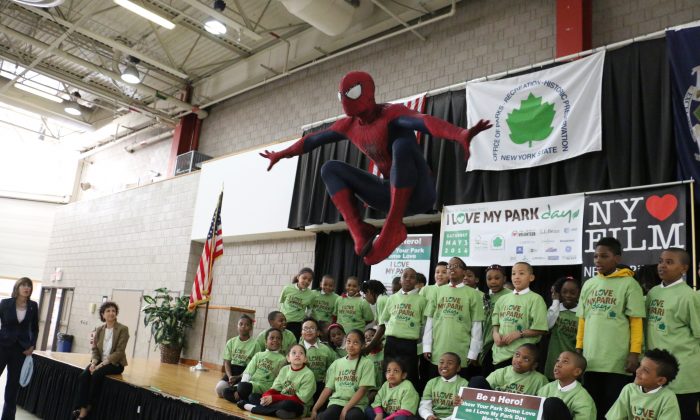 NEW YORK—Beloved superhero Spider-Man swung into Riverbank State Park's auditorium today to encourage elementary students to participate in the annual I Love My Park Day on May 3rd.
On I Love My Park Day, volunteers help clean up, improve, and beautify parks and historic sites. Activities include cleaning playgrounds and beaches, repainting visitor centers, building picnic tables, and planting flowers at more than 80 parks around the state.
Spider-Man's motto is "with great power comes great responsibility." Park supporters tell the children that they have both the power and the responsibility to keep parks clean and beautiful.
"He wants you all to be a hero, just like he is, by going out and flexing your muscle and volunteering for your parks," said state Parks, Recreation and Historic Preservation Commissioner Rose Harvey.
But why Spiderman and not another superhero to tout the mission of beautifying parks? According to Gigi Semone, the director of the Governor's Office of Motion Picture and Television Development, the new Amazing Spiderman movie crew wanted to film in East River Park, but discovered that it was severely damaged by Hurricane Sandy. Instead of choosing another site, they took on the task of rebuilding the park and restored it to its original state, exemplifying the spirit of I Love My Park Day.
"You guys have the power to make New York State parks even more beautiful than they already are," Semone said to the students.
"Today's kids are tomorrow's leaders, they're tomorrow's park users, park visitors, park lovers, and park leaders. So it's so important that they forge a relationship when they're young with nature and the outdoors and parks, so that they'll care for them for the rest of their lives," said Robin Dropkin, executive director of Parks and Trails New York.
Luckily, the children have already developed a love for parks.
"I like that I get to have fun in parks and I get to play with my friends," said Ashya Dove, a fourth-grader at Thurgood Marshall Academy. Ashya's favorite park is the Jackie Robinson Park.
I Love My Park Day is organized by advocacy group Park and Trails New York and the State Office of Parks Recreation and Historic Preservation. In 2012, Governor Cuomo issued a proclamation celebrating the first Saturday in May as I Love My Park Day and encouraging New Yorkers to join in this statewide volunteer effort.
Yi Yang is a special correspondent in New York.