Specialists Tell de Blasio: Focus on Homelessness
November 20, 2013 10:38 pm Last Updated: November 21, 2013 11:27 am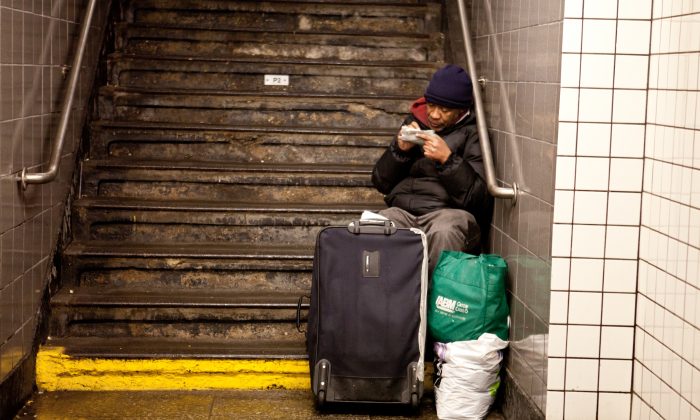 NEW YORK—An hourlong forum on homelessness emphasized the need for affordable housing and for considering those who Mayor-elect Bill de Blasio left out in his campaign address—the very poor.
Some 52,000 New Yorkers are staying in homeless shelters, of which 12,000 are families and 22,000 are children. The number of homeless people in the city has increased by 69 percent in the last 12 years, according to the Coalition for the Homeless.
Trying to tackle the issue, the city's Department of Homeless Services (DHS) spent some $1 billion on shelters last year. Specialists recommend that de Blasio develop a long-term plan for preventing homelessness all together.
Andrew White, director of the Center for New York City Affairs at The New School, moderated the panel of speakers at one of the school's venues Wednesday morning.
"De Blasio has a real puzzle to figure out," White said.
Patrick Markee, senior policy analyst at the Coalition for the Homeless, said the good news is that de Blasio already addressed affordable housing in his campaign. But that may not be enough. Markee said he had some additional broader-scale suggestions.
"We've learned a lot over 30 years about what works for homeless families in particular," Markee said. Some of his suggestions include: partnering with the state on a new rental assistance program, developing permanent supportive housing for people with special needs, and making shelters more accessible.
Ellen Baxter, founder and executive director of Broadway Housing Communities, said the public housing authority developments are not well managed, and they need to learn from nonprofits like the Coalition for the Homeless and The Legal Aid Society.
Other panelists said part of a prevention plan should include investing in early childhood centers, neighborhood programs, and job training programs. But the issue expands beyond the city's DHS.
"Homelessness is the failure of the housing market, and the job market, the health care system, and child welfare system," said Patrick Markee.
Markee hopes de Blasio will appoint a deputy mayor or a top city official who could oversee and ensure that homeless services, social services, and the housing agencies work together.
"That's where the real solutions are," he said. The three aspects that need focus are: prevention, providing permanent affordable housing, and helping those who are homeless.
De Blasio proposed to end giveaways for big developers and enact mandatory inclusionary zoning, which means that all new developments would also have to build affordable housing. The new mayor also plans to invest $1 billion of pension funds to constructing and preserving affordable units, and reintroducing vouchers for people who face homelessness, among other ideas outlined on his campaign's website.
But even propositions like mandatory inclusionary zoning, might require some changes. Elizabeth Brown, budget and policy analyst at the New York City Independent Budget Office said that although there is affordable housing for low-income families that would be produced by the inclusionary zoning law, there's no room for the very low-income families.
"Low income can be, sort of high income, compared to other people," she said.