Special Report: A Glance at Tibet on March 14
March 22, 2008 12:00 am Last Updated: March 22, 2008 12:00 am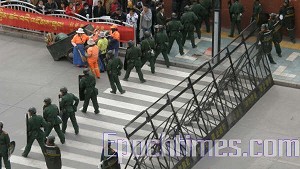 LHASA—On March 21, the situation in Lhasa remained tense as the Chinese communist regime continues to flood Lhasa with various armed forces. The regime plans to strengthen its martial law as it anticipates more uprising from the Tibetans in Lhasa on March 24-26.
A policeman noticed a reporter photographing, and forcefully deleted all photographs before allowing the reporter to leave. The following photos were taken on March 14 of the armed suppression in Lhasa, before armed forces opened fire.
These photos clearly document the Chinese communist regime's army, police military vehicles, and tank entering and stationing in Lhasa. Some armed forces personnel, dressed in civilian clothing with bulletproof vests, held submachine guns, while other armed forces and police attempt to suppress the crowd.
In addition to the official armed forces, various work units in Tibet were forced to take on the role of the being the regime's "soldiers." Each unit has mobilized people to carry out alerts, while core Party members must all obey the commands of the combat troops for unified dispatches. The vehicles from each unit must also be fully fueled and maintained so that they can be dispatched on command.

March 10 marked the 49th anniversary of the Tibetan uprising. As Tibetans and monks around the world held their peaceful commemoration, the Chinese Communist Party's armed police opened fire in Lhasa, Tibet on March 14, resulting in a large-scale suppression. The police's open fire on the square to suppress the Tibetans have been widely reported despite the regime's attempts to block the transmission of information.
| | |
| --- | --- |
| This photo was taken prior to the communist armed forces opening fire on protesters in Lhasa on March 14. (Han Xinxin/The Epoch Times) | This photo was taken prior to the communist armed forces opening fire on protesters in Lhasa on March 14. (Han Xinxin/The Epoch Times) |
| Plainclothes military police grasping onto their submachine guns. (Han Xinxin/The Epoch Times) | This photo was taken prior to the communist armed forces opening fire on protesters in Lhasa on March 14. (Han Xinxin/The Epoch Times) |