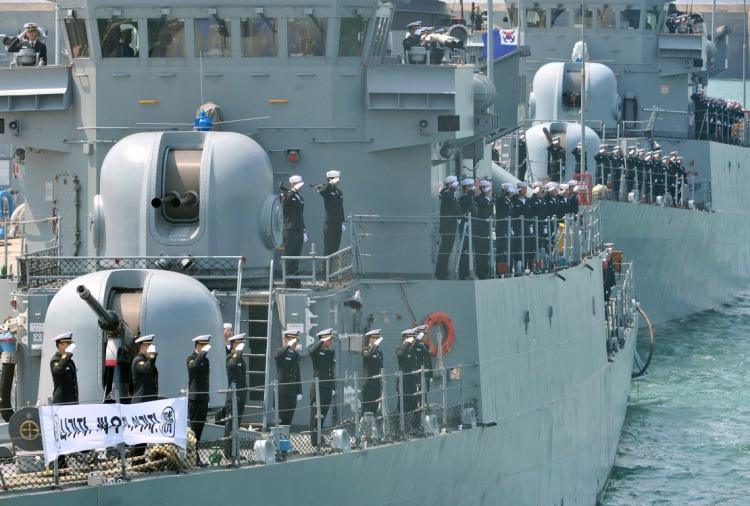 South Korea provided evidence on Wednesday that a North Korean torpedo attack caused of the sinking of a South Korean warship.
The formal accusation for the attack may put more emphasis on the elimination of nuclear weapons, which was a requirement under the U.N. Security Council restrictions. South Korea's close ally, the United States, promised to keep in close touch and will hold their first-ever "Two plus Two" meeting in July, according to the government brief.
After months of investigations, the South Korean government's evidence that North Korea sunk one of their warships confirms previous suspicions. The ship, Cheonan, was sunk on March 26 in the Yellow Sea, just off the coast of South Korea.
According to a report from geopolitical intelligence company Stratfor, South Korea was reluctant to announce the formal reasons behind the sinking of their navy corvette until they gathered enough evidence to confirm the attack was from a North Korean torpedo or sea mine. A total of 46 crew members died in the incident.
Richard Weitz, director of the Center for Political-Military Analysis, said we still "don't understand the motives. It's an opaque society."
He added that it is even possible the attack was an accident
Reports surfaced that the explosion of the ship could not have been from an internal problem, and must have been caused by external factors. South Korean officials noticed changes in submarine training programs and unexpected activity the night of the incident in the Yellow Sea, according to Stratfor.
Seoul has also gathered evidence of North Korean torpedo residue on recovered parts of the Cheonan, which they matched to the ones found on a North Korean torpedo that South Korea found several years ago.
Media have long held the angle that it was indeed a North Korean missile that attacked the Cheonan, but the Chinese regime told South Korea not to jump to conclusions and investigate objectively.
China's People's Liberation Army Navy North Fleet holds responsibility for the West/Yellow Sea with its headquarters in Qingdao, which is also the base for a Chinese submarine academy.
It is difficult to say what the consequences will be; the South and the North already participate in a very small range of economic relations with each other. The decision will be left to the United Nations after the statement is presented to them.
South Korean President Lee Myung-bak spoke with President Barack Obama on Monday, as the allies agreed to preserve their commitment to keep South Korea's residents and land safe from any major hostility.