Soccer Star Ozil Quits Germany Team Amidst Allegations of Racism
July 24, 2018 Last Updated: July 24, 2018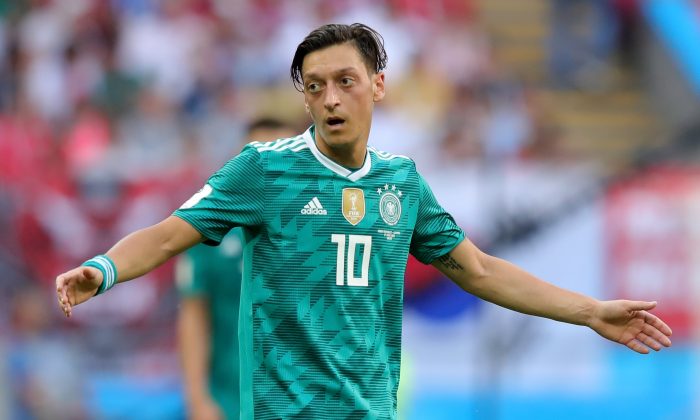 Star soccer player Mesut Ozil quit the German national team on Sunday, citing "racism and disrespect" amidst the fallout from a controversial photo-op with Turkish president Recep Tayyip Erdogan.
The resignation of the 29-year-old midfielder of Turkish descent also triggered a prickly debate about Germany's relations with its largest immigrant community and about the troubled intersection of sport and politics.
"I am German when we win, but I am an immigrant when we lose," wrote Ozil in a post on Twitter.
III / III pic.twitter.com/c8aTzYOhWU

— Mesut Özil (@MesutOzil1088) July 22, 2018
Born in Germany to Turkish immigrants, the celebrity athlete alleged mistreatment at the hands of the German Football Association (Deutscher Fußball-Bund or DFB), as well as politicians and media.
He complained of receiving hate mail and threats and of being unfairly blamed for the German team's disappointing performance in the World Cup.
Ozil, who lives in England and plays for the British club Arsenal, was widely criticized in the German media for his public appearance with Erdogan, photographed in London in May.

The footballer defended his meeting with Turkey's head of state, saying he did it out of respect for the highest office of his family's country and not to make a political statement.
"I'm aware that the picture of us caused a huge response in the German media, and whilst some people accuse me of lying or being deceitful, the picture we took had no political intentions," he said.
Given the complicated relations between Germany and Turkey, the photograph sparked questions about Ozil's loyalty to the German national squad. Its timing ahead of the elections in Turkey drew accusations that the popular sports star, with 23 million Twitter followers, may have unwittingly helped Erdogan win re-election.
Turkish sports minister Mehmet Kasapoglu tweeted a photo of the smiling Ozil with Erdogan and wrote, "We sincerely support the honorable attitude shown by our brother Ozil."
Soon after Erdogan won in a poll international observers called unfair and that, in the words of Marc Pierini, a former EU ambassador to Turkey, effectively turned Erdogan into a "super-executive president."
"Most powers will be concentrated in his hands, there will no longer be a prime minister, and almost none of the checks and balances of liberal democracies will be present," Pierini said. "In other words, Turkey will be an institutionalized autocracy."
In his post, Ozil rebuked the German media, saying that "certain German newspapers are using by background and photo with President Erdogan as right-wing propaganda to further their political cause."
The German Journalists Association (DJV) rejected what it called "blanket media scolding" by Ozil, according to Epoch Times Deutsch.
DJV chairman Frank Uberall said on Monday that Ozil posing for a picture with an autocratic politician accused of clamping down on press freedoms "obviously had to raise critical questions."
The BBC reported that the German tabloid Bild criticized the famed footballer for saying nothing in his July 22 post that Erdogan is "transforming the freedom-loving, religiously moderate Turkey into an Islamist dictatorship" and "has almost extinguished free media and freedom of expression."
German foreign minister Heiko Maas questioned the debate around Ozil, saying his case did not give much insight into integration in Germany. But he said that few of the people involved had behaved well.
Germany's most prominent politician of Turkish origin, former Greens head Cem Ozdemir, said Ozil may have been naive when he took the picture and called it a mistake.
"The photo of Ozil with Erdogan was a mistake and remains a mistake. And Mesut Ozil's explanation does not convince me at all. He talks about respect, but what about respect for the victims of Erdogan's policies? For journalists who are in prison just for doing their job, for opposition activists and dissidents?"
But Ozdemir also had scathing words for the German Football Association.
"The person who has behaved scandalously from the beginning to the end here is the DFB head, President Grindel," he said, and added that blaming Ozil for Germany crashing out of the World Cup was "truly despicable."
According to government data, there are about 1.5 million people with Turkish citizenship living in Germany, which has a population of 82.7 million. It is estimated that Germany is host to between 2.5 and 4 million people of full or partial Turkish ancestry.