CHICAGO—A lawyer for Jussie Smollett said Tuesday, March 12, that she would welcome cameras in the courtroom during the "Empire" actor's trial on charges accusing him of lying to the police, saying there has been a lot of leaked misinformation and cameras would allow the public to "see the evidence and the lack thereof."
Attorney Tina Glandian made the comments during a brief hearing Tuesday in Cook County criminal court during which both sides agreed that cameras would be allowed at the next hearing in the case, which is scheduled for March 14. During that hearing, the case will be assigned to a trial judge who will then likely ask Smollett to enter a plea.
With regards to his acting abilities, this will be his finest hour! https://t.co/LrsYQjYS51 #tcot #maga

— Chris Krok (@chriskrokshow) March 12, 2019
During the hearing, which was held after local news organizations requested that cameras be allowed in the courtroom, Judge LeRoy Martin, Jr. said that the new judge will decide whether or not to allow cameras in the courtroom during subsequent hearings and the trial.
After the hearing, Glandian told reporters that evidence has been presented against Smollett that is "demonstrably false."
"We welcome cameras in the courtroom so that the public and the media can see the actual evidence and what we believe is the lack of evidence against Mr. Smollett and we look forward to complete transparency and the truth coming out," she said.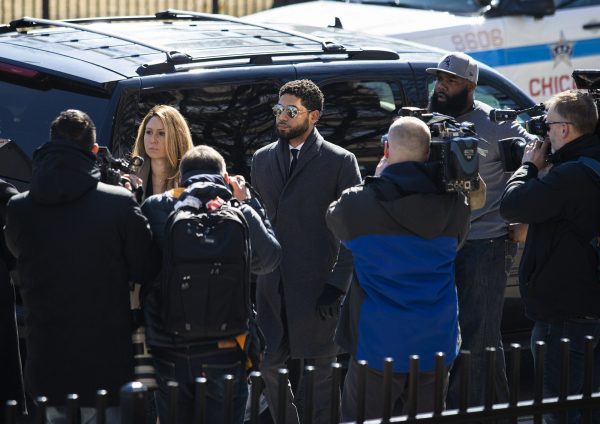 Smollett was charged last month with one count of misconduct—the felony in Illinois that people are charged with when accused of lying to police—because he allegedly lied to police about being the victim of a racist and homophobic attack by two masked men in downtown Chicago on Jan. 29. Last week, a grand jury indicted him on 16 counts of the same crime.
Prosecutors allege that Smollett, who is black and gay, enlisted the help of two other black men and staged the Jan. 29 attack because he was unhappy with his salary and wanted to promote his career. Those men have admitted to police that they took part in the staged attack for Smollett, who paid them $3,500.
Smollett's attorneys have called 16 counts "prosecutorial overkill." The actor, who is free on bond, maintains his innocence.
By Don Babwin
Robin Roberts Said Jussie Smollett Interview Was a 'No Win,' Hesitated to Do It
ABC reporter Robin Roberts said that the interview she conducted with "Empire" actor Jussie Smollett regarding an alleged attack against him was a "no win."
Roberts admitted on March 4 that she initially resisted doing the interview because Smollett's story—that he was assaulted by two white men in downtown Chicago at 2 a.m. in freezing temperatures and that he held onto his Subway sandwich—didn't seem to be real.
Smollett also claimed that one of the alleged attackers shouted "This is MAGA country," in an apparent reference to "Make America Great Again," a slogan of President Donald Trump and his supporters.
"I'll be completely honest, I was like I don't know if I want to do the interview or not," Roberts told the crowd at an event in New York City on Monday, reported the New York Post. "I said, 'I don't want to sit down with him if he's going to lawyer up.' And then I was told, 'He wants to speak with you,' [because] he was outraged by people making assumptions about whether it had happened or not."
Roberts, 58, said she was promised she could challenge Smollett, 36, on the "red flags" in his story. She finally relented.
"They said, 'He wants to say things that he has not said' and I'm like, 'As a journalist, as a newsperson, this is newsworthy, he's going to go on record for the first time, yes I'll do the interview," she said.
The subsequent interview was slammed by many as soft, with Roberts seemingly attempting to cast Smollett in a favorable light. It didn't help that two days after the interview, when it aired, Chicago police arrested two Nigerian-American brothers who detectives said later revealed that Smollett orchestrated the attack, making it a hate crime hoax.
Roberts said she was cognizant of identity politics—with both her and the actor being black and gay—and knew she would be criticized by people who thought she wasn't hard enough on Smollett while also facing questions from those supporting the actor.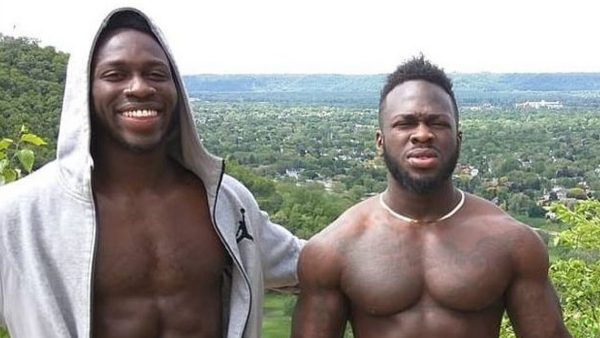 "It was a no-win situation for me," she said. At the time, since Smollett was still considered a victim, she framed her questions to acknowledge that context.
"It was one of the most challenging interviews I've ever had to do," she said.
After the brothers were arrested, ABC News legal analyst Dan Abrams said during a "Good Morning America" segment that comments Smollett made during the interview with Roberts could be used against him if the story does indeed turn out to be false.
Among them was Smollett's confidence that the two people seen in surveillance footage walking near the scene of the alleged attack about 30 minutes before it reportedly took place were the same people that attacked him.
"In that interview, [Smollett] specifically says, 'Yeah, those two guys on the surveillance footage, those are the guys that attacked me,' so now he's sort of boxed in," Abrams said.
Police identified the two people as the brothers, Abel and Ola Osundairo, supporting the case that they were the attackers. When they informed police that Smollett paid them $3,500 to carry out the alleged hoax, officials began looking at Smollett as a suspect.
The actor was eventually arrested on Feb. 21 for filing a false police report.
In a statement in March, the brothers said they regretted helping Smollett perpetrate the alleged attack.
"My clients have tremendous regret over their involvement in this situation, and they understand how it has impacted people across the nation, particularly minority communities and especially those who have been victims of hate crimes themselves," said Gloria Schmidt, the brothers' attorney, in a statement obtained by CBS Chicago.
Previously, the Osundairos, who met Smollett while acting on "Empire" and one of whom became the actor's personal trainer, said in a statement that they're not racist.
"We are not racist. We are not homophobic and we are not anti-Trump. We were born and raised in Chicago and are American citizens," they said on Feb. 18.
"In due course, all the facts will reveal themselves, and at the end of the day, my clients are honest and credible," added the brothers' attorney, Schmidt.
The Epoch Times reporter Zachary Stieber contributed to this report.