Sled Dog Slaying in Canada Triggers Worldwide Reaction
February 7, 2011 9:05 pm Last Updated: October 1, 2015 5:45 pm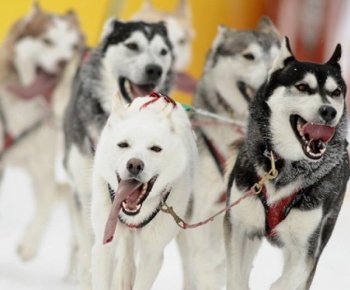 With the news that a dog sled company in ski destination Whistler, Canada, killed 100 of its dogs making international headlines, the Web has been inundated with an outpouring of grief and anger over the deaths.
Facebook pages, websites, petitions, and blogs have sprung up condemning the killings and the inhumane way in which they were carried out, attracting supporters worldwide.
"The solidarity shown by the world community, who honor the Whistler 100, is not just amazing it is also heart warming. This is what it means to truly be human," says one Facebook posting.
Protest marches have been held not only in Vancouver, Victoria, and Whistler but also in Italy even, where people rallied to raise awareness for animal rights and demand that those involved in the slaying be held accountable.
Although the dogs were killed in April 2010, the story only came to light after Robert Fawcett, the manager of Howling Dog Tours, recently applied for worker's compensation due to suffering from post-traumatic stress disorder.
The dogs were rounded up, shot or stabbed, and buried in a mass grave as business had slowed and the company wanted to downsize.

Outdoor Adventures Whistler, a majority shareholder which took control of Howling Dog Tours in May 2010, has said that "considerable efforts" to have the dogs adopted were not successful.
In a letter published in the Vancouver Sun on Monday, Outdoor Adventures owner Joey Houssian, 34, said he takes "moral responsibility" for the slaughter.
"This has affected us the same way it has affected the world. We are sad about this. We are all shocked about this. We are all horrified. … If I read this story online or in a newspaper this was happening across the world the first thing I would have done is forwarded it to Bob Fawcett and said 'can you believe this?' … We both had a vision for setting the standard in this industry," he wrote.
On Jan. 6, a clearly distraught Mr. Fawcett wrote a posting on a soldiers' support group forum called CombatPTSD. The title of his entry was "Not A Common Story No Where Else To Turn." In it, he tells a gruesome traumatic tale of the bloodbath, trying to round up and kill 100 dogs, which the father of two says he raised himself, describing them as family.
He says he was given two days by the corporation to complete the job as a tour group was due to arrive.
"I have been diagnosed with complex PTSD, I cut myself to have some feelings, drink to have feelings otherwise I'm pretty dead emotionally. I can't sleep, I have regular flashbacks, I sometimes drop when I hear a dog bark, and gunshots freeze me solid. Overall a bit of a mess," he wrote in the posting.
"I have had to execute and watch most of my best friends die," wrote Fawcett, 38, who is in hiding after receiving death threats.
The British Columbia SPCA, which has been asked to sit on a task force to look into provincial regulations in the sled dog industry, is conducting an investigation into the killings and has said that charges of animal cruelty are pending. Federal Canadian police are also looking into the deaths, but says the primary investigator will be the SPCA.
Liberal member of Parliament and watchdog of Canada's National Security and Public Safety Ministry, Mark Holland has called on British Columbia members in the ruling Conservative Party to recognize the incident as a need for animal rights reforms.
"A clear relationship exists between animal cruelty and other serious types of crimes, including spousal and child abuse, among other horrific violent crimes. By toughening our animal cruelty laws, we have a better chance of apprehending, convicting, and rehabilitating abusers, making our communities safer and healthier," Holland said.
British Columbia is one of the few provinces in Canada that does not receive government funding to protect animals. The SPCA, the only organization in the province that has the authority to investigate animal cruelty, is funded solely by donations.
News of the Whistler mass cull follows a spate of incidents in which dogs have been subjected to violence and abuse in the province.
On Jan.15, a collie-lab cross was frozen into a large block of ice and left on the lawn of a Dawson Creek resident. In Duncan, two men were charged with animal cruelty after a miniature pinscher was allegedly dragged behind a truck. It suffered a broken jaw and fractured leg and was left for weeks without veterinary treatment.
On Jan. 26 Brett Malcolm Conners, a 24-year-old Victoria man, was sentenced to six months in prison for beating a 3-month-old puppy to death in a hotel room. Animal rights activists lauded the sentence—the longest ever handed down in the province for animal cruelty.
The series of abuses, culminating in the Whistler cull, has prompted animal rights groups to demand changes to Canada's outdated animal cruelty legislation, which was written in 1892.
A Facebook page called "Boycotting Outdoor Adventures," which has attracted 50,000 members, says that besides seeking justice for the sled dog deaths they want to use the issue as an opportunity "to plea to our governments, both at the federal and provincial level, to increase the severity of animal cruelty and mistreatment laws within Canada."
The International Fund for Animal Welfare is also circulating a petition to modernize Canada's animal cruelty laws. A separate petition asking for Fawcett to be prosecuted has received almost 75,000 signatures from around the world.
A recent SPCA inspection of Outdoor Adventures found that its dogs are safe. The company has voluntarily suspended all dog sledding operations while it conducts its own investigation into the cull.