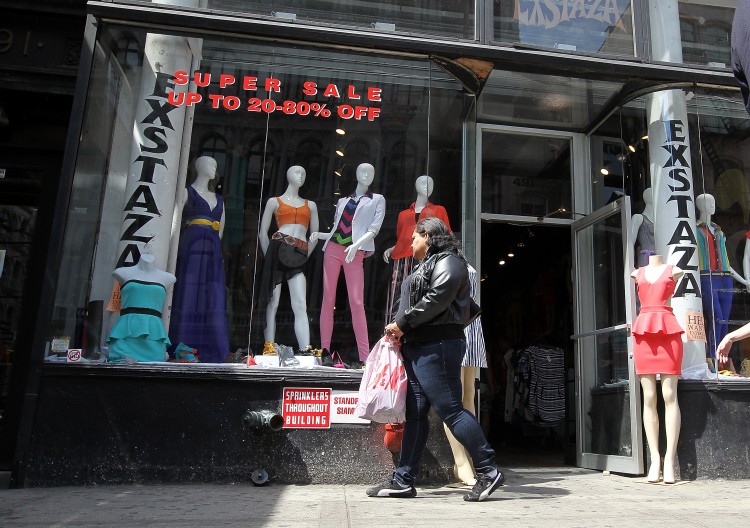 With the new increase of the duty-free limit, cross-border shopping is looking more attractive than ever.
A May 11 Bank of Montreal report predicts a "notable upswing" in the number of Canadians shopping in the U.S. this summer, despite the 14-percent price gap narrowing from last year's 20 percent.
However, though shopping in the U.S. offers potential savings, it can also be fraught with pitfalls for someone who plunges in without a plan. Below is some basic information for Canadians looking to shop across the border.
Should I Shop in the U.S.?
• Do you live close to the border? A trip to the States costs gas and—more importantly—time, and uses more of both the farther away you are.
• What products are you planning to buy? Are they significantly more expensive in Canada than the U.S.? Items with a smaller price gap may not be worth the expenditure in time and border fees.
• Where are those products made? Duty differs depending on where an item is manufactured.
• How long will you be staying? The longer you stay, the higher your hotel fees—but also the more goods you can bring back duty- and tax-free.
Compare your savings on goods against your expenses on travel (gas, hotel, duty, and opportunity cost of time) to determine if a trip to the States is for you.
You may also want to consider whether you wouldn't rather support some of your favourite local businesses.
What to Buy, When to Go
"It appears that, from our audience and from the comments that we get, that just about everything is less expensive in the U.S.," says Stephen Fine, founder of crossbordershopping.ca, a website dedicated to helping Canadians shop south of the border.
There are times when the price gap closes, and some specific items that don't have a huge gap, but for almost no general category is the Canadian price comparable to the American one, Fine says.
His observation is supported by the Bank of Montreal report, which compared 18 different items, from magazines to running shoes. Only one of the goods (barbeques, by a mere two percent) was found to have a lower price in Canada, while the other 17 items were cheaper in the States by three to 37 percent.
Fine said clothing, accessories, electronics, groceries, cars, and furniture are big-savings items, though he warns about the difficulty of purchasing cars and transporting furniture.
He believes that groceries are a particularly good investment for those living in border cities like Niagara Falls or Windsor.
"You're not going to drive from Toronto to Buffalo just to buy your groceries," he jokes. However, he notes that if shoppers are planning a trip to the U.S. anyway, it would not be a bad idea to grab some groceries while they are there.
Fine also advises travellers to time their trips around American holidays and sales, when discounts are steeper.
Duties, Taxes, and Customs
Many Canadians assume duty fees would outweigh the savings from cross-border shopping. However, most State-side goods have little to no duty. Items made in the U.S., Canada, or Mexico—or anything not marked as made in another country—are all duty-free.
Canadian residents are also entitled to a personal exemption limit, which allows them to bring goods of a certain value into Canada without paying duties or taxes. The new limit, effective June 1, is as follows (all figures in Canadian dollars):
• In U.S. for under 24 hours: no exemption.
• In U.S. for over 24 hours: $200, alcohol and tobacco not included. If you exceed the limit, you must pay duties and taxes on all goods, not just the portion that surpasses $200.
• In U.S. for over 48 hours: $800, alcohol and tobacco included with restrictions. If you exceed the limit, you pay on only the amount that goes over, not the total value of your purchases.
• In U.S. for over 7 days: $800. This is similar to the 48-hour exemption, except your purchases (other than alcohol and tobacco) do not have to be with you when you cross the border.
Fine advises Canadians to consider staying one or two nights in the States to take advantage of the duty-free allowance increases, since the allowance does not apply to same-day travel.
Should shoppers plan on exceeding their allowance, they should be aware of the duty rates of different items, he says.
"On some items it's not that much, some items it's eight, nine, ten percent," he says, adding that it's still possible to save money on the latter if the price gap is large.
He notes that on relatively small amounts of goods, border agents don't always force shoppers to pay duties or taxes even if they exceed their duty-free limit.
"People shouldn't count on not having to pay taxes, but it does happen quite frequently," he says, noting that lines would be endless if border agents charged every single shopper re-entering Canada.
Do Bring, Don't Bring
Bring proper identification. For most adults, this means a Canadian passport, described by the Canada Border Services Agency (CBSA) as the only universally accepted ID for international travel.
Before crossing back into Canada, prepare a full and accurate declaration of all goods purchased. Calculate the total of your purchases in Canadian dollars and have all the receipts on hand. This will get you through customs faster.
Don't bring items like jewellery or laptops into the U.S. Border service agents may count them as goods you bought in the country and charge the applicable taxes and duties. If you must bring valuables along on your trip, be sure to get appropriate identification beforehand proving their Canadian origin.
Purchasing a Vehicle
According to the Bank of Montreal report, vehicles actually are not the biggest savings in percentage terms. The sample of cars showed only an 11-percent difference between Canada and the U.S., while items like running shoes and lawn mowers have an over 30 percent price gap.
However, vehicle purchasing is still worth looking into, because the higher price of cars means that a smaller percentage gap becomes thousands of dollars in savings.
If you want to save some time, you can hire a vehicle import broker to handle the process. Crossbordershopping.com, a website dedicated to helping Canadians shop across the border, notes that though import brokers cost money, they can save you time, frustration, and costly mistakes.
Before hiring an import broker, do your research on them. Ask them about how exactly they'd get your vehicle to Canada, and whenever possible, find testimonials from past clients.
Before purchasing your vehicle, look into the following:
Find out if the vehicle can be imported into Canada. Check Transport Canada's "List of Vehicles Admissible from the United States" and the Registrar of Imported Vehicles (RIV) website. Watch out for possible provincial or territorial restrictions. With a few exceptions, it is prohibited to import any vehicle made to comply with the safety standards of a country other than the U.S. or Canada.
Make sure the warranty will be honoured in Canada.
Find out about additional costs. In general, vehicles manufactured in the U.S. or Canada (and some from Mexico) are exempt from duty. Other fees include a Registrar of Imported Vehicles (RIV) fee of $195.00 plus tax.
Arrange for insurance with a Canadian company before purchase. Make sure insurance begins the day you purchase the vehicle, not the day you enter Canada.

If the vehicle does not meet the requirements of both CBSA and Transport Canada, it must be exported or destroyed at the buyer's expense.
Time to Shop
"Do your research before you go," Fine says. "Find out where you want to go, plan your trip, even—if possible—plan the stores you want to go to, and try to time your trip around sales and holidays."
The Epoch Times publishes in 35 countries and in 19 languages. Subscribe to our e-newsletter.