Parent of Student who Died in Earthquake Sentenced
July 16, 2009 6:56 pm Last Updated: October 1, 2015 9:37 pm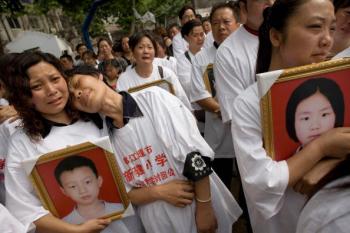 Mr. He Hongchun's child died in the Sichuan earthquake 14 months ago. His repeated appeals for justice got him three years imprisonment camp and five years of probation for "gathering a crowd to disturb public order." The Beichuan County Court delivered the above verdict on July 9 after a year's worth of trials.
According to Radio Free Asia (RFA), Mr. He's lawyer and other parents whose children died in the earthquake were unsatisfied with the verdict. He said on Friday, July 10, that he was really tired and wanted to rest for awhile before making future plans. He's brother-in-law disclosed that he would appeal the verdict.
The RFA report also quoted Mr. He's attorney, Li Fangping, as saying that the court presented no evidence on the charge. "The prosecutor charged Mr. He without presenting any evidence. The court did not request the prosecutor to supply evidence before the decision. Normally, a probation is given when the defendant pleads guilty but Mr. He never pleaded guilty. I see this verdict as a way to suppress parents who demand compensation," said Mr. Li.
Mr. He's other lawyer, Jiang Tianyong, also considered the verdict a political decision: "It's a result of the regime's attempt to stabilize society. The court did not try the case based on the law but on the regime's demand for 'stabilizing society.'"
On September 27, 2008, police suspected He Hongchun of organizing parents of students killed in the earthquake to protest in front of an insurance company and subsequently arrested him. The court did not try the case until May 15, 2009. After the trial, the judge said the verdict would be announced on another day. Later, the court informed Mr. He's family that there would be another trial at the end of June.
A dozen parents went to the court of the second trial to show their support for Mr. He. One of the parents, with the surname Xie, told The Epoch Times that they planned to appeal to the State Council in Beijing after October 1.
Read the Original Article in Chinese: http://epochtimes.com/gb/9/7/11/n2586126.htm