Shen Yun Tells the Truth About Falun Gong Says TV Producer
April 6, 2014 6:25 pm Last Updated: April 6, 2014 6:30 pm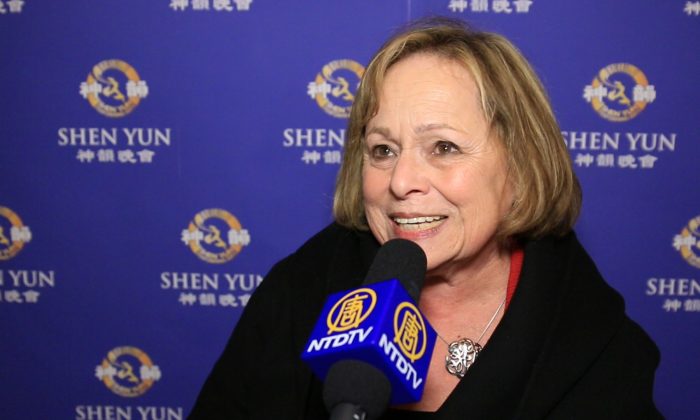 CHICAGO—"This is an absolutely wonderful show. I really advise everybody to see it," said TV producer Dr. Suzanne Cahnmann, Ph.D., of Shen Yun Performing Arts at the Civic Opera House Saturday afternoon, April 5.
Shen Yun, based in New York, "tells the story of ancient China with how everything was in China and how it got to be the way it is," she said.
Presenting myths, legends and tales of literary classics, Shen Yun also presents stories of courage about events happening in China today: the plight of Falun Gong, a spiritual discipline which is cruelly repressed by the Chinese communist regime.
Dr. Cahnmann explained that this classical music and dance company showcasing China's past glories resonated with her because she had interviewed on her TV show a Falun Gong practitioner who had survived the repression.
"I do comments, current events, roundtable, and it's available on YouTube for people to see it," she said. The Highland Park Public Access Studio hosts her "Cahnmann's Current Events Roundtable," of channel 19 cable television.
The person Dr. Cahnmann interviewed was imprisoned for 10 years for believing in Truthfulness, Compassion, and Tolerance, the main principals in Falun Gong, which is a meditative and peaceful practice. The communist regime has tried to crush this spiritual practice since 1999.
"I was able to tell this to my viewers about what happened, about what is still happening in China. In this [Shen Yun] production it was made available for people to really understand what is happening, and it was done in a very wonderful way, [as it shows] how beautiful these people are and how the persecution should never happen," she said.
Along with learning about what is happening in China today, Dr. Cahnmann also learned about the different dynasties and the history of China from its over 5,000 year old culture. "It was just absolutely beautiful," she said.
Dr. Cahnmann said that this was her second time seeing Shen Yun. The performance is new each year, from the music and choreography to the handmade costumes. She said the performance was even better this time: "They enhanced it with all the different graphics and computerized [action] and dancing and singing."
"It was absolutely beautiful, and I hope that everybody comes and sees it," she said.
With reporting by Teresa You and Sharon Kilarski
New York-based Shen Yun Performing Arts has four touring companies that perform simultaneously around the world. For more information, visit Shen Yun Performing Arts.
The Epoch Times considers Shen Yun Performing Arts the significant cultural event of our time. We have proudly covered audience reactions since Shen Yun's inception in 2006.