Shen Yun Draws Sydneysiders of All Ages and Professions
April 18, 2014 7:17 pm Last Updated: April 20, 2014 8:18 pm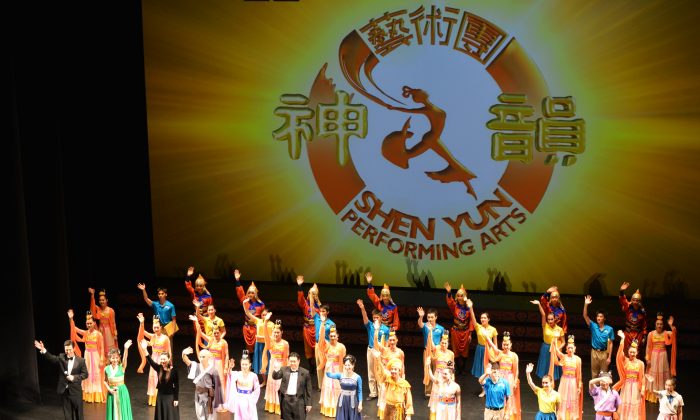 SYDNEY, Australia—Renowned for its revival of China's authentic cultural history, Shen Yun Performing Arts International Company drew Sydneysiders of all ages and professions recently to the Sydney Theatre.
Among the enthusiastic crowd was John Shiel, a civil engineer, who now works in sustainability. He is learning Mandarin and studying Chinese history as a result of visiting China twice.
"First of all I thought the music was brilliant," he said. "I'm a musician myself. I thought the combination of the instruments was great."
According to the New York-based company's website, "The Shen Yun Orchestra combines the spirit, beauty, and distinctiveness of Chinese music with the precision, power, and grandeur of the Western symphony orchestra. The result—two great traditions producing one refreshing sound."
Mr. Shiel also thought the interaction between the digital backdrop screen, the performers, and the orchestra was unique.
Using state-of-the-art graphics technology, the "digital-backdrop team creates vividly animated settings, extending the stage and transporting the audience to a world where heaven and earth are one," the website says.
Mr. Shiel said he had seen animated backdrops used some 20 years ago, but not like this. "I've never seen a live performance where it was absolutely brilliant," he said.
'Absolutely spectacular'
Carolyn Hosking and her 11-year-old granddaughter saw Shen Yun and absolutely loved the presentation.
"Amazing, absolutely spectacular, the dancing, the precision. I don't think I have seen anything like that before," she said. "I have been to the ballet, the Australian Ballet, many times but the precision in this dance was truly spectacular.
"And of course the costumes were absolutely outstanding, breathtaking."
The hand-made costumes are "presented with brilliant colors, displaying a splendid spectacle—from the Tang Dynasty's 'Raiment of Rainbows and Feathers' to imperial dragon robes, phoenix coronets, and cloud capes; from the civil official's headdress and robes to the warrior's helmet and armor; and from the traditional rightward cross-collared Han clothing to the ethnic attire of the Manchurian, Tibetan, Dai, Mongol, and Uyghur ethnic groups," states the website.
'It was really nice and flowy'
For 13-year-old Brooke Simmons, who dances classical ballet, Shen Yun's performance was greatly enjoyable.
"I really liked the music, it is very delicate," she said. "I liked the [athleticism] of the male dancers and with the girls, it was really nice and flowy."
Brooke was with her mother Michelle Simmons who found a new appreciation for her daughter's dancing, after seeing Shen Yun.
"I enjoyed it. It was very different to the classical ballet that Brooke does, but understanding how much work Brooke puts in, you can see they put a lot into their dance."
The website explains, "All these jumping, turning, and flipping techniques, along with the exquisiteness of the bearing and form, give classical Chinese dance special expressivity. It is able to transcend ethnic, cultural, and even linguistic barriers, taking this well-established Chinese culture and presenting its essence to the world.
'Professional, very polished and really energetic'
Art teacher Donna Miller saw the show with Christian Lillicrap, who found Shen Yun "professional, very polished and really energetic."
"We were just saying how energetic it is. And how light they seem to be when they do all those amazing acrobatics," Mr. Lillicrap said.
Ms. Miller added, "When they were sweeping the stage, it was incredible. Yes…very impressive."
Mr. Lillicrap thought the stories about the spiritual practice Falun Gong, which is persecuted in China, were confronting.
"Falun Gong, also called Falun Dafa, is guided by the principles of "Truthfulness, Compassion, and Tolerance." It has helped over a hundred million Chinese people understand and return to the essence of traditional Chinese culture—Confucian, Buddhist, and Taoist schools of thought," says the website.
"And yet, the Chinese Communist Party, whose regime and ideology are in stark contrast with the traditional culture of China, has targeted Falun Gong for persecution."
"It was a bit confronting when they were talking about what's going on in China now. But I think it's good that it's talked about openly because we don't hear that side of China these days and I think it's important that people do."
Ms. Miller would tell friends that Shen Yun was "a full performance [with] a lot of different layers and elements which really make it entertaining."
'Everything—a delight'
Oscar Ferguson, a novelist, and Debbie Ferguson were also amidst the audience.
"This was beautiful. So were the dancers, the men–all very, very good of them. The ladies are a lot gentler than the men. Fantastic visually, colourful, beautiful [costumes]. Really happy with it so far," Ms. Ferguson said at intermission.
"I think the Mongolian Chopsticks dance was amazing. I'm thoroughly enjoying it. Very good indeed. Very colourful. Very bright. The choreography, the dancing, the gymnastic elements were –everything–a delight."
Reporting by NTD Television, Shar Adams and Raiatea Tahana-Reese
New York-based Shen Yun Performing Arts has four touring companies that perform simultaneously around the world. For more information, visit Shen Yun Performing Arts. 
The Epoch Times considers Shen Yun Performing Arts the significant cultural event of our time. We have proudly covered audience reactions since Shen Yun's inception in 2006.