Shen Yun: A Divine Experience
March 16, 2011 1:24 pm Last Updated: March 17, 2011 3:28 am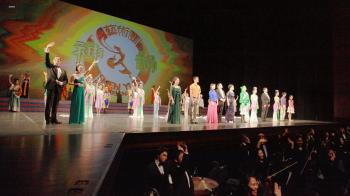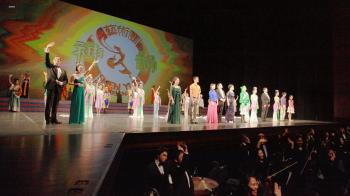 Showgoers are in for a treat. Shen Yun Performing Arts, which tours the world portraying the essence of China's fascinating culture, is returning to western Canada for a series of performances.
Shen Yun, which translates as "the beauty of divine beings dancing," celebrates the heritage of China in a lavish production of dance and music.
Included are a wide variety of pieces, from ethnic folk dances to vocal soloists to grand-scale classical Chinese dances, accompanied by a unique live orchestra that melds traditional Western and Chinese instruments.
Something else unique is the show's digitally animated backdrops, cinematic in scale, that interact with what's taking place onstage. The stories portrayed depict both historical and contemporary legends and events, augmented by flawless choreography and exquisite handmade costumes.
The movements of classical Chinese dance, the centrepiece of the show, are elegant and the skills wide-ranging, far surpassing those of ballet. The ancient art form includes leaps, turns, somersaults, and tumbling, yet the Shen Yun dancers exude a sense of peacefulness in their every move.
The ancient Chinese believed that their culture was divinely inspired, meaning that China's rich civilization was passed down from the heavens. Chinese script, medicine, agriculture, silk, and musical instruments are all seen as having been imparted or inspired by various deities.
But as a result of Mao Zedong's devastating Great Cultural Revolution, precious little of the old traditions remained. Although later Communist leaders staged various "culture festivals" and related events, this simply restored the superficial appearance of the culture.

Enter Shen Yun, which began with a passionate group of artists in the Chinese diaspora who shared a vision of cultural renewal. They set out to revive the traditional values and the soul of the culture that was decimated by Communist policies.
Shen Yun has performed on some of the world's great stages, including London's Royal Festival Hall, Kennedy Center in Washington D.C., New York's Radio City Music Hall and Le Palais de Congres in Paris.
Since 2006, the New York-based company has grown to three dance ensembles and three orchestras that simultaneously tour the globe each season.
Now, with an all-new line-up, Shen Yun returns to western Canada to once again display the beauty and depth of Chinese traditional culture, playing in Saskatoon (March 22), Edmonton (March 24-25), Calgary (March 27-29), and Vancouver (April 1-3).
For more information, visit ShenYunPerformingArts.org