Sharpies were made available at all 175 voting locations on Election Day in the largest county in Arizona, officials said Thursday.
"Poll workers in all those locations were instructed to provide voters with Sharpie markers to mark their ballots in accordance with the recommendation of the manufacturer," Tom Liddy, civil services division chief for Maricopa County, said in a letter to the office of Arizona Attorney General Mark Brnovich's office.
The office opened an inquiry this week after hundreds of voters filed complaints about Sharpies at polling locations.
Michael Catlett, deputy solicitor general for Brnovich, asked Maricopa County in a letter about the use of Sharpies and wondered how many ballots were rejected because ink from markers bled through.
Maricopa County has nearly 5 million residents, about two-thirds of the population of Arizona.
Liddy said the manufacturer of the vote tabulation machines used by the county recommends Sharpies because ink from ballpoint pens can cause smudges in the machines and foul them, while Sharpie markers do not.
Therefore, Sharpie markers should have been used in all voting centers by all voters, he said.
"Whether the voter opted to use one cannot be determined without examining each individual ballot—something our client cannot possibly do at present," he said.
While Sharpies were made available at each polling location, so were ballpoint pens.
The use of pens would not cause a ballot to be misread or not counted, according to Liddy.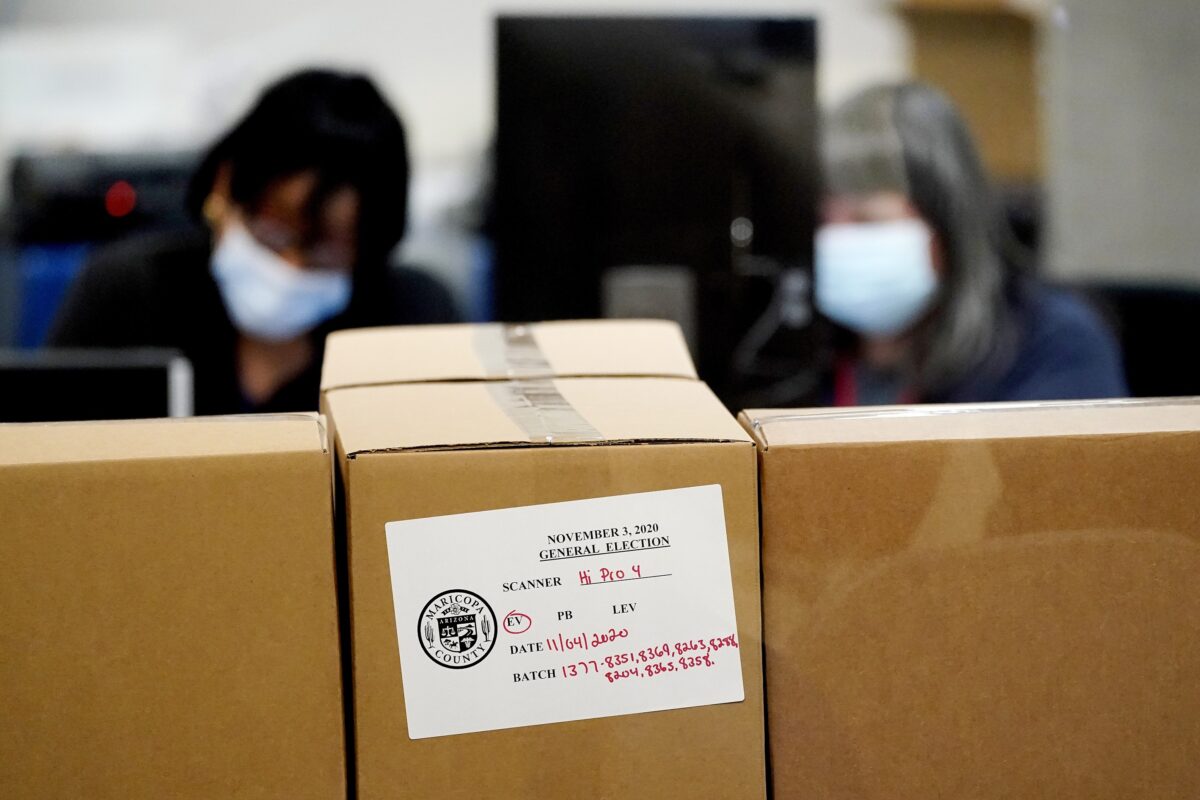 He said no ballots were rejected at voting centers.
In cases where ballots were not able to be read, a voter was provided the opportunity to spoil the damaged ballot and cast a new one. "Whether voters do so or not is entirely up to them," Liddy wrote.
A post-election analysis on the amount of spoiled ballots is in process.
In a statement in response to the letter, Brnovich said: "Based on correspondence and conversations with Maricopa County officials, we are now confident that the use of Sharpie markers did not result in disenfranchisement for Arizona voters."
The letter came after a lawsuit was filed on behalf of Arizona voters whose ballots were rejected after being filled out with Sharpie markers that election officials told them to use.
Maricopa County resident Laurie Aquilera said in the suit that she "was provided with a Sharpie by the poll workers with which to mark her ballot. Plaintiff completed her ballot with the provided Sharpie. While completing it, she noticed that the ink was bleeding through."
Aquilera claimed she had never previously been required by Arizona workers to mark a ballot using a Sharpie felt-tip pen when voting in Maricopa, which is the largest county in Arizona and encompasses much of Phoenix.
"Plaintiff fed her ballot into the ballot box. The ballot box failed to properly register her vote, causing a poll-worker to cancel her ballot in the presence of Plaintiff," the suit said. "Plaintiff requested a new ballot but, upon information and belief, upon consultation with the Maricopa County Recorder's Office, the poll workers refused to provide her with one."
Mark Tapscott contributed to this report.