Shanwei Victim's Father Driven Insane; Luo Gan Seen Before "Massacre"
December 21, 2005 12:00 am Last Updated: December 21, 2005 12:00 am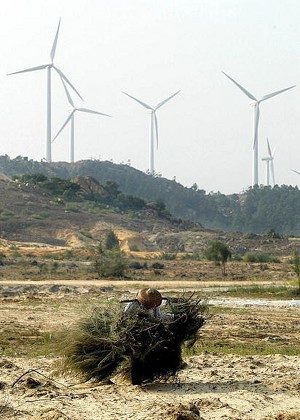 CHINA — A man whose son was shot during the "Shanwei Massacre" has been found wandering on a street in Shanwei, China, while talking to himself and holding a stick, having apparently lost his reason. This unfortunate man had been forced to sign a letter admitting that the cause of his son's death was that he "blew himself up." Also, additional information has been learned that Luo Gan was seen in Shanwei just prior to the incident on December 6 and that the Honghai Bay power plant, the alleged cause of the villagers' protest, has an improper financial background.
Victim's Father Driven Temporarily Insane
Jiang Guangge, a resident of Shanwei, was shot to death by police earlier this month as villagers attempted to expose local corruption. The Chinese Epoch Times reports that on December 18, his father, after having been brainwashed for many days, was forced to sign the government's statement that Jiang's death was caused by the explosives he was supposed to have been carrying. The father apparently lost his reason the very next day.
Villagers told a journalist, "They (the government) drove him crazy! His son had been killed by the government but he was forced to sign that his son had died from a self-inflicted explosion, and this is killing the old man!"
The resident also said that the victim's uncle, Jiang Guanggui, has been kidnapped by local authorities. These officials threatened to hurt him and forced the father to hand over an X-ray of his son's fatal wound that had been taken the day of the shooting incident. Jiang's father thus had no choice but to give up the only evidence proving exactly how his son had died.
According to the villager, the Shanwei government promised three families who had lost loved ones a compensation of 500,000 yuan (US$62,500), but told them that after accepting it, no further compensation could be sought.
Luo Gan's Involvement
A source has informed The Epoch Times that prior to the shooting incident, Luo Gan had clandestinely arrived in Shanwei just before departing overseas. Luo clearly instructed local authorities to arrest the villagers' representatives. Without the permission of the Chinese Communist Party's highest levels, it is believed to have been impossible for Shanwei's local government to mobilize paramilitary police and order them to fire on the villagers.
Honghai Bay Power Plant
According to an insider, although the Honghai Bay location is listed as a privately owned electric power plant, the local government in Shanwei has a 10 percent stake in the plant, acquired by converting municipal land into shares. Guangdong Province Governor Huang Huahua's brother also owns shares in this company and investors stand to lose about 1.3 million yuan (US$163,000) a day, should the power station stop operating.