Shanghai authorities chose to continue their draconian "zero-COVID" strategy on April 6 after ordering another round of citywide tests to control an outbreak that a local official described as "extremely grim."
Gu Honghui, Shanghai's deputy secretary-general, made the grim assessment during a briefing on Wednesday. He said the new COVID tests would target mainly locals whose residential compounds had reported infection cases between April 1 and April 5. Additionally, individuals who have tested negative after an initial positive result would also undergo another round of testing.
While Gu did not specify how many residentials will undergo the latest round of testing, millions will likely be tested in the city with a population of about 24 million.
Until all the required tests are done, Gu said the existing curbs would remain in place.
Gu also announced that there were 17,077 new infection cases for the previous 24 hours, bringing the city's total since March to over 90,000. However, according to various reports, the infection data should not be taken at face value since the actual infection rate could be significantly higher.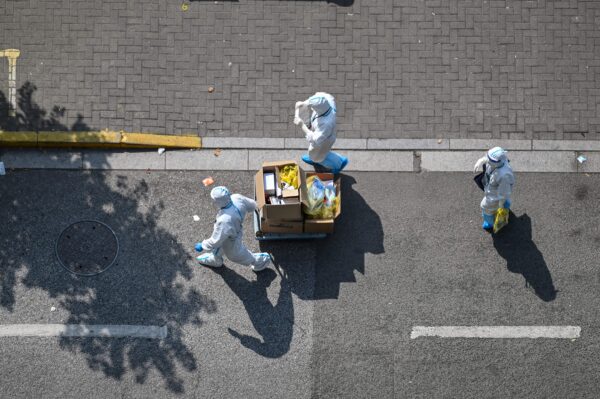 After Gu's announcement, some Shanghai netizens decided to take to China's Twitter-like Weibo to vent their concerns. Some expressed fear about being infected while lining up to take the tests; others complained about the disorganized testing sites.
"Asking residents to gather and come out to take a nucleic acid nearly every day, not isolating those that have tested positive, and infection spreading among people taking the test, there are some problems with the Shanghai government," a Shanghai netizen wrote on Weibo.
For over a month now, Shanghai has been hard hit by the highly transmissible Omicron variant of the CCP (Chinese Communist Party) virus. On March 28, Shanghai officials put the city into a two-stage lockdown, but they have yet to announce when the restrictions will be lifted.
On April 5, Wu Qianyu, an official with the municipal health commission, told a briefing that the city's "zero-COVID" policy would remain in place.
"We must adhere to the general policy of dynamic clearance without hesitation, without wavering," Wu said, in order to reach the target of "zero [COVID-19] target" as soon as possible.
Various media outlets have reported a few deaths, but Shanghai authorities have not confirmed the reports nor officially announced any COVID-related deaths amid the current outbreak.
Complaints
Many Shanghai residents have complained about the harsh lockdown measures, pointing to a shortage of food and medicine and lacking access to medical treatment for non-COVID diseases. Parents have also complained about their children being forcibly taken away due to a government quarantine policy.
The problem with the food supply was brought up during the Wednesday briefing. Liu Min, the vice-director of Shanghai's commerce commission, said that local officials were working hard to resolve bottlenecks in order to provide the "basic living needs" of the population.
Some Shanghai residents have decided not to take the government-mandated nucleic acid tests. One of them is Zhang Li (a pseudonym), who told The Epoch Times on April 5 that she denied a police request to take the test.
"I told [the police] that I have been confined to my home for more than 10 days. Under the country's rules, I have the right to choose to take the test or not," Zhang recalled.
Zhang explained that she didn't want to take the test because it would put her at risk of being targeted for political persecution. Chinese officials could manipulate test results and detain targeted individuals at an isolated facility under the guise of a positive test, she added.
In the previous round of citywide tests that began on April 4, Shanghai officials said over 25 million residents were tested.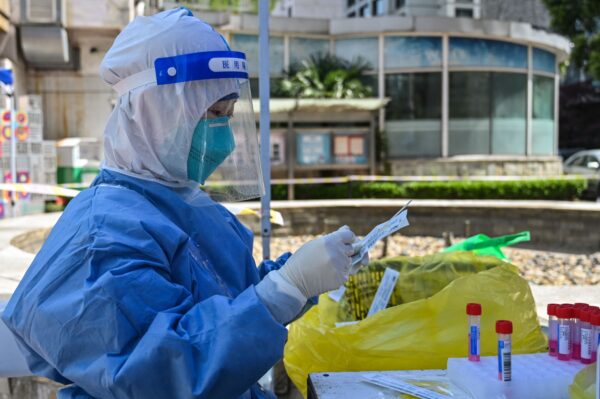 Shanghai's makeshift hospitals have also come under heavy criticism for poor conditions.
Tang Ziqi (a pseudonym) told The Epoch Times on April 5 that he arrived at a makeshift quarantine center called Nanhui at around 5 a.m. local time on April 2, after testing positive for the CCP virus a day earlier. He said the center was originally a school dormitory.
Tang said when he first arrived, the place was a mess. He and others had to put together their own beds and clean filthy bathrooms.
He added that the place also lacked proper management, so people fought over food, sleeping blankets, and other supplies.
The living condition was particularly unbearable because the center did not have hot water, forcing many people to choose not to take a shower, he said.
Tang said he also became frustrated after seeing how doctors at the center did not have the proper medicine to treat a person with a high fever on April 4.
He was pretty supportive of the city's "zero-COVID" policy in the past. But after spending a few days at the center, he had become very disappointed with the local officials.
Tang said he had called government hotlines seeking help, but nobody had responded.
"I want to go home. I really want to go home. I can isolate myself at my house," he said.
Zhao Fenghua, Luo Ya, Gu Qinger, Gu Xiaohua, and Reuters contributed to this report.