Senate Democrats—aided by 12 Republicans—took a giant step on Nov. 28 toward the final passage of the "Respect for Marriage Act" that many civil liberties experts say will seriously damage Americans' freedom of religious practice and expression.
The 61 to 35 vote came on a cloture motion to limit debate on the Senate floor to 30 hours and have the vote on final passage. The same dozen GOP senators had voted on Nov. 16 with all 50 Democrats on a preliminary motion to move the proposal forward. The vote was set up by the pre-Thanksgiving approval of the preliminary motion.
The dozen Republican senators were Sen. Roy Blunt of Missouri, Sen. Joni Ernst of Iowa, Sen. Dan Sullivan of Alaska, Sen. Cynthia Lummis of Wyoming, Sen. Rob Portman of Ohio, Sen. Shelley Moore Capito of West Virginia, Sen. Susan Collins of Maine, Sen. Thom Tillis of North Carolina, Sen. Richard Burr of North Carolina, Sen. Lisa Murkowski of Alaska, Sen. Mitt Romney of Utah and Sen. Todd Young of Indiana.
The proposal was approved by the House in July.
Senior Senate Republican aides who asked not to be named said a vote on final passage is likely Thursday. Votes may also be allowed tomorrow on amendments proposed by Sens. Mike Lee of Utah, James Lankford of Oklahoma, and Marco Rubio of Florida. Their amendments are intended to provide stronger protections for freedom of thought and religion.
Opponents had hoped prior to the Nov. 28 decision to persuade at least three of the dozen GOP senators to reverse themselves and instead oppose moving the proposal forward. Had three done so, the cloture motion would have fallen short of the required 60 votes and the proposal would at least temporarily have been stopped.
Supporters of the proposal like Sen. Tammy Baldwin (D-Wis.), the measure's original sponsor in the Senate, argued that an amendment incorporated in the text before Thanksgiving and designed to protect pastors, priests, and rabbis from being forced to perform same-sex or other non-traditional marriage ceremonies were sufficient to protect religious freedom.
Baldwin said the amended proposal is needed to "give the millions of Americans in same-sex and interracial marriages the certainty that they will continue to enjoy the freedoms, rights, and responsibilities afforded to all other marriages."
The Supreme Court's 2015 Obergefell v. Hodges decision legalized same-sex marriage nationwide. The Supreme Court's 1967 Loving v. Virginia legalized interracial marriage in America.
But Baldwin and other backers of the proposal claim that the High Court's Dobbs v. Jackson decision earlier this year threatens those decisions with coming reversals. In a floor speech prior to Nov. 28's vote, Sen. John Cornyn (R-Texas) called that claim a "scare tactic."
Potential Thought Crimes
Opponents argue the proposal provides official sanction for discrimination against individual citizens, faith-based schools, social service agencies and non-profits, and small businesses that oppose non-traditional marriage out of deeply held religious principles and practices.
"If a nonprofit is engaged in behavior that is 'contrary to public policy,' then the IRS has the discretion to strip that organization of its tax-exempt status," Alliance Defending Freedom (ADF) senior counsel Greg Baylor told The Epoch Times on Nov. 19.
"Our concern is the IRS is going to point to the Respect for Marriage Act and say, 'These organizations that aren't recognizing same-sex marriage are acting inconsistently with public policy articulated in the 'Respect for Marriage Act'," Baylor said.
Heritage Foundation vice president for domestic policy Roger Severino was even more blunt in his assessment of the proposal, telling The Epoch Times: "This legislation is nothing more than a way to weaponize the federal government against people of faith, and it offers no additional benefits or protections that same-sex couples don't already have.
"Instead, this bill encourages radical activists to sue religious schools, colleges, and adoption agencies and will empower Biden's 87,000 new IRS agents to revoke the tax-exempt status of faith-based nonprofits. Congress should be protecting our First Amendment rights instead of pushing divisive legislation that nobody needs."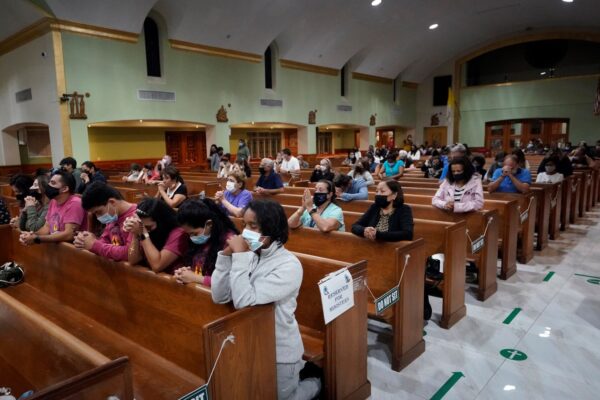 Utah's Lee put forward a second, tougher amendment during the Nov. 16 debate  that would specifically exempt individuals, non-profits and businesses from being penalized as a result of their religious beliefs by government officials due to enactment of the Respect for Marriage Act.
Senate Majority Leader Chuck Schumer (D-N.Y.) did not allow a floor vote on the Lee amendment. That refusal prompted Baldwin's senatorial Republican colleague from Wisconsin, Ron Johnson, to vote against the proposal.
"Senator Lee proposed an amendment that would have prohibited the government from taking such action, and even offered to vote for the bill if they accepted it. I would have also supported the bill with his language," Sen. Johnson said.
"The fact that the bill's sponsors rejected his offer speaks volumes. Religious liberty should be upheld for all and those with sincerely held religious beliefs should not be discriminated against for their views on marriage."
Lee's amendment may now be considered on Tuesday.
House Republicans were also vocal on Nov. 28 about the Senate vote.
Rep. Chip Roy (R-Texas), who has been especially fervent on the issue, tweeted a warning to the dozen GOPers who supported the proposal before Thanksgiving.
"Those who see and know the truth have a moral duty to stand firm in its defense and to defend the institution of marriage … the question is how many Republicans will display it when this bill comes to the floor for a vote," Roy said.