Seaside Heights Fire on New Jersey Boardwalk '95 Percent' Contained: Gov. Christie (+Photos)
Over 50 businesses have burned down; 400 firefighters on the scene
September 12, 2013 3:22 pm Last Updated: June 24, 2015 8:28 pm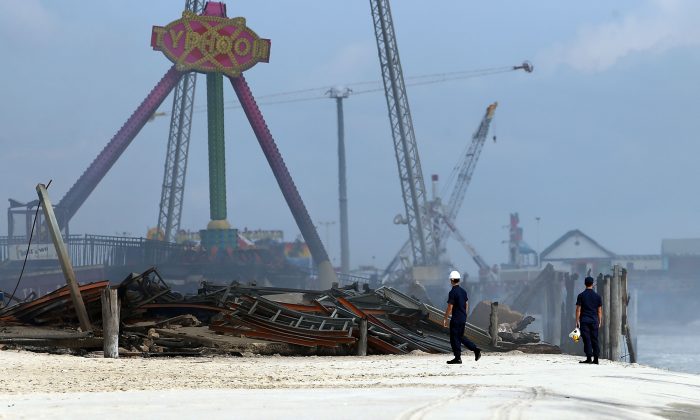 About 400 firefighters are still battling a fire that started at Kohr Brothers on the Seaside Park boardwalk on Thursday and rapidly grew bigger, engulfing more than 50 businesses.
But the fire is about 95 percent contained, New Jersey Governor Christie said on Friday morning.
Today the fire is 95% contained. The damage here extends from Lincoln to Stockton avenues. pic.twitter.com/vlIaM2pKI7

— Governor Christie (@GovChristie) September 13, 2013
Christie said there were only minor injuries, including to three police officers who fell from a moving vehicle.
"I will not permit all the work we've done over the last 10 months to be diminished or destroyed by what happened last night," Christie said during a media briefing in Seaside Park.
Surveying the boardwalk damage in Seaside w/ the Lt Governor and local officials right now. pic.twitter.com/GCLXNGrewO

— Governor Christie (@GovChristie) September 13, 2013
The fire started at about 2:30 p.m. on Thursday in Seaside Park and quickly spread north into neighboring Seaside Heights, where the MTV reality series "Jersey Shore" was once filmed.
The fire burned down eight blocks of boardwalk, four on the Heights side and four on the Park side, and caused millions of dollars in damages. Windy conditions were at one point sending fist-sized embers as far as four blocks away.
"There's not much left" in the affected areas, said Brian Gabriel, Ocean County's fire coordinator. "It looks like a couple of bombs went off. It's pretty much complete devastation."
———————-
A 20-foot trench at Lincoln Avenue stopped the blaze.
The Hail Mary effort to save the remainder of the boardwalk began in the evening when public works crews ripped out a 25-foot swath of boardwalk to serve as a makeshift fire break, depriving the blaze of fuel.
They then filled the void with giant sand piles.
"That appears to have done the trick," said Seaside Park Mayor Robert Matthies.
Christie arrived at the fire around 6:30 p.m. and held a televised press conference about 45 minutes later.
"I feel like I want to throw up," he said, describing his reaction to the fire.
 "It's unthinkable," he said. "I can only imagine how the residents and business owners are feeling."
The fire comes after a recent re-building of the area, which was decimated by Hurricane Sandy last year.
Seaside Park Councilwoman Nancy Koury said the fire has taken out all 32 businesses on the Seaside Park portion of the boardwalk. Michael Loundy, a real estate agent who works with Seaside Heights on tourism projects, said 20 businesses were destroyed there.
"I can't believe this is happening," Koury said as she watched the flames devour boardwalk structures. "Our small business people went through so much in the storm to get ready for summer and stay open all summer, and now it's all gone. I just can't believe it."
An investigation into its cause could not kick into high gear until the last of several smoldering hot spots was extinguished, a process that could take days.
"We just reopened June 1, went through the whole summer trying to stay open, and now this happens," said Daniel Shauger, manager of Funtown Arcade, which was one of 32 Seaside Park boardwalk businesses damaged in the fire. "We're wiped out again. It's just unimaginable."
——————–
Story developing; check back for updates
Follow @ETBreakingNews for breaking news from around the world.
MORE:
Seaside Park Declares a State of Emergency Amid 10-Alarm Fire
FunTown Amusement Pier in Seaside Park Boardwalk Burns Down
[<a href="http://storify.com/ZackStieber/fire-on-seaside-heights-boardwalk" target="_blank">View the story "Fire on Seaside Heights Boardwalk" on Storify</a>]
The Associated Press contributed to this report.