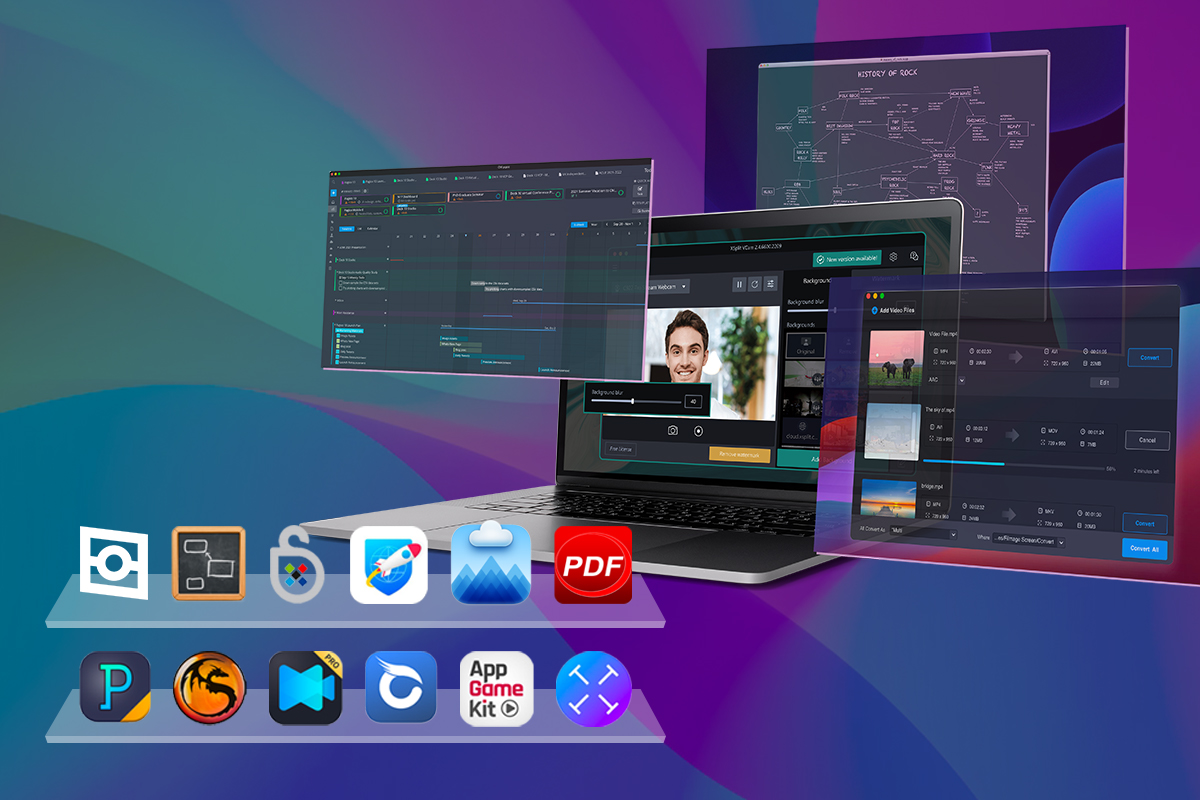 via StackCommerce
Macs have always been known as powerful computers, but if you think about it, you won't accomplish much without apps at your disposal. But the thing about Macs is, although they're easy to use and come with handy features, they don't have the best default apps to help you reach peak productivity.
But don't fret, this Cyber Monday, you can score the ultimate Mac software package for the price of a single app. The Complete Limited Edition Mac Bundle nets you access to a dozen award-winning apps that serve distinct purposes, from encrypting your online activity to storing passwords for you. For a limited time, you can score the bundle on sale for an extra 40% off with the code MACBUNDLE40.
Here's a quick preview of some of the apps you'll get with a purchase of the bundle:
XSplit VCam Premium

via StackCommerce
Look better on Zoom calls and live streams with this highly-rated app. XSplit VCam removes, replaces, and blurs your background without the need for green screens or complicated lighting. It works with major video chat and conferencing programs, so you can use it for vlogging, meetings, virtual interviews, and more.
Flame Painter 4

via StackCommerce
Flame Painter is a design program that boasts state-of-the-art technology to help you create special effects and original artwork with life-like particle brushes, layers, and organic tools. It's ideal for CG artists, graphic designers, photographers, or anyone who wishes to dip their toes into digital art.
BuhoCleaner

via StackCommerce
Eliminate unwanted junk, apps, data, and duplicate files with this easy-to-use Mac cleanup software. Equipped with advanced Mac acceleration technology, it also lets you run memory-consuming tasks on your computer without incurring any stress on your device.
RealVPN

via StackCommerce
Enjoy total online protection and internet freedom with this VPN service. It encrypts all your data and internet activity from any app, so you can be completely anonymous to ISPs, ad trackers, and malicious hackers. RealVPN also has multiple VPN servers spread all over the globe, giving you the best connection speed possible.
Sticky Password

via StackCommerce
You no longer have to remember complex passwords with this award-winning password management and form filler software. It supplies you with strong encrypted passwords for all your accounts, and it fills out online forms on your behalf with your saved information.
PDF Reader

via StackCommerce
Feel free to annotate, edit, combine, convert, encrypt, scan, and sign any PDF document with this powerful solution. With its wide range of features, it lets you do things like markup text and add comments, add, delete, and replace text, combine multiple files into a single PDF document, transform any PDF to and from Microsoft Word, Excel, or Powerpoint document, and so much more.
If you're buying all the apps independently, you'll have to cough up $1,040, but this Cyber Monday, you can get all 12 on sale for $17.99 with coupon code MACBUNDLE40.
Prices subject to change.