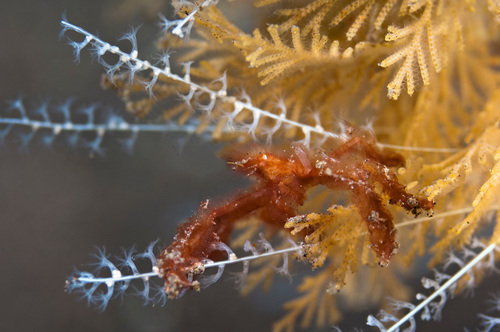 The orangutan crab, Achaeus japonicus, is a small crustacean in the decorator or spider crab family.
This furry-looking species inhabits the tropical Western Pacific Ocean from Indonesia to Fiji, as well as in coastal waters of Japan.
It only grows to about 0.8 inches (2 centimeters) in diameter with fairly long legs coated in a thick covering of fine reddish brown hair.
The crab feeds on plankton and other suspended particles that it collects with the hair on its first pair of walking legs.
A. japonicus is often found living in association with the bubble coral Plerogyra sinuosa.
Matthew Oldfield is a freelance photographer based in Bali, Indonesia, specializing in editorial and documentary images from both above and below the waves. He works primarily with charities, NGO's, and other organizations working to conserve the environment, endangered species, and disappearing cultures.
Matthew is on Twitter @matthewoldfield. More of his photos can be found at matthew-oldfield-photography.com

The Epoch Times publishes in 35 countries and in 19 languages. Subscribe to our e-newsletter.