San Francisco Mayoral Campaign Implicated in New Electioneering Irregularities
October 24, 2011 2:43 am Last Updated: February 15, 2013 6:58 pm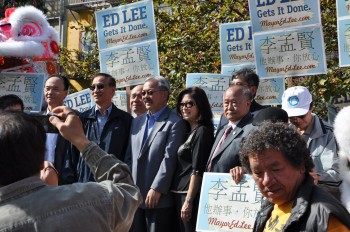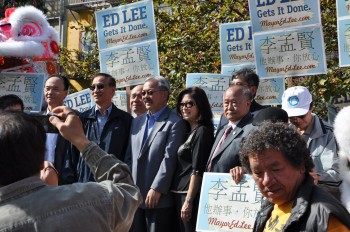 UPDATED 11:40am PST on Monday, Oct. 24.
SAN FRANCISCO—Campaign workers for Mayoral candidate Ed Lee have been observed engaging in activities that appear to violate California's election law, at public events that are part of officially organized electioneering efforts.
At an official Ed Lee campaign event in Chinatown on Oct. 15, Lee workers pointed out whom to vote for on a Vote-by-Mail ballot, took the ballot from the voter, placed it in an envelope and put the envelope in a box, apparently to send it in on behalf of the voter, according to an eyewitness.
Further, at an Ed Lee office on Clay Street in Chinatown this past Sunday, a volunteer associated with Lee's campaign had in his possession at least one Vote-by-Mail ballot that had not yet been filled in, which he took from a previously unopened envelope.
This eyewitness testimony follows video and testimony reported by the San Francisco Chronicle and the Bay Citizen, which implicates an independent expenditure committee, the SF Neighborhood Alliance, that supports Lee. The evidence reported to and gathered by The Epoch Times implicates Lee's directly controlled campaign.
The witness to the first incident, a reporter from New Tang Dynasty Television, a media partner of The Epoch Times, saw the activities take place in the 40 minutes she was in Portsmouth Square, at the center of Chinatown on Saturday Oct. 15, in the afternoon.
When the reporter arrived at the square she was approached by several workers who questioned her closely about her media affiliation (she provided vague answers), followed her, and tried to shield her from photographing the table. The witness said she felt intimidated.
Later she stood at the table—without her camera—and observed the instance of a Lee worker receiving a Vote-by-Mail ballot.
While standing against the campaign table, about three feet away from the voter and campaign worker, the reporter observed this scene: a campaign worker had the elderly voter's ID card and a ballot, and filled out the individual's particulars; he then unfolded the ballot and turned it around to the voter; he pointed to Ed Lee's name in the first column of the ballot, and the elderly voter proceeded to fill in the space to vote for Lee in the first column; the campaign worker then pointed to names in two other columns, which the reporter could not make out, and the voter proceeded to fill those in as well. The campaign worker then folded up the ballot, placed it in an envelope, and put the envelope in a cardboard box with other envelopes. Few words were exchanged in the process, the witness said.

Ed Lee campaign posters adorned the table, and Lee had spoken at that event around 30 minutes previously. It is advertised on his website—only in Chinese—as the "Chinatown Mobilization."
Then, in an encounter on Sunday Oct. 23 at an official Ed Lee campaign office at 943 Clay Street, Epoch Times reporter Ariel Tian masqueraded as a relative of an old, incapacitated Chinese person in the area who needed voting assistance.
While Ms. Tian was in the office she expressed a desire to see a ballot. An individual acting as a volunteer campaign worker ripped open an envelope with his finger, and pulled out and unfolded a ballot. After letting Ms. Tian examine it briefly, a worker said "that's somebody else's, you can't have that one." The ballot was returned and put back into the envelope. The exchange was in Mandarin Chinese.
Vote-by-Mail ballots, also known as Absentee Ballots, are sent to individual voters, either by request or for those who are registered as permanent Vote-by-Mail voters. The voter receives an envelope, a ballot, and a stub attached to the ballot which is registered to that specific individual. Voters are meant to complete the ballots and mail them in without the intervention of political activists.
An hour later at the same office there was no chance to see a ballot. At that time a man there was alert to queries; in response to questions about seeing a ballot, he said: "We were accused of this yesterday by a Western newspaper." A woman corrected him: "No, you're mixed up, we weren't the ones accused, it was other people."
They were probably referring to the articles by the San Francisco Chronicle and the Bay Citizen who, in response to a tip-off from the office of Leland Yee, a rival mayoral candidate, exposed how an independent expenditure committee supporting Lee's campaign had used clear plastic stencils to hold over the top of ballots, and filled out ballots on behalf of voters, as well as other irregularities.
Section 3017 of the California Elections Code says that no vote by mail voter's ballot "shall be returned by any paid or volunteer worker of any general purpose committee, controlled committee, independent expenditure committee, political party, candidate's campaign committee, or any other group or organization…"
Section 18371 of the same code states that "no candidate or representative of a candidate… shall solicit the vote of a vote by mail voter, or do any electioneering, while in the residence or in the immediate presence of the voter, and during the time he or she knows the vote by mail voter is voting."
Ed Lee, when questioned by The Epoch Times about the electioneering carried out by the independent expenditure committee on Oct. 23, said, "that's not part of our campaign. I really denounce the people who are not legally doing the right thing." He said they should stop, and that the District Attorney should look into it.
"My campaign is 100 percent compliant," he said. "If people in my campaign did that, they would be fired right away."
On Oct. 23, seven mayoral candidates drafted a joint letter to the Justice Department calling for an investigation into the allegations.
On the evening of Oct. 23, a Sunday, Tony Winnicker, spokesperson for Ed Lee's campaign, did not respond to phone calls or an SMS message.
Additional reporting by Thomas Guo and Ariel Tian.
The Epoch Times publishes in 35 countries and in 21 languages. Subscribe to our e-newsletter.