The Ukrainian Navy said in a statement that the 13 Ukrainian border guards who were awarded the title "Hero of Ukraine" after they were believed to have died while defending Zmiinyi (Snake) Island in the Black Sea from a Russian bomb attack are still alive.
"We are very happy to learn that our brothers are alive and well," the Ukrainian Navy said in a statement posted on its official Facebook page, noting that the border guards were "taken captive by Russian occupiers on Snake Island."
Previous story:
More than a dozen Ukrainian soldiers were killed while defending a tiny island located in the Black Sea after they reportedly refused to surrender to Russians threatening to bomb them.
Ukraine on Thursday lost contact with its forces on Zmiinyi (Snake) Island—a roughly 40-acre speck of land located south of the port of Odessa—after Russia conducted strikes from air and sea, Kyiv said.
A Ukrainian official said 13 soldiers had been killed in the bombing and an audio clip has emerged that is purported to have captured an exchange between Ukrainian and Russian forces prior to the attack.
"This is a Russian warship. I propose you lay down your weapons and surrender to avoid bloodshed and unnecessary victims. Otherwise, you will be bombed," the Russians said, according to the audio obtained by local news agency Ukrainskaya Pravda.
"Russian warship, go [explicit] yourself," Ukrainian forces replied before Russia began the strikes.
Ukrainian President Volodymyr Zelensky promised in his address after the first day of Russia launching its assault on the country that he would posthumously honor the group of Ukrainian border guards killed in the bombardment.

"On our Zmiinyi Island, defending it to the last, all the border guards died heroically. But they did not give up. All of them will be posthumously awarded the title of Hero of Ukraine," Zelensky said in comments on his website.
On Friday, Russia's defense ministry said 82 Ukrainian soldiers on the island had surrendered voluntarily as Russian paratroopers attempted to take control over the small island territory—which has previously been the subject of a territorial dispute between the two countries.
"82 Ukrainian soldiers in Zmiinyi island area lay down their arms and capitulated to Russian soldiers. Now they must sign a statement that they refuse to participate in military actions. Soon they will be returned to their families," spokesman Igor Konashenkov said, without mentioning that Russian troops carried out strikes and inflicted mass casualties.
Russia began invading Ukraine early on Thursday with a series of missile strikes that mainly targeted government and military installations, on the orders of President Vladimir Putin, who announced a "special military operation."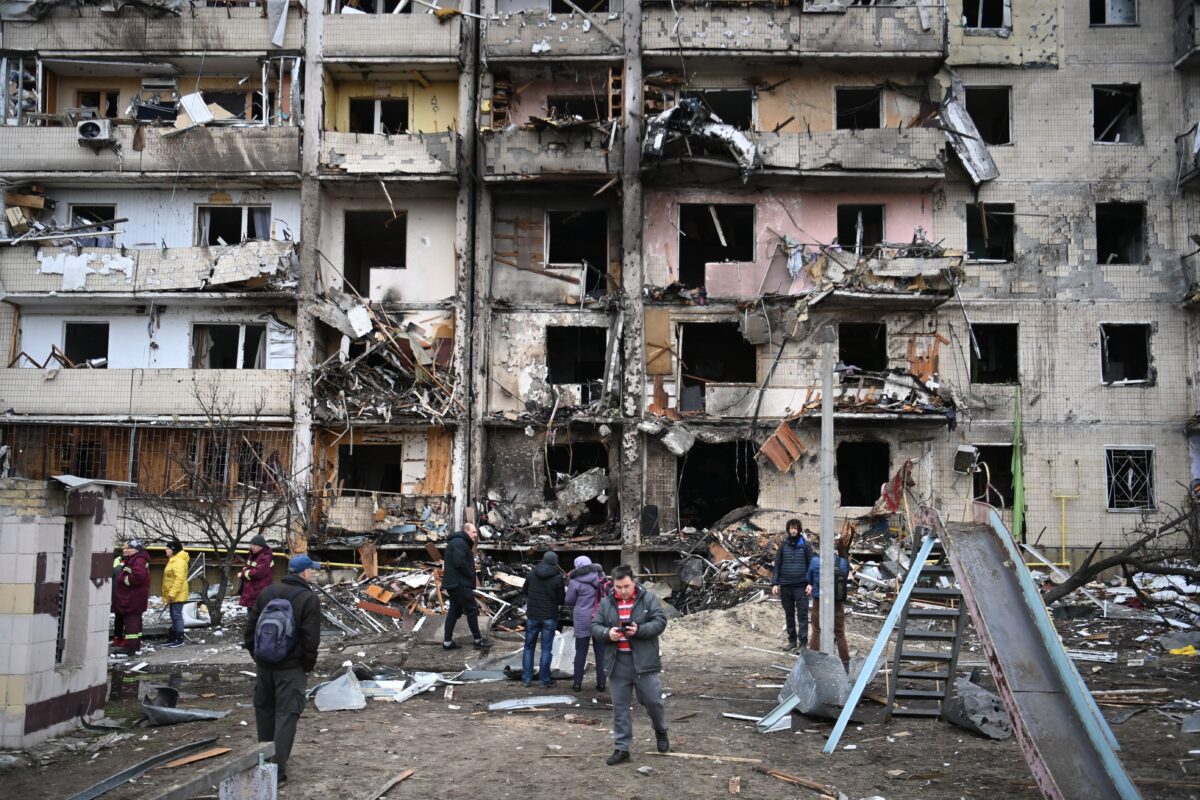 At least 137 people had been killed and 316 were wounded since Russia launched its assault on the country, Ukrainian President Volodymyr Zelensky said on Friday.
On Thursday, Zelensky said in a speech that Ukraine has been "left alone" to defend itself against the Russian invasion and that "Russia attacked the entire territory of our state."
"And today our defenders have done a lot," Zelensky said. "They defended almost the entire territory of Ukraine, which suffered direct blows. They regain the one [sic] that the enemy managed to occupy."
Zelensky called everyone involved "heroes" in a video address on Friday, saying Russia is killing innocent people and turning peaceful cities into military targets, also stressing that Moscow's actions "will never be forgiven."
Katabella Roberts and Reuters contributed to this report.
From NTD News