Five people were killed and another five were wounded after missiles hit Kyiv on March 1 within hours of Russia warning that its military would launch strikes at sites in Ukraine's capital.
Ukranian officials said the strikes on a television tower resulted in 10 casualties and Ukrainian President Volodymyr Zelensky said a memorial site to the Holocaust was also struck.
"To the world: what is the point of saying «never again» for 80 years, if the world stays silent when a bomb drops on the same site of Babyn Yar?" Zelensky wrote on Twitter, referring to the memorial, which sits near the TV tower.
Ukrainian officials said the missiles that hit the tower and memorial were fired by Russia.
Smoke billowed from the tower structure after the Russian Defense Ministry was quoted by state-run news agencies as promising its military would strike sites in Kyiv belonging to Ukraine's security service and a special operations unit.
The Russian ministry said the strikes would be aimed at thwarting "informational attacks against Russia," urging Ukrainians to evacuate the areas around the sites.
Capturing Kyiv, which has about 2.8 million people, is a main objective of the Russian military, according to Ukrainian, American, and British officials.
A Russian armored column stretching for 40 miles was approaching Kyiv from the north but had made little progress over the past day, a senior U.S. defense official told reporters on a call on Tuesday. The official attributed the situation to troops running low on fuel and food, which may have triggered the shift in tactics.
"One reason why things appear to be stalled north of Kyiv is that the Russians themselves are regrouping and rethinking and trying to adjust to the challenges that they've had," the official said.
Besides firing at Kyiv, Russian troops were accused of shelling Kharkiv, the country's second-largest city, and the southern port city of Mariupol.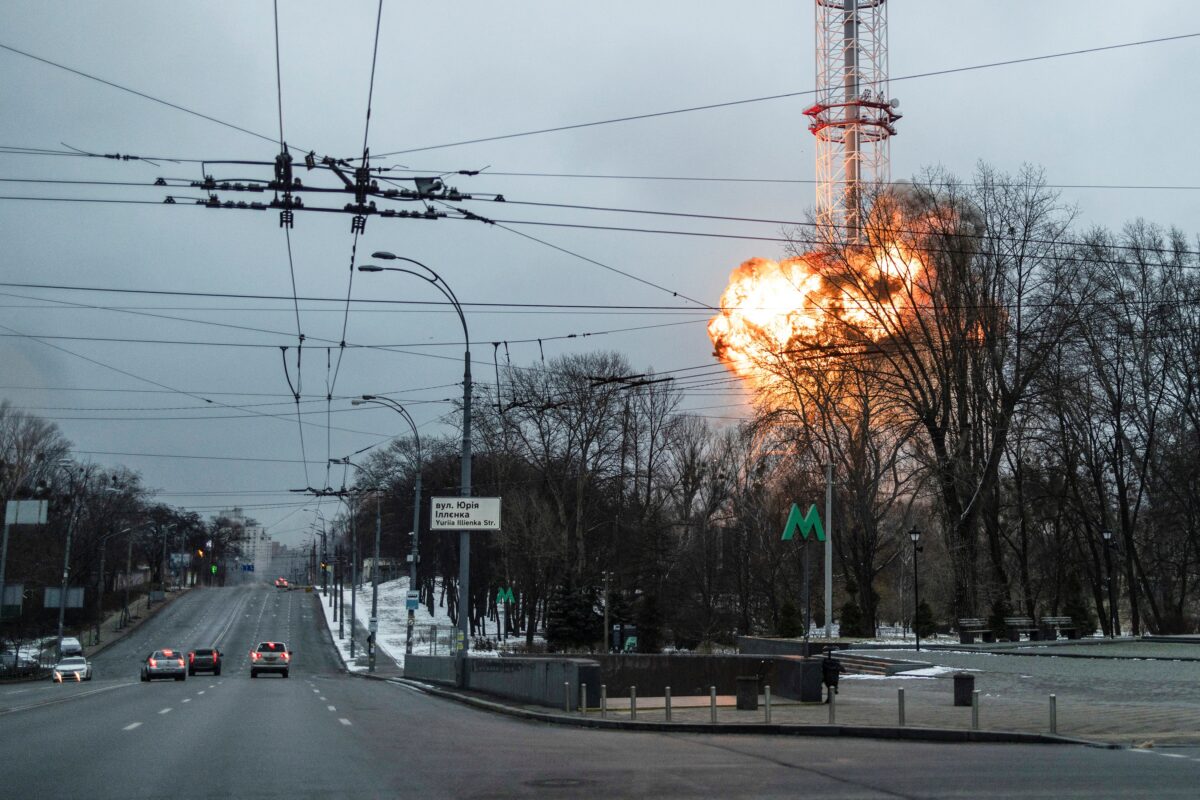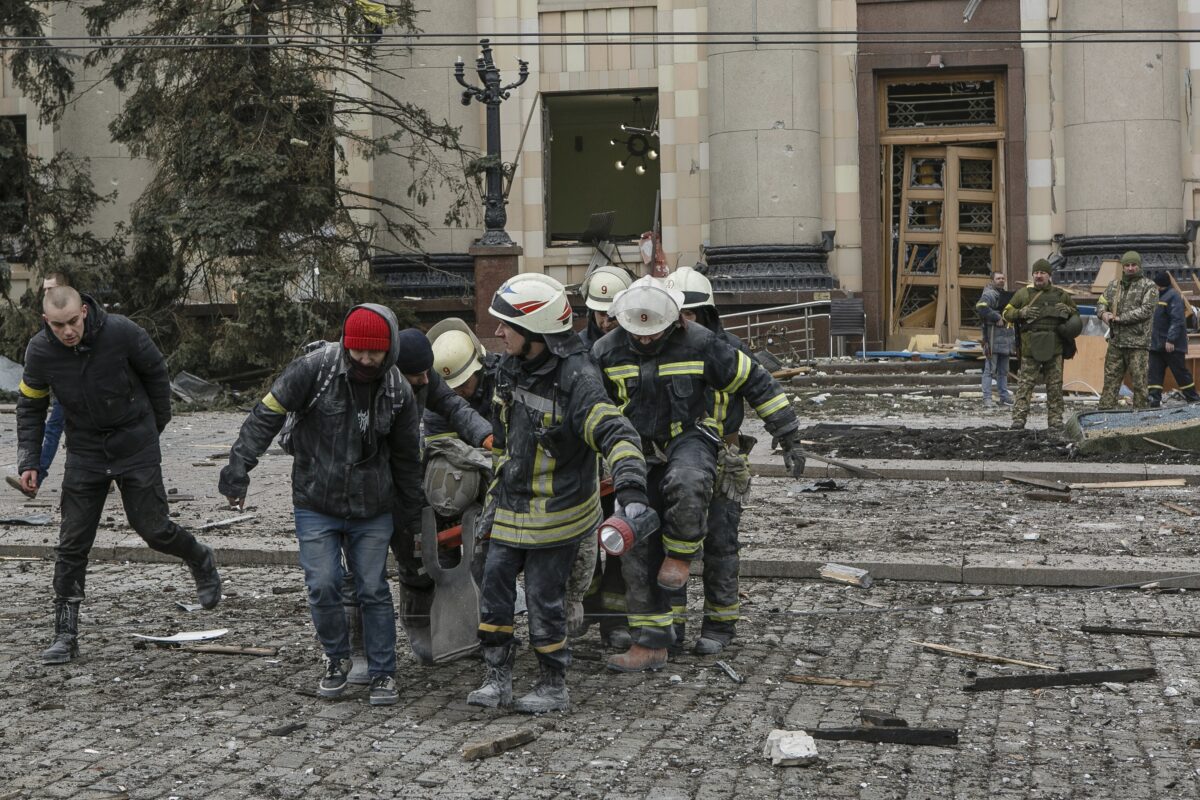 Rocket strikes on Ukraine's second-biggest city Kharkiv killed at least 10 people and wounded 35, Ukrainian Interior Ministry adviser Anton Herashchenko said. Similar strikes killed and wounded dozens in Kharkiv on Monday.
Photographs and videos showed severe damage from the missiles.
Ukraine described the attacks as war crimes because they hit residential areas and urged the rest of the world to take action.
"Do prove that you will not let us go. Do prove that you are indeed Europeans and then life will win over death and light will win over darkness," Ukrainian President Volodymyr Zelensky, who has remained in the capital rallying Ukrainians, told the European Parliament via remote link.
America and European allies have refused so far to send troops to aid Ukraine, but have dispatched weapons, including anti-tank launchers.
Western countries have also resisted calls from Ukraine to impose no-fly zones over portions of Ukraine. Implementing such areas would "require deploying U.S. military to enforce, which would be a direct conflict—potentially a direct conflict and potentially war with Russia, which is something we are not planning to be a part of," White House press secretary Jen Psaki told reporters in Washington.
Oksana Markarova, the Ukrainian ambassador to the United States, said after meeting with members of Congress in the U.S. capital that Russians used a vacuum bomb in addition to missiles.
"They used the vacuum bomb today, which is actually prohibited by Geneva Conventions. So, you know, the devastation that Russia is trying to inflict on Ukraine is large. But we Ukrainians will resist. We are defending our home. We do not have any other option. We will not get tired. We will not stop. We will not surrender," she said.
The U.S. defense official told reporters on March 1 that Russia has fired more than 400 missiles since the Feb. 24 invasion, including roughly 20 in the past 24 hours.
The International Criminal Court is seeking approval to investigate alleged war crimes committed by Russia in Ukraine.
Russian officials appeared to dispute being behind at least some of the strikes.
"Russian forces, during special operations, do not conduct any strikes against civilian infrastructure or any residential areas; this is out of the question. We are talking only about the demilitarization of Ukraine and about military structures. We must not forget that in most cases that you bring up, that is the firing by these nationalistic groups," Dmitry Peskov, a spokesman for Russian President Vladimir Putin, told a briefing in Moscow.
Russia claims to be protecting itself from threats created by the West, and states it is not occupying Ukraine's territory.
Sergei Lavrov, Russia's foreign minister, told the Geneva-based Conference on Disarmament in a recorded address that Ukraine was seeking to acquire nuclear weapons.
Russian officials also alleged that the Ukrainian side is using civilians as human shields and have placed weapons, including mortars, in courtyards of residential buildings and near schools.
Ukraine says the invasion lacks justification and has called on Putin to order the complete withdrawal of troops.
Ceasefire talks ended on Feb. 28 with no immediate results. A second round was slated for March 2.
Isabel van Brugen and Reuters contributed to this report.