President Donald Trump's lawyer Rudy Giuliani called on counties in key election states to allow his team to examine voting machines to prove that Trump won.
In Arizona's Maricopa County, the Board of Supervisors voted to reject a subpoena for voting machines on Friday. Giuliani suggested that in Arizona, "we get a warrant to search all of the machines … Why would you ever not want people to look at voting machines? voting machines aren't private."
"They don't contain medical information," Giuliani told Steve Bannon's "War Room." "They don't contain illegal information. We don't get to see who you vote for. It's public information; [it] doesn't even belong to you. The only reason you would be resisting our examining those machines is because you know you did something crooked."
The former New York City mayor suggested that keeping the machines away from audits is a sign officials are trying to hide malfeasance.
He asked: "If those machines were straight as an arrow, they'd have put them out a month ago. Are people stupid? Don't they realize when somebody resists a subpoena to examine voting machines, and we're claiming fraud, and they're claiming no fraud, the person who wants to reveal it is the one who's right."
On Friday, the Board voted not to comply with an Arizona State Senate subpoena for an audit of the voting machines, instead opting to file a lawsuit. Last week, Senate Judiciary Committee Chairman Eddie Farnsworth, a Republican, had issued the subpoena to audit voting machines and ballots in the county, with a deadline for Friday at 5 p.m.
But the Chairman of the Maricopa Board, Clint Hickman, said the subpoenas to examine the machines and ballots were a "slap in the face," while another supervisor, Steve Gallardo, remarked that Farnsworth "knows better" than to issue subpoenas. The two said they were concerned that an audit would reveal voters' private information.
Requests for comment sent to a board spokesperson and the five board members weren't returned.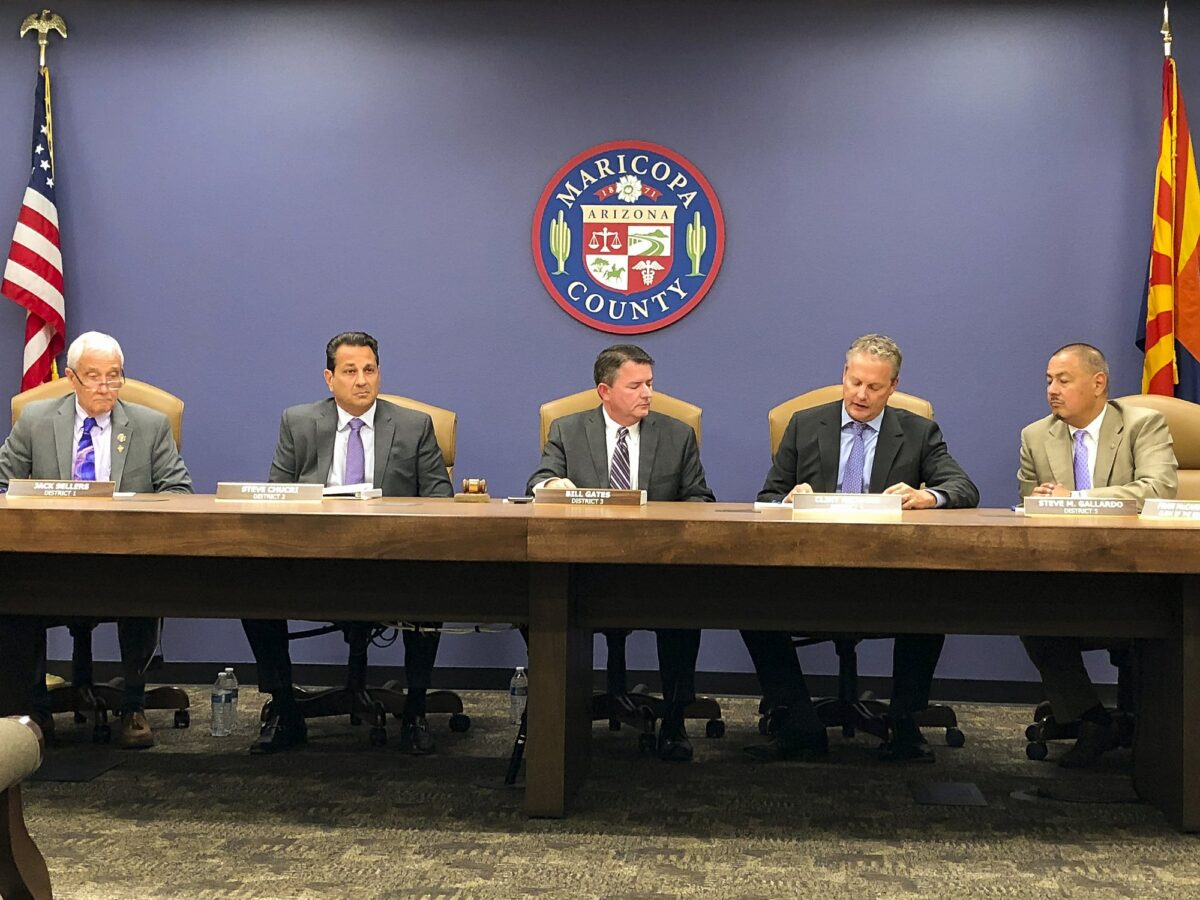 Republican Senate President Karen Fann backed Farnsworth's subpoenas for the county board to overturn the machines and certain ballots.
Fann said in a statement to the Washington Examiner days ago: "One subpoena calls for a scanned ballot audit, to collect an electronic ballot image cast for all mail-in ballots counted in the November 2020 general election in Maricopa County, Arizona. The second subpoena calls for a full forensic audit of ballot tabulation equipment, the software for that equipment and the election management system used in the 2020 general election."
Maricopa County uses Dominion Voting Systems, a company that has repeatedly denied that its machines can switch votes from one candidate to another. Its CEO, John Poulos, said their voting systems were approved by the federal Election Assistance Commission and said the firm has no ties to foreign governments.
"No one has produced credible evidence of vote fraud or vote switching on Dominion systems because these things have not occurred," Poulos said during a hearing with Michigan state legislators last Tuesday, adding that both he and his employees have faced death threats amid allegations that the Dominion machines were used to commit election fraud.
Giuliani, later in the interview, said that officials should make dozens of Arizona voting machines "available," and that his team "can do it publicly."
"You can have the press there, make sure we don't do any damage to the machine. Give us eight hours," he added, saying: "Do that in Georgia, do that in Arizona, do that in Michigan, and do that in Pennsylvania."
In those areas, it's necessary to look at the machines for a transparent election audit, Giuliani claimed.
"Let us see the machines, let us examine them. We'll examine them on television if you want. It takes eight hours to do 22 machines. So we give one day to one place one day to another," he added..