WASHINGTON—Ron Vitiello, the acting deputy commissioner of Customs and Border Protection, was tapped to fill the shoes of Tom Homan on June 30.
Vitiello will replace Homan as acting director of Immigration and Customs Enforcement (ICE).
"I am pleased that ICE will continue to be led by an experienced and well-respected career law enforcement officer who will be a strong advocate for the agency's workforce," said Secretary of Homeland Security Kirstjen Nielsen.
Vitiello started as a Border Patrol agent in 1985 in Laredo, Texas. Last year, he was named Border Patrol chief and then acting deputy commissioner of Customs and Border Protection.
He has been a staunch advocate for President Donald Trump's plan for a border wall.
"The U.S. Border Patrol sector chiefs and agents in the field have been vocal about their need for effective barriers to deny the entry of illegal aliens and contraband," Vitiello said on March 30. "The truth is, walls work, and the data show it, and agents know it."
In his new role, Vitiello's focus will shift from border enforcement to interior enforcement.
ICE is responsible for the deportation of illegal and criminal aliens, as well as investigations including those related to illicit goods, child exploitation, gang activity, and immigration fraud. The latter is carried out by its Homeland Security Investigations arm.
ICE has more than 20,000 employees in more than 400 offices in the United States and 46 foreign countries, according to its website.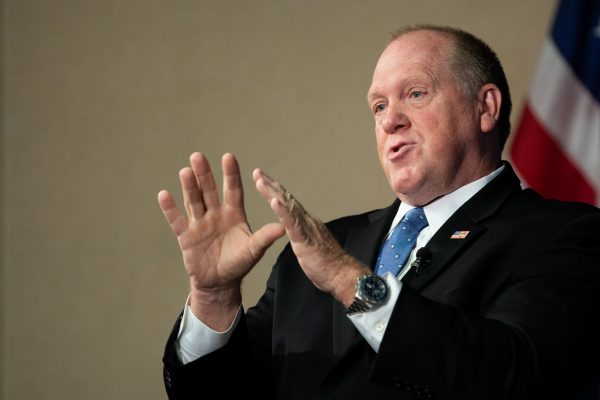 Homan said that his time at ICE gave him a front row seat for the "biggest issue facing this country."
"I think ICE has made a dramatic impact in the past year. A 45-year low in illegal immigration last year—that's not a coincidence," he said during an interview with Center for Immigration Studies on June 5.
"That's because we have a president, President Trump, who's allowing us to do our job. It shows, when you enforce the law in a meaningful way, it's going to deter further illegal entry—we've proven that."