Roger Stone, a longtime friend and former adviser to President Donald Trump, said he is going to court this week to try and delay the start of his sentence in what he called a "COVID-19 infested prison."
Stone said in a post on Facebook that he is headed to court this week in an effort "to delay the death sentence" that he said would be the consequence of his being forced to serve time behind bars while the pandemic continues to rage.
The danger posed by the potentially deadly bug to the U.S. prison population led Attorney General William Barr to call on the Bureau of Prisons to expand the use of home confinement for older inmates at higher risk of infection. The Chinese Communist Party (CCP) virus, the novel coronavirus that emerged from China last year and causes the illness COVID-19, affects the elderly and those with underlying respiratory conditions far more seriously.
"At 67 years old and with a history of asthma this is a certain death sentence," Stone wrote in a post on Instagram.
A federal jury convicted Stone on charges including obstruction, witness tampering, and lying to a congressional committee that was investigating Russian meddling in the 2016 presidential election.
Stone was sentenced on Feb. 20 to three years and four months behind bars. He has been ordered to surrender to a federal prison on June 30. The facility, Stone claimed in his message on Instagram, "is known to have a substantial presence of coronavirus."
In a video accompanying the Instagram post, Stone said he had "instructed my attorneys to file an immediate emergency motion with Judge Amy Berman Jackson asking for an extension in my surrender date because of the dangers of coronavirus, and at the same time asking to be left out of prison on an appeal bond pending the hearing of my very real appeal."
Jackson, who was appointed by former President Barack Obama, faced calls from Stone's legal team to recuse herself because she praised the jurors before deciding on Stone's request for a new trial, which rested on the issue of whether the jurors were impartial.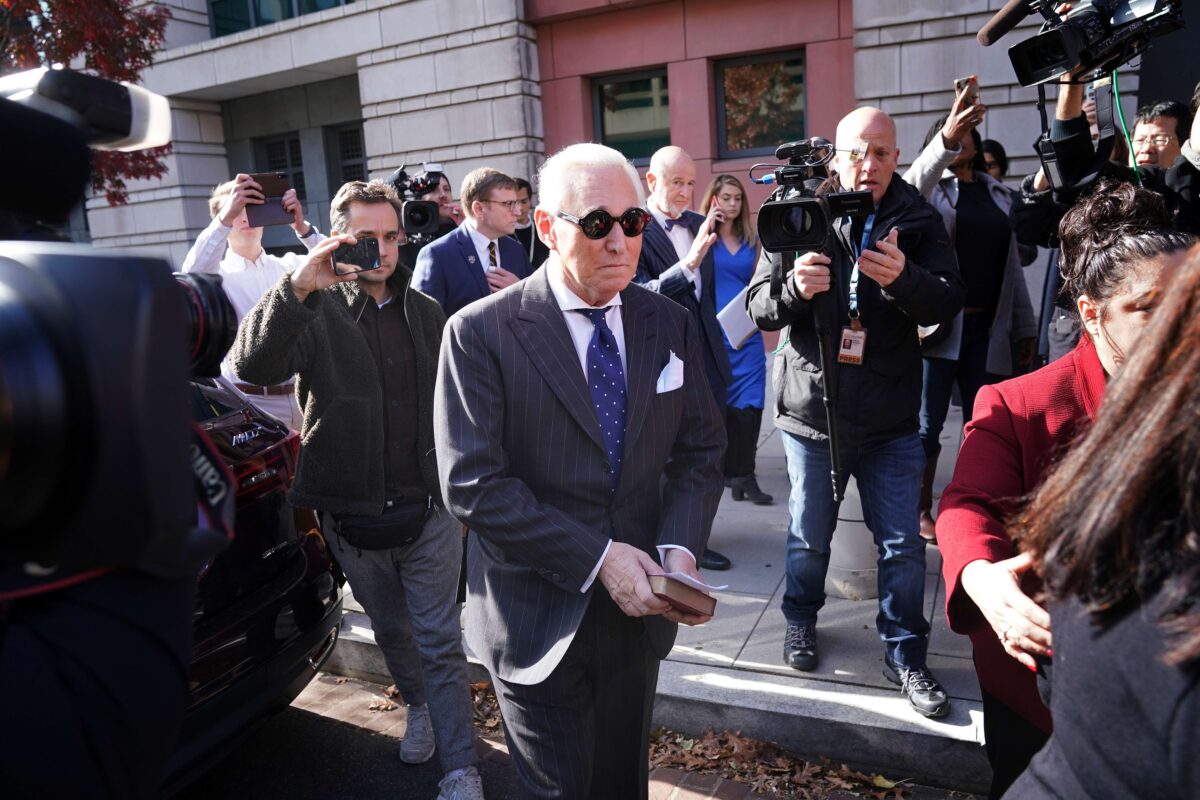 "I am not optimistic about a favorable ruling on either motion given the history of this trial, but I do feel an obligation to pursue every legal avenue, and exhaust them, before going formally to the president of the United States and appealing for a pardon or commutation of sentence in the name of both mercy and justice," Stone said in the video.
Trump earlier in June took to Twitter to share a post by Charlie Kirk, founder of Turning Point USA. In the post, Kirk argued for a "full pardon" for Stone after making an earlier tweet with claims of "a stacked, partisan jury" and "a rigged, unfair sentencing process."
Trump retweeted the post, writing, "Roger was a victim of a corrupt and illegal Witch Hunt, one which will go down as the greatest political crime in history. He can sleep well at night!"
The president said in February that he wouldn't be pardoning Stone, though he seemed to leave open the possibility for a later time.
"I'm not going to do anything in terms of the great powers bestowed upon a president of the United States, I want the process play out, I think that's the best thing to do," Trump said at a "Hope for Prisoners" graduation ceremony in Las Vegas in February. "Because I'd love to see Roger exonerated and I'd love to see it happen because I personally think he was treated very unfairly."
"At some point I'll make a determination," Trump said, "but Roger Stone and everybody has to be treated fairly. And this has not been a fair process."
In his Facebook post, Stone shared a link to StoneDefenseFund.com, a website that seeks to help with his legal costs.
A note there blames "the 'fake news' media black-out" for misleading the public about "how flimsy the case against him is and how he was railroaded in a malicious prosecution and a Soviet-style show trial in Washington, DC in which the Judge barred every powerful line of defense and carefully stacked an anti-Trump jury comprised completely of liberal Democrats."
"It was a total set-up perjury trap by Congressman Adam Schiff!," the note claims.