Riblon Gets France a Stage Win on the Double d'Huez
Ag2R's Chrisophe Riblon wins stage 18 of the Tour de France
July 18, 2013 12:19 pm Last Updated: July 18, 2013 2:10 pm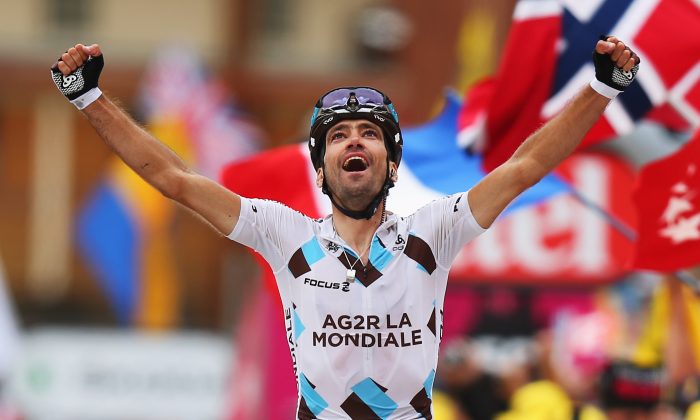 Christophe Riblon of Ag2R won Stage 18 of the 100th Tour de France, an historic stage that called upon everything the riders had in them. Riblon had just a little more than the rest, and he gave his home nation, France, a its first stage win in epic fashion.
Stage Eighteen of the 100th really was historic, and epic. These adjectives are so often overused they barely have any meaning, but on this day they can be applied accurately.
Stage Eighteen included the monumental ascent of the Alpe d'Huez, a long, brutal Hors Categorie climb, fourteen kilometers, 21 switchbacks, with ramps up to 11.5 percent. Any stage with Alpe d'Huez in it is going to be dramatic.
Stage Eighteen included this climb twice—the second time as a summit finish. Never in 100 years of Tour history had organizers dared to test riders with two ascents up this mountain. This stage truly was historic.
And epic? There was so much action, so many attacks, so many great riders tested—and found wanting to one degree or another—and so many riders proving their greatness: yes, Stage 18 is worthy of the word "epic"—perhaps not The Odyssey or Iliad, but a powerful story of human struggle and achievement.
At the end of the day, it was Christophe Riblon of the French Ag2R team who proved to be the greatest. Riblon joined an attack of nine riders 45 km into the 172.5-km stage; on the first ascent up Alpe d'Huez, he attacked again with BMC's Tejay van Garderen but was soon dropped by the young American.
Riblon, with Cannondale's Moreno Moser, fought back to catch van Garderen near the top of the climb. The trio turned onto the Cat 2 climb up the Col de Sarenne, which along with its very technical descent, looped the route back to the base of Alpe d'Huez.
Tejay van Garderen had to stop on the descent; a mechanical problem with his chain or derailleur forced him to pull over to make repairs, costing him 45 seconds and possibly the stage.
Riblon and Moser continued down the very tight, twisting, and very dangerous descent on old, patched roads. Coming to a corner where a tree shaded some wet pavement, Riblon nearly crashed. The Ag2R rider went straight off the side of the road and across a deep ditch. He managed to stay upright, and his bike wasn't damaged, so he pressed on in pursuit of Moser.
Riblon pushed hard on the rest of the descent and caught Moser ten km before the second ascent up Alpe d'Huez. Van Garderen also pushed hard and caught the leading pair three km before the start of the final climb.
This trio again road together briefly but once the road tilted up, Moser dropped back. Riblon stayed with van Garderen for the first 2000 meters of the climb, then he too fell back, leaving van Garderen in the lead.
Van Garderen rode strongly until the final five kilometers, when he started running out of energy. Meanwhile Riblon began gaining ground; 40 seconds back at the five-km banner, the French rider was only 20 meters back two-and-a-half kms from the finish.
The BMC rider pushed hard, but he had already been pushing for many miles, and especially hard trying to catch Riblon and Moser. Riblon had also pushed hard; he lost less time on the descent than van Garderen, but he fell back on the second climb up Alpe d'Huez.
Riblon was having an exceptional day. He kept accelerating up the mountain; he had saved just enough to make up the gap to the leader and go beyond.
Van Garderen gave his all, but he had been leading the race for more than 35 miles; he came up about a mile short. As van Garderen came under the two-kilometer banner, Riblon caught and immediately passed the young American.
As van Garderen slowed, Riblon accelerated. Realizing he was going to win this immensely difficult stage, the first won by a French rider in the 100th Tour, Riblon found extra energy.
His face as he entered the final 500 meters showed his mood: laughing, roaring in triumph, smiling wide, despite having tortured his body for nearly five hours up some of the hardest climbs in cycling, Christophe Riblon was feeling nothing but ecstasy as he crossed the finish line in first place.
Almost Too Hard
Stage 18 was all about the two climbs up the Hors Categorie Alpe d'Huez, which the peloton had to climb twice—a huge obstacle to crest once, an incredible demand even for the world's best cyclists the second time.
Along with the double ascent of Alpe d'Huez, the route contained four other climbs, three Cat 2s and a Cat 3—nothing to hinder the climbers, but enough to weed out some of the weaker riders, and put extra pressure on the leaders.
Fans knew that this would be a stage to watch. Half a million of them lined the road up all the mountain passes; some of them had been camping there for days, just to get a chance to see the riders pass by in a few seconds—or to see them pass twice, on Alpe d'Huez.
On the climbs, these fans created a tunnel of noise and waving flags barely wide enough for the riders to get through. Sometimes riders had to actually push fans aside to keep pedaling uphill. Part encouragement, part hindrance, these crowds prove the popularity of the Tour, right up with World Cup soccer or Formula One racing.
The Opening Salvos
Sky's team leader Chris Froome started the day four-and-a-half minutes lead on two Saxo-Tinkoff riders, Alberto Contador and Roman Kreuziger. Saxo was sure to attack repeatedly to wear out Froome's team mates, hoping to get the Sky leader isolated on the last climb where Contador and Kreuziger could alternate attack until Froome could no longer respond.
A breakaway of nine riders formed at the crest of the day's first climb, after 13 km of non-stop attacking, many launched by Saxo-Tinkoff, intent on getting riders up the road to help second-placed Alberto Contador. Even race leader Chris Froome had to respond to some of these early attacks; he couldn't allow anyone anywhere close to the top of the General Classification to get away.
These breakaway riders (Christophe Riblon (AG2R,) Arnold Jeannesson (FDJ,) Jens Voigt (RadioShack Leopard,) Tejay van Garderen (BMC,) Thomas Danielson (Garmin Sharp,) Andrei Amador Bipkazacova (Movistar,) Moreno Moser (Cannondale,) Lars Boom (Belkin,) Sylvain Chavanel (Omega Pharma-Quick-Step)) was allowed to get a good gap as it contained no GC threats.
Saxo-Tinkoff didn't get any riders into the break, so the team sent Luca Paulinho and Nicholas Roche to chase the escapees. The break had about four minutes when the Saxo pair attacked at the top of the day's second climb, the Cat 3 Rampe du Motty 45 km into the stage.
Paulinho and Roche were supposed to hang on in the breakaway to be ready to support attacks from Contador and Roman Kreuziger, third in GC and only 17 seconds behind Contador, the team leader. Paulinho and Roche spent so much energy trying to catch the break, they were no help on the serious mountains—Roche dropped off near the start of the first ascent up Alpe d'Huez, and Paulinho got caught halfway up.
The Descent
The first ascent was contested by the trio of Christophe Riblon, Tejay van Garderen, and Moreno Moser. The GC contenders were content to remain eight minutes behind, saving their legs for the attacks they knew would come on the final iteration.
None of the GC contenders attacked on the climb, but on the descent from Cole de Sarenne, Alberto Contador and Roman Kreuziger pushed ahead of the yellow-jersey group.
Contador in particular is a very skilled descender; if he could gain time going downhill it would be almost free time, earned without expending much energy, while Sky and Chris Froome would have to work hard to pull it back on the climb.
The two Saxo riders, second and third in GC, gained about 20 seconds on the most dangerous part of the descent. Lower down, where the road flattened out some, Movistar decided to reel them in, hoping to keep fifth-placed Nairo Quintana high up in GC. Once Movistar started chasing, Contador and Kreuziger sat up; they knew they couldn't stay away with two teams chasing.
The Final Climb
Movistar had plenty of firepower; five purple-shirted riders led Quintana, wearing the white jersey of the Best Young Rider, followed behind, saving energy for the climb. Chris Froome had two team mates, David Lopez and Ritchie Porte, ahead of him.
Movistar was first to attack, but not with Quintana; team leader Alejandro Valverde went first, to soften up the competition. Euskaltel's Igor Anton and Lampre's José Serpa joined the attack.
In the peloton, Ritchie Porte took the lead ahead of Chris Froome; they ignored the attack, knowing it was a feint. After a kilometer, Froome did react; although he was looking exhausted, the Sky team leader closed the gap to the escaping trio, then let Porte resume pace-making duties.
Froome's acceleration thinned the peloton somewhat; Contador, Quinatan, and Katusha's Joachim Rodriguez and Danny Moreno followed, but Saxo's Roma Kreuziger was done—he couldn't keep the pace.
1500 meters later Froome attacked again. Nairo Quintana followed immediately; Joachim Riodriguez waited a minute, then bridged across. The rest of this group slowly worked its way back, but Alberto Contador started to show signs of weakening.
Quintana pushed past Froome and opened a small gap; Froome fought back, only to have Rodriguez pass both riders and open his own gap.
While Porte and Valverde worked hard to rejoin their team mates up front, Quintana worked to catch Rodriguez and Froome fought to hold Quintana's wheel. Six kilometers from the top of the climb, all these riders joined up, but Chris Froome was struggling to hold onto the group.
Illegal Refueling?
Froome began waving for his team car, but there was no way for the car to get past the riders and through the screaming crowds. Instead, Ritchie Porte had to drop back to the team car to get some energy gels for his team leader. Porte then had to accelerate back uphill to catch the other riders, to give the gels to Froome just under the five-kilometer banner.
This was a questionable move. It is illegal to take on food or water in the last 20 km of the race (though exceptions are made for water on extremely hot days.) Riders are supposed to finish on their own power and with what they carry on their bikes and in their pockets.
Froome was out of energy; he was in the state sometimes call "bonking," when the body has absolutely no more sugar to feed its muscles. If Chris Froome did not get some food immediately, he might have had to stop.
Ritchie Porte risked a serious fine by breaking race rules and taking food from his team car; but that food was for Chris Froome. Will race officials let such a transparent subterfuge stand? On the other hand, would race officials want to strip Froome of the leader's jersey? Likely the race elader will get away with this one.
The Finalé
While Froome and Porte played out their emergency-energy dramas, Rodriguez and Quintana kept racing. This pair rode together until the 3.5 km mark, when Movistar's Nairo Quintana decided it was time to go. The young Colombian managed to open a gap but he couldn't hold it. Halfway to the top, Joachim Rodriguez caught Quintana.
These two weren't trying to win the stage; they know, because fo their radios, that Riblon was entering the last kilometer. With 1800 meters to go, this pair were racing to shave seconds off their overall times, sprinting to the finish line.
Riblon crossed the line after four hours, fifty-one-and-a-half minutes of racing; Tejay Van Garderen followed 59 seconds later. Moreno Moser held on for third, 1:27 behind Riblon.
Quintana and Rodriguez raced right to the line, with Quintana pulling out a three-second lead, finishing 2:12 behind Riblon.
Porte and Froome crossed the line together, 3:18 behind the winner but still ahead of the rest of the GC contenders.
Froome actually stretched his lead over Alberto Contador by 37 seconds, to 5:11. Roman Kreuziger dropped to fourth behind Nairo Quintana, who might finish on the podium in his first Tour de France. Joachim Rodriguez advanced one place to fifth.
Belkin rider Bauke Mollema, fourth at the start of the stage, cracked on the climb and finished sixth in GC. Astana's Jacob Fuglsang advanced a spot to seventh, as the old seventh-placed rider, his team mate Laurens Ten Dam, dropped to tenth. Saxo-Tinkoff's Michale Rogers moved up from eleventh to eighth. Omega Pharma-Quickstep's Michal Kwiatkowski, second in Best Young Rider, held onto ninth.
Two More Massive Mountain Stages left
Chris Froome had a very bad day in the mountains on Wednesday; his first since bad day the start of the Tour. He still has more than five minutes' lead, but he got lucky on the slopes of Alpe d'Huez. If Ritchie Porte hadn't been having a very good day, he wouldn't have been there to help his team leader. Had Froome not gotten those few energy gels, he might have lost a lot more time.
Froome's opponents saw his weakness. Unfortunately for them, they could see that it was in his nutrition regimen, not in his legs. If Chris Froome eats a big dinner, gets a lot of sleep, and remembers to eat enough while riding in the next stages he should be fine.
Still the next two stages are very tough. There will be plenty of opportunity for every weakness to be exposed and exploited.
Stage 19, 205 kms from Bourg-d'Oisans to Le Grand-Bornand, contains five categorized climbs, including two Hors Categorie climbs, Col du Glandon and Col de la Madeleine in the first 85 kms. These two monsters are followed by a Cat Two and a pair of Cat Ones, with a steep downhill and a 500-meter uphill to finish the stage.
The first two climbs are early enough in the stage that even riders who run into trouble should be able to catch the peloton before the final three climbs. The question then is who will have the legs, after nineteen days of riding, after one hundred-sixty kilometers on the day, to attack and to defend on the final two climbs? Can Froome be broken? With both Saxo-Tinkoff and Movistar wanting to push Sky, will the team—and its leader—be able to beat both?
And after this long, painful stage, riders don't get a rest. Stage 20 is short, only 1245 km, but it is packed with climbs: A Cat Two to start, followed by three Cat Threes and a Cat One, and after all that, an Hors Categorie summit finish at Annecy-Semnoz.
Every rider will be going all-out for this stage; after Stage 20 there is nothing but the procession down the Champs Elysée and the final sprint, which won't involve any of the climbers. All the top riders will want to advance in GC, will want a final stage win, will want to leave everything on the mountain.
Chris Froome will have to do the same, and if he has a bad day, even just part of a bad day …
And Froome has more than fatigue to worry about.
Tejay van Garderen might well have won stage 18 if his chained hadn't jammed. A mechanical problem can hit any rider at any time.
Christophe Riblon could have crashed when he went off the road; the day before his team mate Jean Christophe Peraud crashed during his warm-up ride for the time trial, and then, riding hard with injuries, crashed during the race and had to withdraw.
Chris Froome is a few days away from possibly winning his first Tour de France. The pressures on him, and the demands, increase every day. Happily for fans, the excitement increases as well.