A Republican congressman and his colleagues are hoping to crack down on the Chinese Communist Party's "trojan horse" activities taking place in U.S. universities.
Rep. August Pfluger (R-Texas) recently introduced H.R.7779, which proposes "to establish Department of Homeland Security funding restrictions on institutions of higher education that have a relationship with Confucius Institutes." There are currently 15 Republican co-sponsors of the bill.
Speaking to The Epoch Times in late June, Pfluger explained that "the Chinese Communist Party [CCP] is utilizing Confucius Institutes to infiltrate American university campuses to engage in espionage, steal our intellectual property, intimidate Chinese dissidents, promote communist propaganda, and funnel information back to the People's Liberation Army (PLA)."
He also said that "under no circumstances should American taxpayer dollars be used to enrich the CCP or the PLA [People's Liberation Army]," adding that "Congress must ensure taxpayer dollars are cut off from these programs for good."
As Confucius Institutes (CIs) became more exposed and began to shut down across the country, a new report by the National Institute of Scholars (NAS) suggests that many of the public educational and cultural promotion programs are rebranding themselves—continuing the CCP's effort to influence operations within the United States.
Although over 100 of the 118 CIs in the United States have closed or are in the process of closing, Beijing remains committed to influencing U.S. universities. At least 38 programs have been replaced by comparable substitutes, according to the NAS report.
NAS senior research fellow and co-author of the report, Rachel Peterson, stated at a June 21 discussion forum that "the Chinese government is betting that if it takes away the name 'Confucius Institute' and tweaks the structure of their program, no one will be the wiser and realize that Chinese government influence remains alive and well on American higher education."
As a result, Pfluger's bill includes not only the many CIs across the country, but other Chinese entities of concern as well. To that end, the Department of Homeland Security's (DHS) Restrictions on Confucius Institutes and Chinese Entities of Concern Act prevents DHS funds from flowing to U.S. universities that host a CI or maintain a relationship with a Chinese entity of concern.
"The bill will require DHS to create a list that identifies entities and individuals affiliated with the CCP that pose the same risks as Confucius Institutes to American universities and distribute that list to universities," Pfluger explained.
And based on the list of names, he said, universities would be required to report donations to DHS.
"By forcing universities to disclose these individuals," he said, "Congress and the American people can have a more comprehensive look at the entities who are attempting to exploit DHS grant dollars to enrich the PLA."
Accompanied by over a dozen Republican colleagues, Pfluger said he also introduced H.R.7851 to "amend the Higher Education Act of 1965 to require institutions of higher education to disclose certain ties to China-affiliated organizations."
According to the congressman, the bill will "increase transparency requirements for universities that receive funding from individuals, universities, think tanks, cultural/educational/language programs, any Chinese state-owned entities, or organizations that have CCP members sitting on their board of directors."
If this bill were enacted, Pfluger said it would require universities that receive donations of more than $5,000 from any entities affiliated with the CCP to publicly report these donations to the Secretary of Education and on a webpage that can be easily found on the university's website.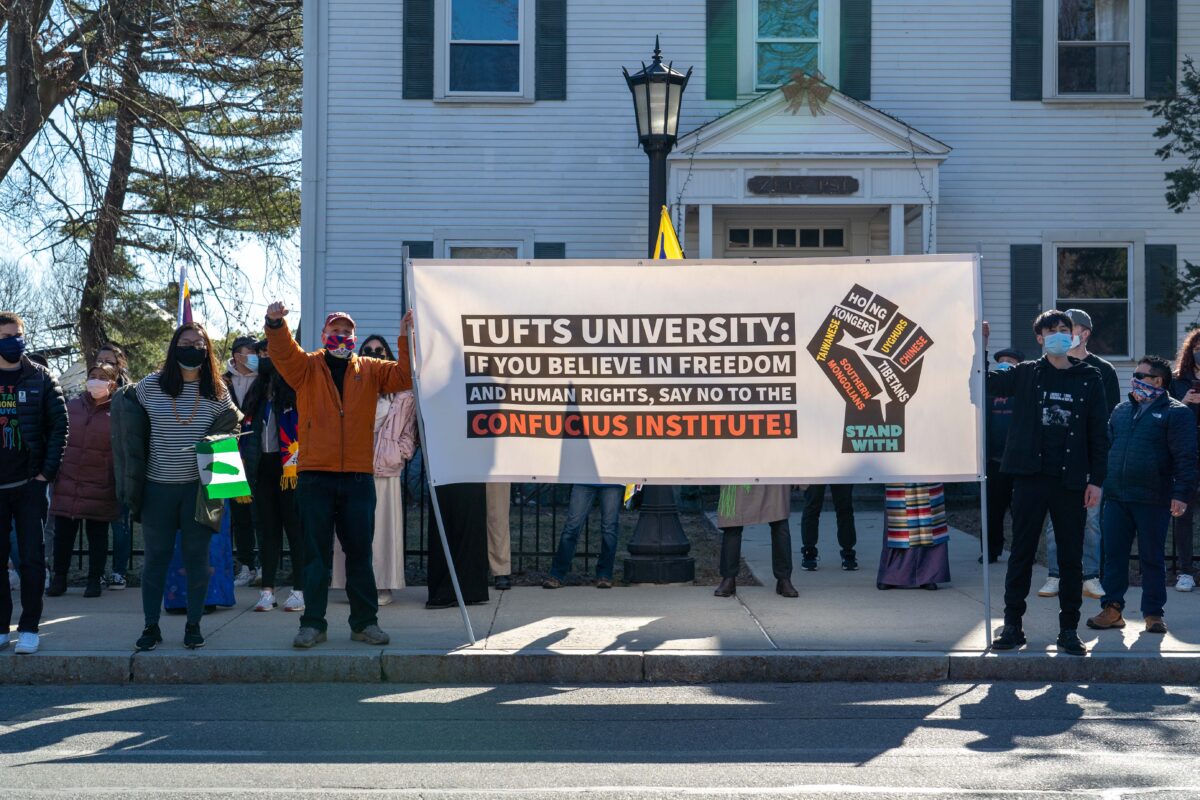 The CCP's 'Trojan Horse'
Pfluger is hoping his legislative actions will continue to sound the alarm and combat the CCP's nefarious activities and propaganda inside America's universities. He said the CCP had used CIs as "a trojan horse" to infiltrate Western universities and engage in malign activities that support the CCP and the PLA.
"Confucius Institutes have used their influence to silence academics who speak out against the CCP and PLA, spread propaganda campaigns on behalf of the CCP to influence public opinion, recruit influence agents on U.S. campuses, and engage in espionage and intellectual property theft, much of which supports the PLA," he said.
As a result, he said, "any foreign entity looking to undercut the democratic values [America holds] dear should be viewed as a direct threat to the nation's democracy." Time and time again, he said, the CCP has shown that it will "stop at nothing to exert its control over the free world."
"The CCP's ability to suppress free speech and debate in the United States is unacceptable and cannot be tolerated," Pfluger said.
"Congress and the Biden administration must send a strong, unified message that our nation will not tolerate the CCP's malign activity."