A lawsuit filed by Arizona Republican attorney general candidate Abraham Hamadeh was dismissed by a Maricopa County Superior Court judge on Tuesday.
Hamadeh and the Republican National Committee, which joined in the legal action, filed the lawsuit in Maricopa County court on Nov. 22 against his opponent, Democrat Kris Mayes.
Mayes is leading by just 510 votes out of more than 2.5 million cast ahead of an automatic recount.
Hamadeh's lawsuit alleges "errors and inaccuracies" at voting locations during the election process and requests "judicial intervention" to ensure the candidate who "received the highest number of lawful votes is declared the next Arizona Attorney General."
However, Judge Randall Warner, in a three-page ruling (pdf) on Tuesday said that the lawsuit was filed prematurely under the election contest statute and must instead be filed after Arizona certifies the election.
The state is set to do so on Dec. 5.
The judge pointed to Arizona law that allows any elector of the state to file an election contest "of any person declared elected to a state office," which can be done "within five days after completion of the canvass of the election and declaration of the result thereof by the secretary of state or by the governor."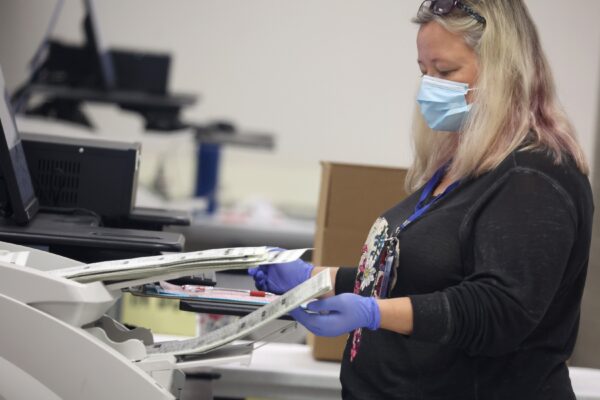 'This Matter Is Premature'
"Under these statutes there can be no election contest until after the canvass and declaration of results because, until then, no one is 'declared elected.' It is undisputed that the canvass and declaration of results for the November 2022 election have not occurred," Warner wrote.
"The Court concludes that this matter is premature under the election contest statute, and therefore dismisses it without prejudice to the filing of an election contest after the canvass and declaration of election results have occurred."
Maricopa County officials this month acknowledged issues with printers that surfaced on Election Day and which printed ballots that were too light for tabulators to read.
Although there were reports of printing issues at 71 vote centers across the county on voting day, which represents 31 percent of the 223 vote centers that were open on that day, the county said in a lengthy report published on Nov. 27 that not all of these voter centers were actually experiencing a printer issue.
The report said that a review had found that 43 vote centers had been confirmed to have suffered from an intermittent printer issue.
However, the issues resulted in long lines of frustrated voters that were effectively left "disenfranchised," according to Republicans.
On Election Day the officials also said that voters could use what is known as "Door 3 procedures," which allow voters to place their ballots in a secure box to be counted later. Voters could also "check-in" at one polling location and then vote at a second location on voting day.
Maricopa County officials have stated that the procedures used on Election Day were lawful and that "poll workers were aware of this check-out procedure and were able to implement it early in the day on Election Day."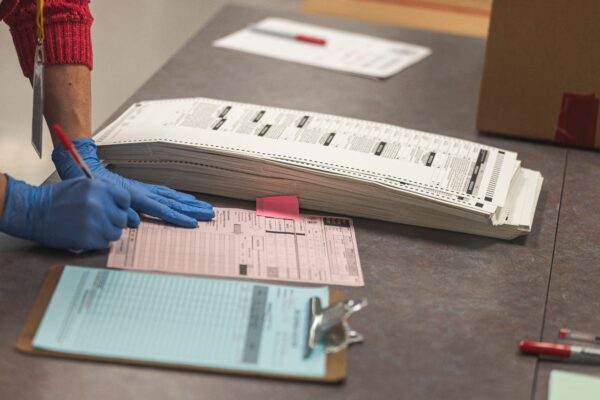 Hamadeh Files Lawsuit
Hamadeh's lawsuit alleges that officials in at least 15 counties have "caused the unlawful denial of the franchise to certain qualified electors, erroneously tallied certain ballots, and included for tabulation in the canvass certain illegal votes in connection with the election for the office of Arizona Attorney General."
The lawsuit further claims that some election workers were "unaware of the process" with regards to the use of a secure ballot box and "check out" procures at polling stations on Election Day.
"This pervasive and systematic error directly and proximately resulted in three recurring scenarios in which qualified electors were unlawfully and unconstitutionally disenfranchised," it added.
On Twitter late on Tuesday, Hamadeh noted that "510 votes out of 2.5 million is the closest statewide race in Arizona history."
"Of course we're going to litigate; especially given the issues Republican voters faced on Election Day. Imagine if the court had extended voting hours after all the problems for a few hours," the Republican AG candidate wrote.
A spokesperson for his opponent Mayes told The Washington Post in a statement on Nov. 23 that her office is reviewing the lawsuit, which it believes to be "legally baseless and factually speculative," adding that "none of the claims raised warrant the extraordinary remedy of changing the election results and overturning the will of Arizona voters."
All of Arizona's 15 counties, excluding Cochise County, certified the election canvass before the Nov. 28 statutory deadline.
Zachary Stieber contributed to this report.