House Minority Leader Hakeem Jeffries (D-N.Y.) has nominated Reps. Adam Schiff (D-Calif.) and Eric Swalwell (D-Calif.) for seats on the House Intelligence Committee, despite Speaker Kevin McCarthy's (R-Calif.) repeated promises to keep them off that panel.
In the last Congress, Schiff served as chairman of the committee. Swalwell was also a member.
"I write today to submit for renomination two eminently qualified legislators to continue their service on the House Permanent Select Committee on Intelligence: Ranking Member Adam Schiff and Representative Eric Swalwell of California," Jeffries wrote in a Jan. 21 letter (pdf) to McCarthy.
"It is my understanding that you intend to break with the longstanding House tradition of deference to the minority party Intelligence Committee recommendations and deny seats to Ranking Member Schiff and Representative Swalwell," he continued. "The denial of seats to duly elected Members of the House Democratic Caucus runs counter to the serious and sober mission of the Intelligence Committee."
According to the rules (pdf) of the House of Representatives, the speaker "shall appoint all select, joint, and conference committees ordered by the House" and may remove and appoint additional members after an initial appointment. The House Intelligence Committee is a permanent select committee.
No more than 13 members on the panel can be of the same party, and while the rules do not require the speaker to defer to the minority leader's nominees, traditionally, that has been the case.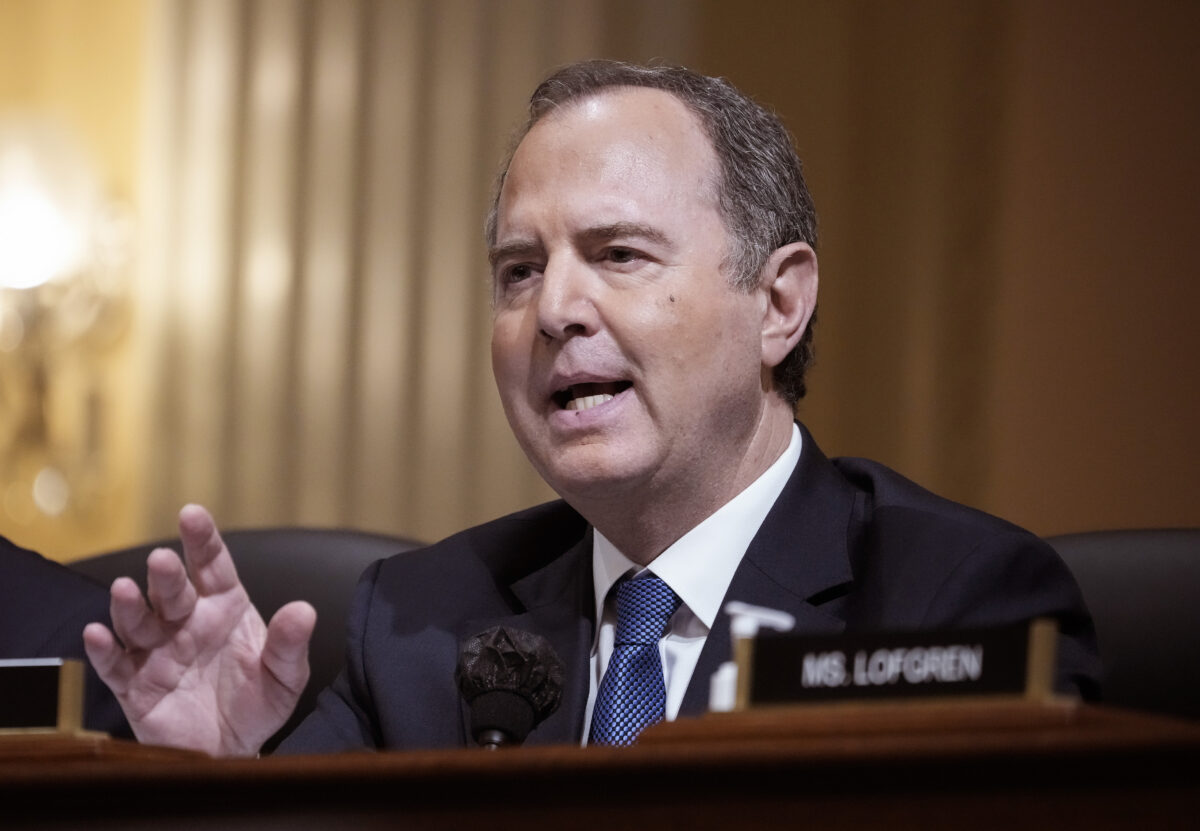 Arguments Over Precedent
Since November, McCarthy has been outspoken about his intentions to remove Schiff and Swalwell from their committee assignments, holding that Schiff has "lied to the American public" and that Swalwell's former association with a suspected Chinese spy makes him a security liability.
Both Democrats have responded to McCarthy's comments on the matter with criticism, with Schiff holding that the Republican is a "very weak leader" of his conference and Swalwell accusing him of acting out of "political vengeance."
McCarthy, however, has defended his position by citing the treatment of Republican members in the last Congress by former Speaker Nancy Pelosi (D-Calif.) and the Democrats as precedent.
"The Democrats have created a new thing where they're picking and choosing who can be on committees," McCarthy told Breitbart News on Jan. 9. "Never in the history [of Congress] have you had the majority tell the minority who can be on committee. But this new standard, which these Democrats have voted for—if Eric Swalwell cannot get a security clearance in the private sector, there is no reason why he should be given one to be on Intel or Homeland Security. He will not be serving there."
Jeffries, however, pushed back on that reasoning in his Saturday letter.
"In the 117th Congress, two Members were removed from their committee assignments after a bipartisan vote of the House found them unfit to serve on standing committees for directly inciting violence against their colleagues," he wrote. "This action was taken by both Democrats and Republicans given the seriousness of the conduct involved, particularly in the aftermath of a violent insurrection and attack on the Capitol. It does not serve as precedent or justification for the removal of Representatives Schiff and Swalwell, given that they have never exhibited violent thoughts or behavior."
In 2021, the House voted on separate occasions to strip Reps. Marjorie Taylor Greene (R-Ga.) and Paul Gosar (R-Ariz.) of their committee assignments over controversial social media posts they had made.
Greene's comments, made prior to her becoming a U.S. representative, involved speculation that the 9/11 terror attacks were a false flag and the allegation that deadly school shootings had been staged. There were also reports that Greene had liked a Facebook comment that advocated for putting "a bullet to the head" of Pelosi. Prior to the House vote, Greene expressed regret over her "words of the past," stating that they did not "represent" her.
Gosar, on the other hand, was censured by the House for sharing a video on Twitter in which one anime character—with his face superimposed over it—struck down another bearing the face of Rep. Alexandria Ocasio-Cortez (D-N.Y.). Gosar removed the video prior to his censure and committee removal, stating that he did not "espouse violence towards anyone" and that the cartoon was meant to represent "the symbolic nature of a battle between lawful and unlawful policies."
Also in 2021, Pelosi rejected McCarthy's nominations of Reps. Jim Jordan (R-Ohio) and Jim Banks (R-Ind.) for the Jan. 6 Committee, angering the then-minority leader to the point where he withdrew the rest of his nominees from consideration.
Jeffries did not address that dispute in his letter but added that he felt a double standard was at play given that Rep. George Santos (R-N.Y.)—recently the subject of backlash for misrepresenting his education and work experience—has been assigned to two committees.
"The apparent double standard risks undermining the spirit of bipartisan cooperation that is so desperately needed in Congress," Jeffries wrote.
In closing the letter, the minority leader urged McCarthy to honor "past practice of the House of Representatives and our mutual interest in working together for the good of the American people" by accepting his recommendation of Schiff and Swalwell to the House Intelligence Committee.
McCarthy's office did not return The Epoch Times' request for comment by press time.