Rep. Marjorie Taylor Greene (R-Ga.) says an investigation into the killing of Ashli Babbitt and the beating and subsequent death of Rosanne Boyland at the Capitol will be among the priorities of a new January 6 committee when Republicans take control of the U.S. House after the November midterms.
In a fiery speech on the House floor hours ahead of the public hearing by the Select Committee to Investigate the January 6 Attack on the United States Capitol, Greene predicted the mostly Democrat body will ignore issues such as the deaths of Babbitt and Boyland.
She called for an examination of Capitol Police Lt. Michael Byrd, who shot and killed an unarmed Babbitt as she climbed partway through a broken window at the entrance to the Speaker's Lobby on Jan. 6, 2021.
"Did you know Ashli Babbitt was trying to stop people from breaking in?" Greene asked. "That is on video. I've watched it over and over. She was trying to stop people from breaking in and then she was shot and killed."
Babbitt Tried to Quell Violence
Greene referred to Jan. 17 and Jan. 18 articles in The Epoch Times that showed Babbitt attempting to stop vandalism in the Speaker's Lobby hallway. She also shouted at three Capitol Police officers who did nothing to quell the increasingly raucous crowd.
Based on analyses of video and audio from the hallway, the articles revealed holes in the narrative that Babbitt was a rioter who vandalized the doors leading into the Speaker's Lobby. Others in the hallway smashed glass out of both doors and a side window.
After rioter Zachary Alam used a black riot helmet to smash out the tempered glass in the side window, Babbitt grabbed him, punched him in the nose, and then attempted to exit through the newly opened window.
Babbitt emerged part way before Byrd shot her from the side at a distance of 10-15 feet. She was pronounced dead at about 3:15 p.m. at MedStar Washington Hospital Center, some 30 minutes after being shot.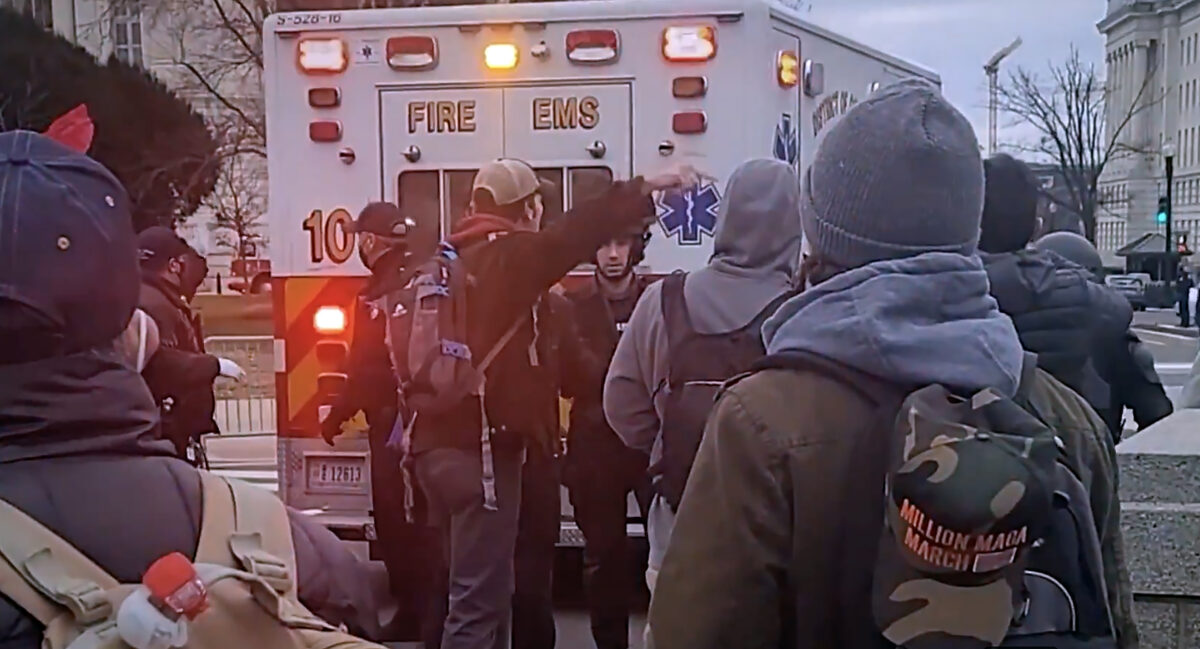 A U.S. Department of Justice report released June 7 said Byrd felt Babbitt was a threat, and there was "insufficient evidence" to overcome his belief. Babbitt's death was classified as a homicide by the DC Office of the Chief Medical Examiner, but the DOJ ruled on April 14, 2021, that Byrd would face no charges.
The DOJ report quotes a Sergeant at Arms staff member as claiming he saw Babbitt participate in the breaking of windows in the Speaker's Lobby. Video footage shot by two independent journalists and an activist shows Babbitt never touched the doors or window until she tried to climb out.
"We don't hear about his reckless record of guns, which is all we've talked about all week in here," Green said in her speech. "We aren't hearing about that. Why aren't we hearing about that record? Why? Why isn't he standing trial? He's not. He just gets to get away with it."
Aaron Babbitt said he welcomes the idea of a deeper look at his wife's killing.
Babbitt told The Epoch Times he would like to see a "full house cleaning of the unselect committee, and actual human beings, lawfully installed, that want to get to the truth."
Greene said she wants to see the death of Rosanne Boyland on the Lower West Terrace given a full investigation by the House, including the lack of police rescue efforts outside the tunnel.
"They pulled her away from someone who was giving her CPR. She was pulled away from life-saving CPR," Greene said. "Why did that happen? Are we going to hear about that from the committee tonight? I doubt it. They don't care about Rosanne Boyland."
The Select Committee did not mention any of the four deaths of Trump supporters at the Capitol on Jan. 6 during its first June public hearing on the nearly year-long investigation.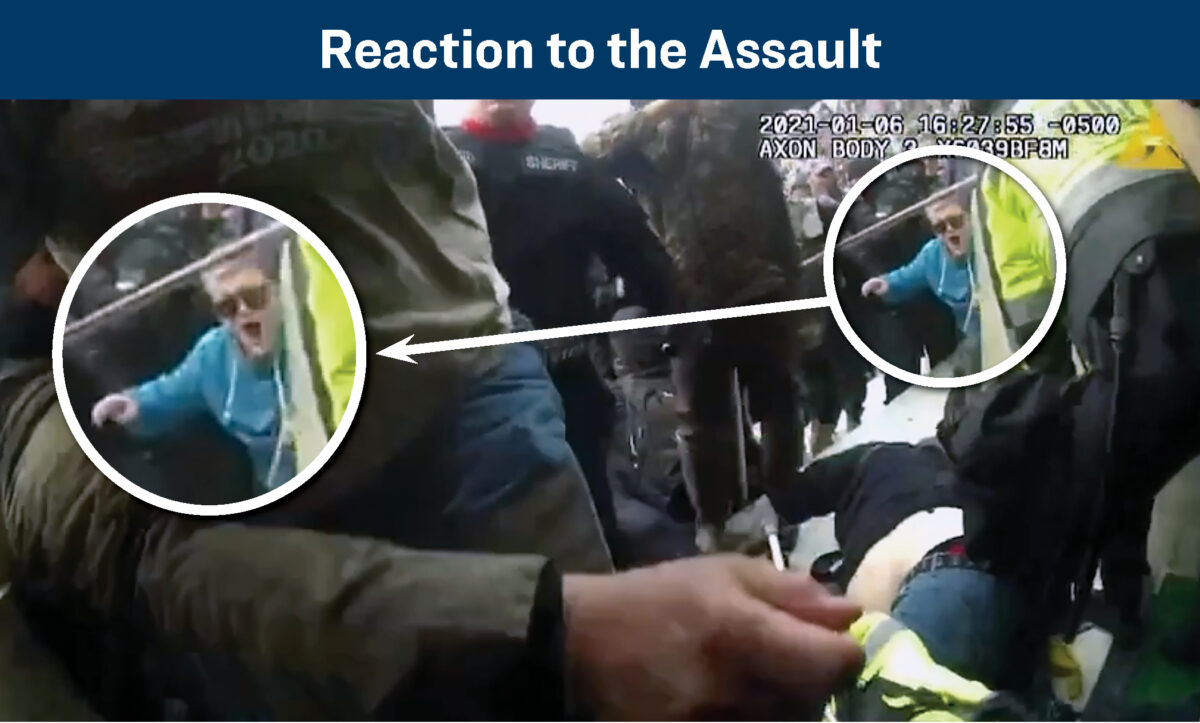 After being pulled from beneath a pile of people, Boyland lay unconscious on the sidewalk as protesters begged police to provide CPR or summon emergency life support. No officer moved to help Boyland. One kicked several bystanders from inside the tunnel on top of Boyland, bodycam video obtained by The Epoch Times shows.
Metropolitan Police Department officer Lila Morris was captured on camera beating Boyland with a wooden walking stick just before 4:30 p.m. that day. She struck Boyland once in the ribs and twice in the head, the video shows.
"I want you to know that when we take back the majority these will be the investigations that we take on," Greene said.
Release the Tapes
The key to accountability will involve the release of more than 14,000 hours of security footage and other video held by the Department of Justice under court seal, she said.
"There's surveillance cameras all over this building. If we really want to know the truth about January 6, it's real easy," Greene said. "All we have to do is release the video footage and everyone can see for themselves what exactly happened."
Rep. Troy Nehls (R-Texas) laid much of the blame for Jan. 6 violence on Capitol Police.
"Capitol Police leadership had the intelligence days and weeks in advance and did nothing with it," Nehls said. "They let it happen, folks. The Capitol Police leadership team failed and this sham (January 6) committee continues to give them a pass.
"These hearings are clearly not about finding the truth. They are a sad attempt to put the blame on Donald Trump. This committee, make no mistake, this committee does not want to see Donald Trump as the nominee in 2024 because they can't beat him.
"Never in the history of Congress has the majority party used their power to smear, destroy, and intimidate the minority party ahead of an election so brazenly on a public stage," Nehls said. "They know they can't win elections fairly, so they'll use every dirty trick in the book to try to cheat their way to a win.