Still looking for ideas for a festive holiday meal? These recipes from America's Test Kitchen beckon cooks to prepare a feast of classic dishes, from a stuffed turkey recipe—Julia Child's, tinkered with and improved—to a golden-crusted pommes Anna, to a satiny chocolate pots de crème.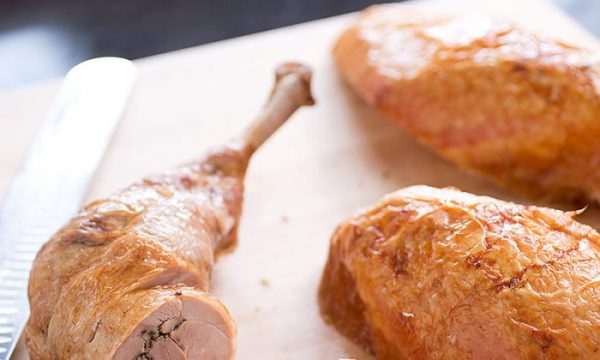 Julia Child's Stuffed Turkey, Updated
Why This Recipe Works
In her 1989 cookbook, "The Way to Cook," Julia Child's turkey recipe involved separating a raw turkey into legs and breast to ensure that both white and dark meat were roasted to perfection. Other benefits included a quicker cooking time and a small mound of rich sausage stuffing that tasted as though it had been roasted inside the bird. We loved this idea but saw a couple of opportunities for improvement. In our version, we brined the breast to keep it juicy and flavorful. Jump-starting the cooking of the breast at 425 degrees F decreased the overall cooking time, which also helped the meat retain moisture. To make even more stuffing, we increased the amount of bread, and we swapped the sausage for the brighter flavor of dried cranberries.
Serves 10 to 12
One 12- to 15-pound turkey, neck and giblets removed and reserved for gravy
1 teaspoon plus 2 tablespoons minced fresh sage, divided
1 teaspoon plus 3/4 cup salt, plus more to taste
2 teaspoons pepper, divided, plus more to taste
1 1/2 pounds hearty white sandwich bread, cut into 1/2-inch cubes
1 tablespoon vegetable oil, divided
3 tablespoons unsalted butter
3 onions, chopped fine
6 celery ribs, minced
1 cup dried cranberries
4 large eggs, beaten
Special equipment: Wooden skewers, kitchen twine
This recipe calls for a natural, unenhanced turkey and requires brining the turkey breast in the refrigerator for 6 to 12 hours before cooking. If using a self-basting turkey or a kosher turkey, do not brine in step 3 and omit the salt in step 2. Remove any large pockets of fat from the neck cavity of the bird to ensure that the stuffing doesn't become greasy. The bottom of your roasting pan should be 7 to 8 inches from the top of the oven. In this recipe, we leave the stuffing in a warm oven while the turkey rests. If you need your oven during this time, you may opt to leave the stirred stuffing in the uncovered roasting pan at room temperature while the turkey rests and then reheat it in a 400 F oven for 10 minutes before reassembling your turkey.
1. With turkey breast side up, using boning or paring knife, cut through skin around leg quarter where it attaches to breast. Bend leg back to pop leg bone out of socket. Cut through joint to separate leg quarter. Repeat to remove second leg quarter. Working with 1 leg quarter at a time and with skin side down, use tip of knife to cut along sides of thighbone to expose bone, then slide knife under bone to free meat. Without severing skin, cut joint between thigh and leg and remove thighbone. Reserve thighbones for gravy.
2. Rub interior of each thigh with 1/2 teaspoon sage, 1/2 teaspoon salt, and 1/4 teaspoon pepper. Truss each thigh closed using wooden skewers and kitchen twine. Place leg quarters on large plate, cover, and refrigerate for 6 to 12 hours.
3. Using kitchen shears, cut through ribs following vertical line of fat where breast meets back, from tapered end of breast to wing joint. Using your hands, bend back away from breast to pop shoulder joint out of socket. Cut through joint between bones to separate back from breast. Reserve back for gravy. Trim excess fat from breast. Dissolve 3/4 cup salt in 6 quarts cold water in large container. Submerge breast in brine, cover, and refrigerate for 6 to 12 hours.
4. Adjust oven racks to upper-middle and lower-middle positions and heat oven to 300  F. Spread bread cubes in even layer on 2 rimmed baking sheets and bake until mostly dry and very lightly browned, 25 to 30 minutes, stirring occasionally during baking. Transfer dried bread to large bowl. Increase oven temperature to 425 F.
5. While bread dries, remove breast from brine and pat dry with paper towels (leave leg quarters in refrigerator). Tuck wings behind back. Brush surface with 2 teaspoons oil. Melt butter in 12-inch nonstick ovensafe skillet over medium heat. Add onions and cook, stirring occasionally, until softened, 10 to 12 minutes. Add celery, remaining 2 tablespoons sage, and 1 1/2 teaspoons pepper; continue to cook until celery is slightly softened, 3 to 5 minutes longer. Transfer vegetables to bowl with bread and wipe out skillet with paper towels. Place turkey breast skin side down in skillet and roast in oven for 30 minutes.
6. While breast roasts, add cranberries and eggs to bread mixture and toss to combine (mixture will be dry). Transfer stuffing to 16-by-13-inch roasting pan and, using rubber spatula, pat stuffing into level 12-by-10-inch rectangle.
7. Remove breast from oven and, using 2 wads of paper towels, flip breast and place over two-thirds of stuffing. Arrange leg quarters over remaining stuffing and brush with remaining 1 teaspoon oil. Lightly season breast and leg quarters with salt. Tuck any large sections of exposed stuffing under bird so most of stuffing is covered by turkey. Transfer pan to oven and cook for 30 minutes.
8. Reduce oven temperature to 350 F. Continue to roast until thickest part of breast registers 160 F to 165 F and thickest part of thigh registers 175 F to 180 F, 40 minutes to 1 hour 20 minutes longer. Transfer breast and leg quarters to cutting board and let rest for 30 minutes. While turkey rests, using metal spatula, stir stuffing well, scraping up any browned bits. Redistribute stuffing over bottom of roasting pan, return to oven, and turn off oven.
9. Before serving, season stuffing with salt and pepper to taste. Mound stuffing in center of platter. Place breast on top of stuffing with point of breast resting on highest part of mound. Remove skewers and twine from leg quarters and place on each side of breast. Carve and serve.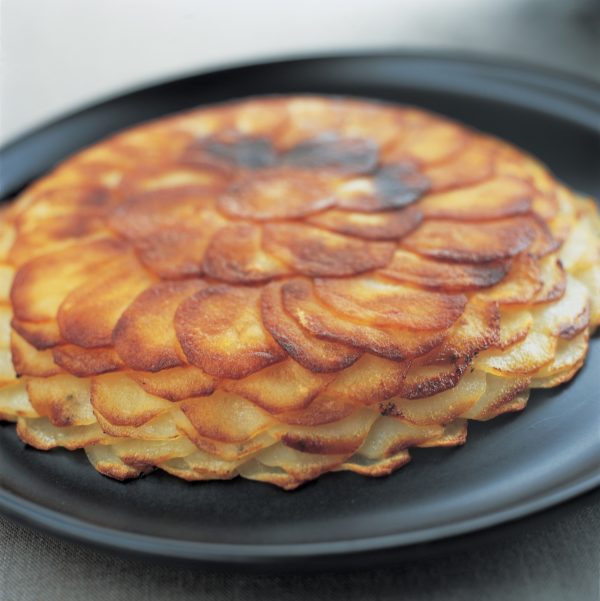 Pommes Anna
Why This Recipe Works
A few simple tricks helped us achieve the best pommes Anna recipe, a crisp, deep brown potato cake with a glassine crust and soft, creamy layers within. A nonstick ovenproof skillet ensured easy release every time. We saved time and energy by slicing the potatoes with the fine slicing disk on a food processor. Tossing the sliced potatoes with melted whole butter slowed down discoloration. And we arranged the potatoes for our pommes Anna recipe in a nonstick ovenproof skillet as it heated on the stovetop to accelerate cooking.
Serves 6 to 8
3 pounds russet potatoes, Yukon Gold potatoes, or white potatoes, peeled and sliced 1/16 to 1/8 inch thick
5 tablespoons unsalted butter, melted
1/4 cup vegetable oil or peanut oil, plus additional for greasing cookie sheet
Salt and ground black pepper
Do not slice the potatoes until you are ready to start assembling. Remember to start timing when you begin arranging the potatoes in the skillet—no matter how quickly you arrange them, they will need 30 minutes on the stovetop to brown properly.
1. Toss potato slices with melted butter in large bowl until potatoes are evenly coated. Adjust oven rack to lower-middle position and heat oven to 450 F.
2. Pour oil into 10-inch heavy-bottomed ovenproof nonstick skillet; swirl to coat pan bottom and set skillet over medium-low heat. Begin timing, and arrange potato slices in skillet, starting in center to form first layer. Sprinkle evenly with scant 1/4 teaspoon salt and ground black pepper to taste. Arrange second layer of potatoes, working in opposite direction of first layer; sprinkle evenly with scant 1/4 teaspoon salt and ground black pepper. Repeat, layering potatoes in opposite directions and sprinkling with salt and pepper, until no slices remain (broken or uneven slices can be pieced together to form a single slice; potatoes will mound in center of skillet); continue to cook over medium-low heat until 30 minutes have elapsed from the time you began arranging potatoes in skillet.
3. Using bottom of 9-inch cake pan, press potatoes down firmly to compact. Cover skillet and place in oven. Bake until potatoes begin to soften, about 15 minutes. Uncover and continue to bake until potatoes are tender when paring knife is inserted in center and edge of potatoes near skillet is browned, about 10 minutes longer. Meanwhile, line rimless cookie sheet or back of baking sheet with foil and coat very lightly with oil. Drain off excess fat from potatoes by pressing potatoes into skillet with bottom of cake pan while tilting skillet to pour off fat.
4. Set foil-lined cookie sheet on top of skillet. With hands protected by oven mitts or pot-holders, hold cookie sheet in place with one hand and carefully invert skillet and cookie sheet together. Remove skillet. Carefully slide potatoes onto platter; cut into wedges and serve immediately.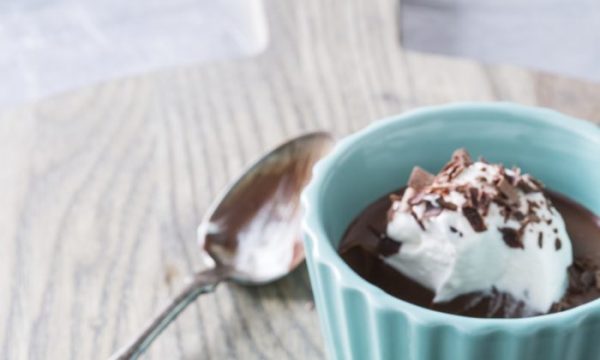 Milk Chocolate Pots de Crème
Why This Recipe Works
For a pots de crème recipe that would deliver a decadent dessert with a satiny texture and an intense chocolate flavor, we moved the dish out of the oven and took an unconventional approach: cooking the custard on the stovetop in a saucepan, then pouring it into ramekins.
Serves 8
For the Pots De Crème
12 ounces milk chocolate, chopped fine
5 large egg yolks
2 tablespoons sugar
1/4 teaspoon table salt
1 1/2 cups heavy cream
3/4 cup half-and-half
1 tablespoon vanilla extract
1/2 teaspoon instant espresso powder mixed with 1 tablespoon water
For the Whipped Cream
1/2 cup heavy cream (cold)
2 teaspoons sugar
1/2 teaspoon vanilla extract
For the Garnish (optional)
Cocoa powder, for dusting
Chocolate shavings, for sprinkling
A tablespoon of strong brewed coffee may be substituted for the instant espresso and water. Covered tightly with plastic wrap, the pots de crème will keep for up to 3 days in the refrigerator, but the whipped cream must be made just before serving.
For the Pots De Crème
1. Place chocolate in medium heatproof bowl; set fine-mesh strainer over bowl and set aside.
2. Whisk yolks, sugar, and salt in medium bowl until combined; whisk in heavy cream and half-and-half. Transfer mixture to medium saucepan. Cook mixture over medium-low heat, stirring constantly and scraping bottom of pot with wooden spoon, until thickened and silky and custard registers 175 F to 180 F on instant-read thermometer, 8 to 12 minutes. Do not let custard overcook or simmer.
3. Immediately pour custard through strainer over chocolate. Let mixture stand to melt chocolate, about 5 minutes. Whisk gently until smooth, then whisk in vanilla and espresso-water mixture. Divide evenly among eight 5-ounce ramekins. Gently tap ramekins against counter to remove air bubbles.
4. Cool pots de crème to room temperature, then cover with plastic wrap and refrigerate until chilled, at least 4 hours or up to 72 hours. Before serving, let pots de crème stand at room temperature 20 to 30 minutes.
For the Whipped Cream
1. Using hand mixer or standing mixer fitted with whisk attachment, beat cream, sugar, and vanilla on low speed until bubbles form, about 30 seconds. Increase speed to medium; continue beating until beaters leave trail, about 30 seconds longer. Increase speed to high; continue beating until nearly doubled in volume and whipped cream forms soft peaks, 30 to 45 seconds longer.
2. Dollop each pot de crème with about 2 tablespoons whipped cream; garnish with cocoa and chocolate shavings, if using. Serve.