Owners Protest Over Toppled Shanghai Apartment
July 8, 2009 11:42 pm Last Updated: October 1, 2015 9:39 pm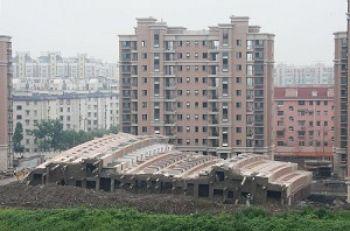 On June 27, a nearly completed 13-story apartment building on the outskirts of Shanghai toppled onto its side without warning. The building remained nearly intact after its fall.
The owners of the condo "walked collectively" to the Shanghai Municipal Government Building on July 4 when their meeting with the developer's lawyer and local officials ended without resolution. They demanded a return of their down payments and compensation for their losses.
The owners of the neighboring apartments also worried since the buildings they owned were part of the same building project.
A Tense and Heated Atmosphere
Prior to the meeting on July 4, the frustrated owners had gathered in public, carrying banners and shouting "Revoke the contracts." Everyone was anxious for the meeting to take place.
The scene during the meeting became chaotic. Officials were pulled out and the atmosphere became quite intense and heated.
The developer did not show up. A lawyer spoke on his behalf, stating that the developer was currently in police custody. He promised that starting July 5, the developer would consult with the owners. The lawyer also told the crowd that he had just accepted the case and had not had time to research it thoroughly.
According to the Yangtse Evening News, the owners proposed two possible solutions. The first was to terminate the contracts as soon as possible and provide compensation for their losses. The second was to tear down and rebuild the structure while compensating the owners for breach of contract and for their losses.

The owners also asked local officials to pay for their losses in case the developer became insolvent. They requested quick action to avoid an interest penalty from the banks.
Local officials responded that they could only act as an intermediary between the owners and the developer. They explained that the government had no authority over the banks, but could only facilitate communication toward a possible resolution.
A document on the mainland Chinese internet revealed that several of the investors have the same names as the local officials.
After the owners walked together to the Shanghai Municipal Government Building, police dispersed the crowd.