'Ragamuffin 90' and 'HiFi' Win Honours in China Sea Race
Yachting—Hong Kong
April 23, 2014 9:04 am Last Updated: April 23, 2014 9:42 am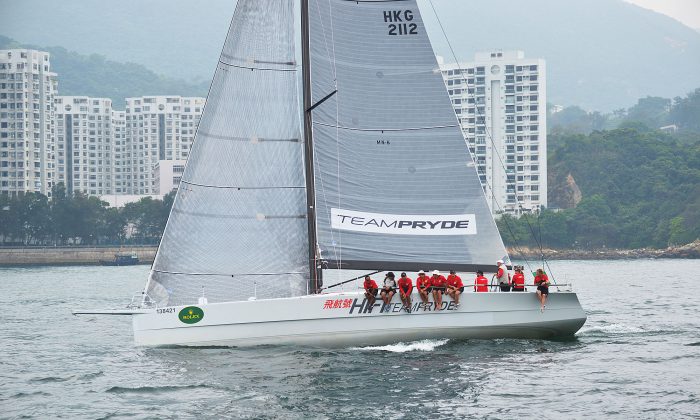 Sir Sydney Fischer's "Ragamuffin 90" Maxi led the 34 Boat flotilla out of Victoria Harbour on Wednesday April 16 and continued to increase her advantage in Rolex China Sea Race 2014 for all of the 564 nautical miles to Subic Bay in the Philippines.
She completed the race at 10.51pm on Friday April 18 to take line honours and win the Sunday Telegraph Trophy in an elapsed time of 57:31: 18. On corrected time "Ragamuffin 90" dropped down to 16th place.
But it was 2010 winner Neil Pryde's "HiFi" that claimed the China Sea Race Trophy in a corrected time of 94:16:54.
It was a very orderly race with the Yellow Brick Tracker system showing a spearhead of boats crossing the South China Sea. Very few boats ventured far away from the plumb line and those that did lost advantage. Wind stayed with the flotilla for most of the race providing what Geoff Hill of Antipodes termed "Champagne Sailing".

IRC Racer-0
Four other IRC Racer-0 division boats all finished within a 10-minute time span, 12 hours after "Ragamuffin 90". Bryon Ehrhart's "Lucky" was second over the line followed by "HiFi", "Antipodes" and "FreeFire", respectively. "Centennial" finished five hours after this group to finish sixth over the line.
"HiFi"'s Pryde described the race as one of the best ever.
"Fantastic race, probably the best we've ever had. We were in pressure most of the way apart from a couple of very light hours this morning, other than that, we kept moving all the time."
Meanwhile, "Lucky"'s Ehrhart was surprised at the competition.
"There was very strong competition from the TP52's and the Santa Cruz … and the Welbourne 52, I don't think we lost sight of them for the whole race," he commented.

IRC Racer-1
In IRC Racer-1 division was won by David Ross's "KukuKERchu" in a corrected time of 98:42:04. "Ramrod", "Signal 8", "Ambush" were the next three in line. 2010 China Sea Race Trophy winner "Zanzibar" was down the order after deciding to try a more southerly route.

IRC Racer-2
In IRC Racer-2 division Anthony Root's Bermudian Sloop, "Redkite II" was first across the line and also headed this IRC Racer-2 category on corrected time. The finishing order of the other boats in this category was "Krampus", "Sell Side Dream", "Sea Wolf" and "Talkinghead".

IRC Premier
Anthony Day's XC50, "Explorer" won the IRC Premier category on corrected time from "Xena", "Moonblue 2", "Shahtoosh", "Sea Monkey" and "Clove Hitch". Peter Cremer's Warwick 75, "Shahtoosh" was first over the line for this category and indeed finished ahead of the Racer-1 division boats finishing in an elapsed time of 80:36:38.
IRC Cruiser
Another Bermudian Sloop, "Crystal" won the IRC Cruiser category on elapsed and corrected time followed by "Ex Libris", "Darling", "Dearg Doom", "Wonderwall", "Soko" and "Allegro", respectively.