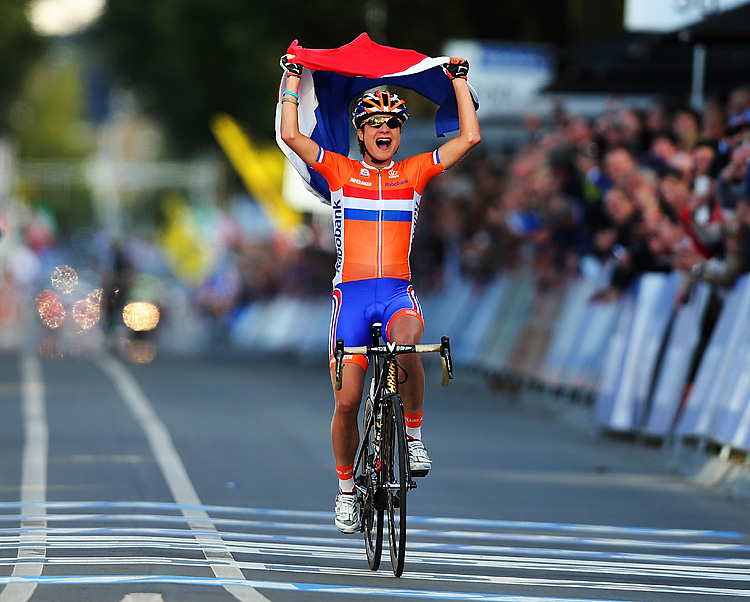 Dutch bank Rabobank has decided to end sponsorship of its professional men's and women's cycling teams effective Dec. 31 in response to the evidence released by the U.S. Anti-Doping Agency about widespread use of performance-enhancing drugs in cycling.
In a statement Rabobank managing board member Bert Bruggink said, "We are no longer convinced that the international professional world of cycling can make this a clean and fair sport. We are not confident that this will change for the better in the foreseeable future."
Rabobank will support the men's and women's professional teams through 2013, honoring contracts it has signed, but will not permit its logos or colors to appear anywhere on the riders' uniforms. The bank will still sponsor extensive junior and amateur cycling programs.
Rabobank started sponsoring a cycling team in 1996, and has seen many international successes. Its new-for-2012 women's team won the UCI number-one ranking in its first year and captain Marianne Vos won the Olympic road-racing gold medal and the UCI road-racing World Championship.
Rabobank is trying to work out a way to continue to support the women's team, which has never been involved in any controversy. "We want to completely support Marianne Vos' Olympic ambitions for 2016, but we have not yet worked out the details of that support. We are still looking for a solution," Bruggink said.
Rabobank was as involved as any other major men's professional cycling team in the era of drug-use, according to cyclist David Millar, which started in the 1990s, continued unabated for 15 years, and which is still an issue, though much less severe, in modern cycling.
Lance Armstrong's popularity and the mass of incontrovertible evidence released by USADA has stirred up popular outrage over an issue which has long received media attention, but never so focused because there was never so prominent a celebrity involved.
Other sponsors have withdrawn from cycling due to riders' drug use—for instance in 2009 Barloworld dissolved its team after a rider tested positive in the 2008 Tour de France. Many European nations made the use of performance-enhancing drugs illegal in response to stories about cyclists' widespread use of the substances.