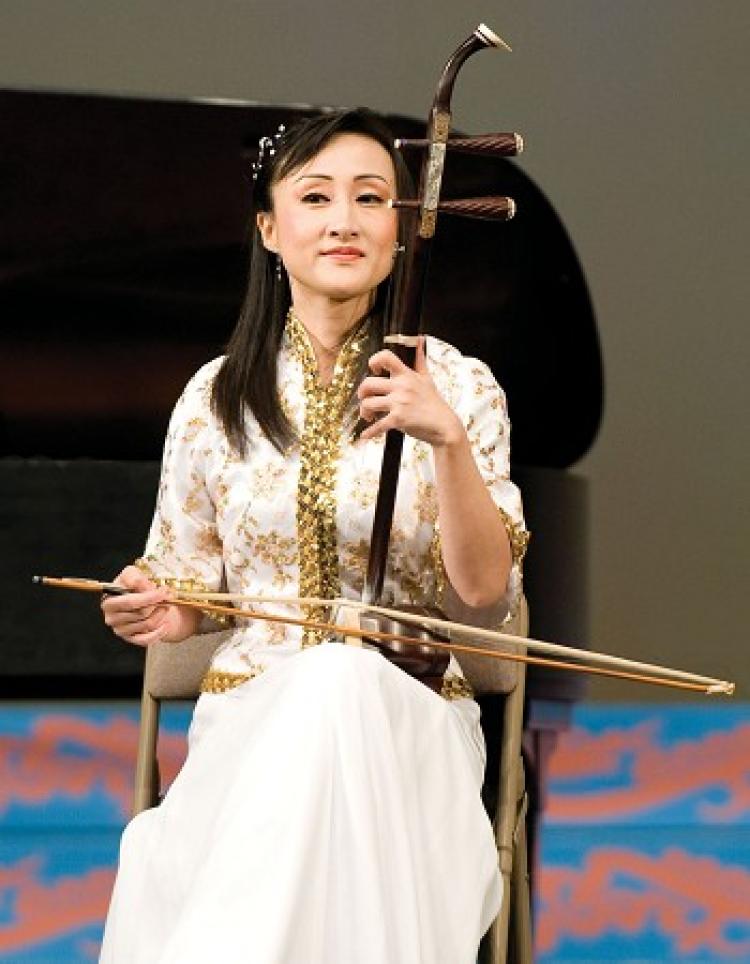 Ms. Qi Xiaochun is a demure young woman who exudes a gracious elegance. She had barely turned 30 when she embarked on her first world tour as erhu soloist with world-renowned Shen Yun Performing Arts. Within a few short years, she has become a household name among erhu devotees.
The erhu, is a two-stringed instrument that can express a complex range of emotion. It is noted for its haunting and lilting qualities. An extremely difficult instrument to play, it requires painstaking years of practice to master.
At a youthful age, Ms. Qi has plumbed the depths of the instrument's qualities with her soul-stirring renditions that have mesmerized audiences, transported them in reverie, and reduced many to tears.
The accomplished erhu artist has received rave reviews from world-class artists in music as well as other genres. Christine Walevska, a renowned master cellist, proclaimed that a performance by Ms. Qi was "most exquisite."
Mr. Du Zhonghao, a three-time winner of Chinese calligraphy in Taiwan and a professor from Teachers' University, is also an erhu fan. He lavished praise on her talent. "Ms. Qi's performance was the best I've ever heard," he said. "I really hope to listen to her playing again."
Ms. Qi is refreshingly unpretentious regarding her aptitude as a musician: "Of course, a musician has to have talent, and I think I have that kind of talent. People say that I am sensitive to music."
She recounted the story of the circuitous path she had traveled to become a master erhu soloist. Despite having all the right stuff to become a consummate artist, at one point in her life, she turned her back on her rare gift.
Talent Compromised
Even though Ms. Qi grew up in the bustling metropolis of Shanghai, she is quiet and unassuming, exuding genuine warmth and purity. When she speaks, her words seem free of worldly concerns. There is a sense of integrity and clarity of purpose that seem to belie her years.
Under her father's guidance, she began to play the erhu at the age of 6. In 1991, she won a prize for her performance at the "Spring of Shanghai," a prestigious international erhu competition in China.
"I was only a middle school student at the time, and I was very serious about playing the erhu," she said. With her obvious talent and the support of her family, she enrolled in the Shanghai Conservatory of Music.
Unexpectedly and much to her surprise, after she was admitted into such an intense, professionally driven setting, her passion for music gradually waned.
"China had already opened up when I was at school. While in college, I saw moral decline everywhere. In order to become famous, everyone fought and hurt each other. And there was never an end to scheming and manipulation.
"In a society where etiquette and tradition are all but lost, it becomes pointless to work hard at anything. It is the beginning of losing our true selves," she said.
Ms. Qi related how as a young child, she knew it was important to get better in music each day. At the conservatory, she was overwhelmed by peer treachery and political power interfering with the arts. People around her would do just about anything, from flattering to betraying their conscience, just to gain fame and to obtain solo performance opportunities.
As a result of the environment, she said she lapsed into a deep depression, losing the will to continue on her musical path.
"I didn't have any ambition anymore, anyway, so I chose to quit. I no longer wanted to improve upon my skills. I gave up. I didn't want to practice or perform. At that time, since I didn't want to become famous, I thought just about any job would do, as long as I could support myself. I didn't think that music could have any positive impact on others, including myself," she said.
Her father had even been unaware that she had given up the erhu and that she had not been practicing for years.
She said that deciding to quit was not a difficult decision to make since she thought fame was as fleeting as clouds. However, her musical talent was not to be extinguished. She resumed playing the erhu, not for personal recognition, but because of an unwarranted disaster sweeping across China and the urge to defend one noble cause.
Strengthened Resolve
In 1999, the communist regime in China launched a brutal campaign against Falun Gong practitioners. Ms. Qi managed to flee China and come to the United States, where she lived in several different cities. It was the persecution of Falun Gong that had prompted her to pick up the erhu once again and, through it, express her heartfelt feelings to the world.
"The communist regime in China was extremely harsh on Falun Gong, so everyone who practiced it wanted to use whatever abilities they possessed to tell the world how righteous Falun Gong is, and let them know that it was not like what the government was saying. … [The public] was irrational, muddle-headed and full of superstition, with regard to Falun Gong."
She said she picked up the erhu once again because she wanted to use the art form to demonstrate the tranquility and beauty of cultivation practice. In a very short period of time, she achieved a level beyond the reach of most artists.
Many people who have experienced Ms. Qi's playing have not been able to contain their tears and have expressed feeling that the music's penetrative power is a force rarely to be experienced in the world.
Of that power, Ms. Qi maintains that the music is moving only when both the performer and the audience maintain a state of calm. Then, at the same time, God's mercy will grant support and blessing.
"It's all because we are cultivators. Cultivators hold themselves to high standards of mind improvement. We strive to get rid of distracting thoughts and to achieve a state of dignity and purity.
"The audience is moved because when we have reached a state where we are pure and righteous and there are no distracting thoughts in our mind, God will enhance the inner meaning behind the music, so that it is enriched. That's what they have experienced. It's not that I possess that kind of power or that my music has that kind of power," she said.
Even though some people may say that there is no shortage of performers whose skills are just as good as Ms. Qi's, notwithstanding, tears frequently begin to flow once she starts to play.
"That shows that what really moves people's hearts is not merely good skills. Everyone can acquire skills by learning and practicing, but at a certain level, what really touches them is the inner meaning behind the music," she said. "Since we have a high standard in our hearts and minds, when we become calm and pure, God will demonstrate His power."
Divinely Inspired Composition
As well as being a virtuoso artist, Ms. Qi is also widely recognized for her original musical compositions. Lin Xiling was a Chinese human rights activist who was persecuted during the Cultural Revolution in China. (She passed away last year in Paris.) She once said how delighted she was to have watched Shen Yun performances many times and that through such exposure, all her worries had disappeared.
Ms. Lin said, "As an erhu player and fan, I highly recommend Ms. Qi's piece Salvation. It's the most penetrating and moving erhu music I've ever heard. This piece, as played by Ms. Qi, is a masterpiece that has exceeded any erhu music since ancient times. "
Ms. Qi has a fondness for every musical composition she has ever written. "It's not hard to write a piece. When I am doing well in my own cultivation, God will help me. When He sees that I have the desire to write a piece, He will convey it to me."
When asked what she would like to impart most to her audience each time she appears on stage, Ms. Qi thoughtfully replied, "The Buddha school teaches about predestined relationship, so what I want is to connect [to] that kind of relationship. I hope that others will see the beauty of Falun Dafa through my music and see the truth.
"Naturally, I would like to see more people coming to watch Shen Yun because Shen Yun's performances not only manifest China's traditional culture, but also convey profound meaning. As long as you walk into the hall, put down your own notions, and sit and watch quietly, your life and future will experience changes," she said.