Hung Huynh talks at a million miles per hour. On a recent Sunday afternoon, he was talking up a storm—and that was before the triple shot espresso that he ended up ordering.

He has a lot to say about the state of Vietnamese cuisine in New York and in general, and waxes about his favorite dishes.
The "Top Chef" winner has been cooking at pop-ups around town, including a Vietnamese-focused one with "Top Chef" alum Leah Cohen at Pig & Khao. I was floored by the flavors—the deep sweet and savory of his caramelized pork belly in a clay pot, for example.
While he's busy talking to investors about restaurants and exploring his next steps, we can't wait to see what's next for him. This town needs the kind of Vietnamese cuisine that he can cook.
Epoch Times: Tell us about Vietnamese cuisine.
Hung Huynh: I think it's amazing—not because I'm Vietnamese but also because I'm Vietnamese [laughs]. It's bright but it's never overpowering.
I love Thai food but every bite is like BOOM BAM BAM. It's like a knockout with every bite. It's delicious but it's punching your palate the whole time.
Vietnamese food, it's got spices, sour, savory, sweet. It's very harmonious. At every meal you must have a big pile of herbs and sprouts and lettuce to add freshness. Mint, cilantro, basil, cilantro [Mexican coriander]… it's very herbaceous.
Epoch Times: What are some of your favorite Vietnamese dishes?
Mr. Huynh: Defintely bun bo hue. That's Central style—their version of pho with pig feet, beef, and fermented shrimp, and a lot of herbs and spices.
I love eating all types of fish dishes. And dishes cooked in clay pot, call kho. It's caramelized palm sugar with fish sauce. It's like heaven. … It's like heaven and heaven [laughs] with pork belly.
You can do it with catfish—that belly fat!—with minced pork, with tons of black pepper and chilies. I can eat five bowls of rice with that.
I love eating pork belly cooked with fermented shrimp paste and lemongrass and pineapple. It smells like hell. It stinks! But it's so good.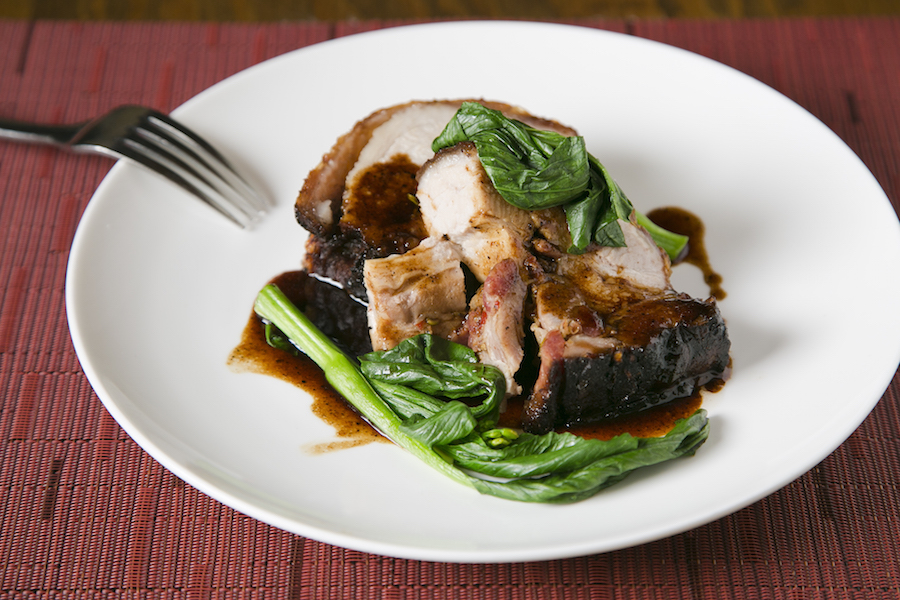 That gray smelly paste—it's so good. That's the kind of flavors I love. It's hard to expose that to the West, so let's do it in a lighter way.
I don't need everybody to love it. Just the people who want to eat it. People will die for it. It's eaten all over the country—by 80 million people.
I walk in Chinatown, there's chickens hanging with wings and legs. People say, "Ew." Why are you saying that? A chicken doesn't walk on its breast. They have feet! It's crazy.
Epoch Times: What about Vietnamese restaurants in New York?
Mr. Huynh: New York is horrendous for Vietnamese food. All we know is pho and pork chops and banh mi—and it doesn't even taste good. You pay $2.99 and they can't give you anything but the bread and a hair-thin [portion of] meat. What's the point? Why not charge $6.95 and give double the meat? And more pâté? Why not? It's crazy to me.
Vietnamese food, no one's doing it right because the recipes are not passed down enough or taught well enough for the next generation. People still know them, but it's not like making an éclair where you open a book, there's techniques, it's established. People can research it.
Vietnamese is not done that way. It's a secret—they're hiding from what? Hiding from making money is what they're hiding from. We're depriving ourselves of being successful. We should just spread the wealth like in Western culture. Yes you can have your secrets but at least teach the method. No one's doing that.
A simple thing like making pho, they make it in the family and they keep it until they die and then it's gone.
I've been lucky to meet Nha Ca. She's a writer. She's an elderly woman with amazing energy, and taught me to make a lot of Vietnamese dishes. It's great to have someone who's comfortable enough to share the history. Her training, her experience is priceless to me. It's old school. Now I can adapt those recipes and share them.
People say, it's hard. Of course it's hard if you're doing it in the home kitchen. You're doing it like you're in the country, in a rice paddy. [In a professional kitchen] we have machines, you can produce faster than anything.