Russian President Vladimir Putin signed a decree on April 4 to place visa restrictions on countries that have taken "unfriendly actions" against the Kremlin in recent weeks.
The decree was mandated "in response to unfriendly actions of the European Union," according to the text of the order, state-run media reported. Russian news outlets published a photo of Putin signing the measure.
It ordered the Russian foreign ministry and other bodies to decide on introducing personal entry restrictions on "foreign citizens and stateless people who commit unfriendly actions against Russia, its citizens or its legal entities."
Last month, the Russian government approved a list of "unfriendly" countries, including the United States, Canada, the UK, EU states, and Ukraine, among others.
Russian Foreign Minister Sergei Lavrov said last month that the decree was developed "in connection with the unfriendly actions of a number of foreign states."
"This act will introduce a number of restrictions on entry to the territory of Russia."
After Russia sent tens of thousands of troops and armored vehicles into Ukraine on Feb. 24, the EU, United States, and other allied states implemented punishing sanctions against top Kremlin officials, the Russian central bank, oligarchs, and other financial institutions. Moscow has responded, in part, by demanding that natural gas payments be made with rubles, the Russian currency.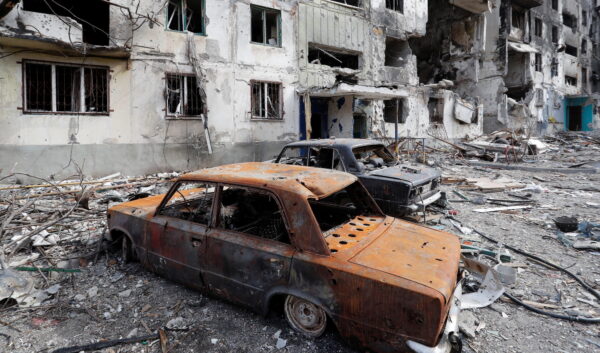 European officials, meanwhile, are now considering more sanctions against Moscow after Ukrainian officials accused Russian forces of committing war crimes in Bucha, near the capital of Kyiv. Those officials published photos online of what they said were dead civilians who were executed by Russian troops; Moscow has categorically denied the allegations and said the pictures were staged as a provocation.
Germany and its international partners will agree to further sanctions on Russia in the coming days, a government spokesperson said on April 4, adding that he was confident the European Union would remain united on fresh measures.
Italy, which is also heavily reliant on Russian gas, said it has sufficient reserves to forgo using the Russian gas supply over the next few months.
A German economy ministry spokesperson said a gas embargo would have economic consequences for Germany, and so it should act prudently. Germany gets about 40 percent of its gas from Russia and has already activated an emergency plan that could lead to gas rationing if supplies drop too low.
Reuters contributed to this report.