Russian President Vladimir Putin on Friday signed a decree that will annex four Ukrainian territories into the Russian Federation in a move that was condemned by Western powers.
The order will impact the disputed regions of Donetsk, Luhansk, Kherson, and Zaporizhzhia. Starting about a week ago, residents of those areas signed referendums, although U.S. and European Union officials claimed it was a sham.
"You know that referendums have taken place," Putin said Friday at a ceremony in the Kremlin, according to state-run media. "The results have been calculated. The results are known. People have made their choice, an unequivocal choice."
Describing the votes as "the will of millions of people," Putin said that people "living in Luhansk, Donetsk, Kherson region and Zaporizhzhia region are becoming our compatriots forever."
In February, the Kremlin recognized the disputed Donbass areas of Donetsk and Luhansk as independent states and accused Ukraine's government of failing to implement earlier agreements that would give those regions special status following widespread protests in Kyiv in 2014. Days later, Putin on Feb. 24 announced the invasion of Ukraine, describing it as a "special military operation."
"We will always remember the heroes of the Russian Spring," Putin said in reference to incidents in 2014, including protests against Ukraine's government in the Donbass and Crimea—which Russia ultimately annexed.
And Putin said he would remember "those who died for the right in their native tongue, to preserve their culture, traditions, their faith. For their right to live," state-run media reported.
He urged Ukraine to cease military action and return to the negotiating table. Kyiv has vowed to recapture all the lands seized by Russia and said that Russia's decision to annex the territories has destroyed any prospect of talks.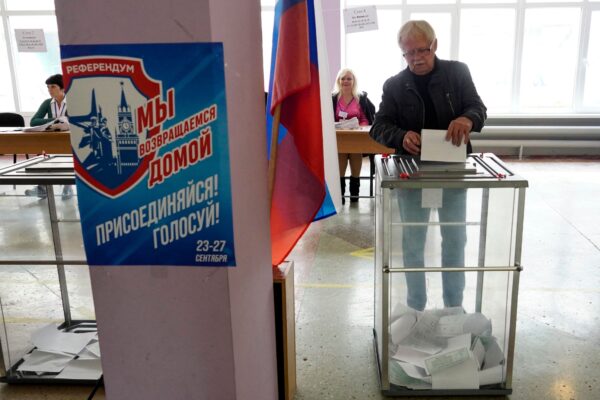 It comes as Russian forces have faced setbacks on the battlefield. Pro-Russian officials acknowledged that Russian troops were on the verge of encirclement in Lyman, their main garrison in the north of Donetsk province.
A defeat there could open the way for Ukraine to recapture swathes of the territory that Putin has now declared to be part of Russia.
Criticism
The referendum votes were sharply criticized in the West, accusing Russia of perpetuating a sham.
German Chancellor Olaf Scholz wrote on Twitter Thursday that he had assured Ukrainian President Volodymyr Zelenskyy that Germany will never recognize the "so-called results."
"This is an attempt to steal the territory of another state," Zelenskyy said during a remote address to the U.N. Security Council Tuesday. "This is a very cynical attempt to force the male population in the occupied territory of Ukraine to mobilize into the Russian army in order to send them to fight against their own homelands."
"The U.N. Charter is clear," U.N. Secretary-General Antonio Guterres told reporters Thursday. "Any annexation of a state's territory by another state resulting from the threat or use of force is a violation of the principles of the U.N. Charter and international law."
White House press secretary Karine Jean-Pierre said the United States will now likely hit Russia with additional sanctions. The United States has already placed penalties on top Kremlin leaders and their family members while banning all Russian oil imports.
"In response, we will work with our allies and partners to impose additional economic costs on Russia and individuals and entities inside and outside of Russia that provide support to this action," she told reporters on Thursday.
Reuters contributed to this report.