CHEVY CHASE, Md.—About 20 pro-abortion protesters directed their screams at Justice Brett Kavanaugh's children while walking by the justice's Maryland residence multiple times on May 14.
"Kavanaugh girls, tell your dad to stop," one protester shouted.
"I hope your daughters don't have to make this choice," another shouted.
"[Expletive] you, Kavanaugh, you rapist piece of [expletive]," another of the protesters shouted.
The protesters walked past the house in Chevy Chase, then circled back multiple times to scream obscenities again.
About a dozen police officers stood outside the house, but none took action to arrest the protesters, who continued to scream obscenities with every pass.
"No privacy for us, no peace for you," the protesters chanted.
The protests were a response to a leaked Supreme Court opinion that suggested the court plans to overturn Roe v. Wade.
For the protest's two organizers, who called themselves "He" and "They," respectively, everything appeared to be going according to plan.
"We're not stopping in front of his home. We're walking by, and we're turning back. So there's no threat got to do with it. We don't threaten people. The other people threaten us," "He" said before the protesters started marching.
Before the protesters started toward Kavanaugh's house, one of them distributed masks to the group.
"If you have a mask to cover your face, it would be even better," "He" said.
"He" said he wasn't affiliated with an organized group, but he read from a script on his phone at times when offering comment.
"To intimidate: It means to frighten someone, especially in order to make them do what one wants. So intimidation isn't coming together as Americans in a community to voice one's opinion. Intimidation is when the Capitol was stormed on Jan. 6," he read.
"He" then recited a litany of violent incidents toward minorities and abortionists that he described as "intimidation."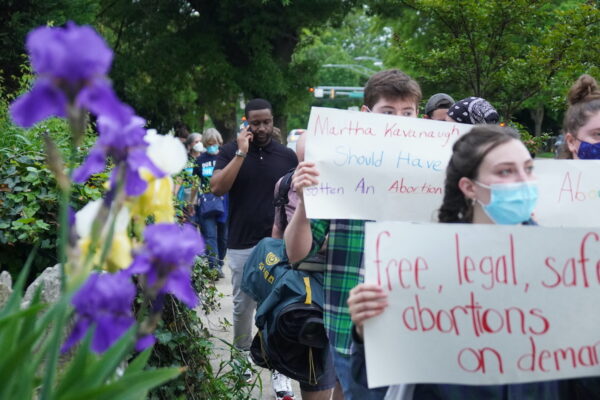 The protest targeted the homes of both Kavanaugh and Chief Justice John Roberts, although Kavanaugh received a greater measure of the protest's anger.
According to one protester, a graduate student named Connor, who declined to give his last name, the purpose of the protest wasn't to make Kavanaugh change his mind.
"At the very least I hope he's annoyed. I hope he's very inconvenienced," Connor said. "If he's that upset, if he's that sad about it, quit! You don't have to be the Supreme Court justice. I'm sure there'd be a lot of people who would be thrilled that he left, including his neighbors, because I'm sure they don't love this."
Connor carried a sign that read "Martha Kavanaugh Should Have Gotten an Abortion."
"The idea that this is infringing upon the justices' privacy is comical to me, given their legislation on our privacy," said high school senior Anna, another protester.
Anna said she had flown down from Boston to attend the pro-abortion protests.
"[Expletive] the Court and the legislature! We are not your incubators!" the protesters shouted as they walked through the residential neighborhood.
On the way, the protest passed near a couple taking wedding pictures. The 20 people gave the couple a cheer.
"Sorry," one protester said.
One of the justices' neighbors tried to tell the protesters to stop because their actions were likely to embitter the justices.
"Counterproductive!" he shouted at them. "You're alienating them."
But the protesters kept marching. Many of the neighbors of the justices honked car horns in approval of the protesters. One neighbor asked where she could join the next scheduled protest.
"It's a liberal neighborhood," one protester said.

As the protesters walked, "He" slowly drove a car that blasted pro-abortion music.
"My choice if I kill my pregnancy," the song blared.
Before the large pro-abortion march to the Supreme Court in Washington earlier on May 14, activist Rachel Carmona announced a "summer of rage" in support of abortion.
"Let's stand up for ourselves. Let's feel our rage," another speaker said.
Several of the protesters at the march to the Supreme Court announced their willingness to protest outside the homes of Supreme Court justices.
Protester Naomi Coronado Bel Valle said she didn't plan on showing up outside the homes of the justices, but thought there was nothing wrong with it.
"Everyone here has a right to protest, and if they want to stay outside their house, I think that is justified. I mean, I don't really see a problem with that," she said.
According to "They," the protests will continue permanently.
"We'll be back every Wednesday. Same [expletive], same time," she shouted as she walked away from Kavanaugh's house.
Both Republican and Democratic politicians have criticized the protests outside the homes of justices.
"I think it's reprehensible. Stay away from homes and families of elected officials and members of the court," Sen. Dick Durbin (D-Ill.) said.
"Intimidating Supreme Court justices is a federal crime," Sen. Jim Risch (R-Idaho) said, "yet our justices are being terrorized in their own homes and they and their families subjected to threats of violence."