Prostitution Rings Busted in Brooklyn
September 9, 2013 7:21 pm Last Updated: September 9, 2013 7:21 pm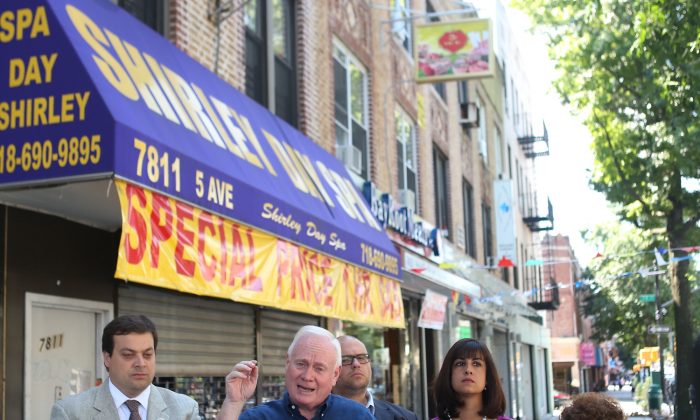 NEW YORK—Five day spas, serving as fronts for brothels, have been shut down in Brooklyn, the Kings District Attorney Charles Hynes announced Monday, Sept. 9.
The day spas were operating in Brooklyn Heights, Dyker Heights, Greenpoint, and Bayridge. Six people have been indicted for involvement in two separate prostitution rings. One individual is facing charges of human trafficking.
According to the indictment, defendants Yun Feng Zhang, Yan Liu, Boxuan Zhang, and Zhan Wei Liu were involved in a prostitution ring, located at 307 Henry St., in Brooklyn Heights and at 223 Calyer Street in Greenpoint. The defendants face a maximum of 25 years in prison, if convicted of sex trafficking.
The second indictment charges two defendants, Nataliya Drevetska and Sergey Talko, who allegedly ran prostitution rings from 1275–77 70th St., in Bay Ridge and 8017 New Utrecht Ave., in Dyker Heights. The defendants would face seven years in prison if convicted of the top count.
Yuliya Doherty was arrested at 1275–77 70th Street, and charged with unauthorized practice of a profession on Sept. 8. Anastasi Karvova was arrested at Utrecht Avenue, and charged with unauthorized practice of a profession and prostitution.
Three more people were arrested on Sept. 6, at 31 Bay Ridge Ave.: Seol-Hwa Park, Meizi Huang, and Fu Lan Quan, who is the owner. All three were charged with unauthorized practice of a profession. Defendants Park and Huang were also charged with prostitution.
The Bay Ridge Avenue location had been the source of repeated complaints and petitions in the community, the district attorney's office said in a press release.
Nineteen people were arrested in July, in Bay Ridge and Dyker Heights in Brooklyn, in connection with the operation of 12 unrelated spas that were serving as fronts for prostitution.