Propylene Glycol and Tea? 8 Ingredients You Didn't Know You Were Eating
September 8, 2013 2:46 pm Last Updated: September 9, 2013 2:32 pm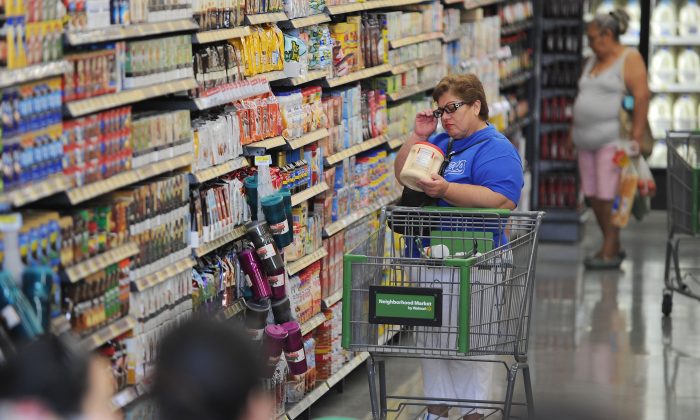 Many health-conscious people read labels, checking for the customary, relatively easy-to-understand elements: the amount of sodium, sugar, vitamins, calories, carbohydrates, and so on. A skim through the ingredients list can also be informative, but for the majority of consumers the ingredient names don't really provide a clear picture of what they're eating. 
How many people know what dipotassium phosphate is? How about propylene glycol? Monosodium glutamate? This latter one is more commonly known as MSG, but would not likely be labeled as such.
Here's a look at some of the ingredients you may not know your eating.
Propylene Glycol
Considered "generally recognized as safe" (GRAS) by the U.S. Food & Drug Administration, propylene glycol is used in antifreeze.
While the version used in cars is ethylene glycol, propylene glycol nonetheless is an anti-freeze. What's so surprising about that? Well it is also found in cake mixes, salad dressings, deodorants, and dog food.
This ingredient is used to preserve food.
So what effect will it have on your body? If you are allergic, you will develop a rash if you ingest it—or in the case of a deodorant, if you put it on your skin.

Hand sanitizer often contains propylene glycol. (Courtesy of the National Institutes of Health)
Dipotassium Phosphate
Like pesticides or fertilizers? Well this ingredient, found in Coca Cola and non-dairy creamers is also found in many pesticides and fertilizers. Yummy! Originally used to slow the growth of bacteria, it also acts as a coagulant for foods such as pudding. It is used in pastas and cereals to reduce the cooking time.
It is also used in waterproofing, disinfecting and sanitizing products.

Untreated phosphate at the Marca factory in the Moroccan-controlled Western Sahara. (Fadel Senna/AFP/Getty Images)
Castoreum
Love raspberry or vanilla flavoring? Chances you may have eaten castoreum, which is a gland that beavers use, along with urine, to mark their territory. This gland is very popular as it is used in perfumes as well as in some food flavorings.
It qualifies as a "natural" ingredient in all-natural foods.

Two North American beavers at the Smithsonian National Zoo on Aug. 29, 2012. (Allison Shelley/Getty Images)
Monosodium Glutamate
We have mostly heard about MSG because many American-Chinese restaurants used this extensively, and unless you see a sign that says "no MSG," generally it is assumed MSG is used. While not recognized as unsafe by the FDA, people have been known to have adverse reactions from high blood pressure to heart rate problems. Most people do not experience any symptoms.
Fast food restaurant KFC lists the ingredients in all of its dishes online; monosodium glutamate appears 61 times in total. 
Mercury
While it's not really an ingredient, mercury is nonetheless present in some fish people consume, especially swordfish, shark, tilefish and king mackerel. In these fish, the mercury level is generally higher than 1.1 parts per million (PPM), and they should be avoided by pregnant, or nursing women and young children.
According to the U.S. Environmental Protection Agency (EPA), the mercury in these fish could affect the nervous system of both mother and unborn child.

Swordfish (National Oceanic and Atmospheric Administration)
Some Ingredients You May Recognize, But Should Watch Out For:
High Fructose Corn Syrup
Almost everything we eat and drink these days has this ingredient. Especially if you order out often from fast food restaurants.
Sugary sodas, such as Fanta, contain as much as 52 grams of sugar. Many people now go out of their way to actually buy the Mexican version of sodas that contain real sugar to avoid high fructose corn syrup (HFCS).
The prevalence of this ingredient in American food has been identified as a cause of obesity and type II diabetes.

Sodium
While not a deadly item if used in moderation, sodium has become a staple additive that Americans have used extensively. Sodium holds excess water in the body. The body requires a certain amount of sodium for the muscles and nerves to function properly, and to control blood pressure and blood volume, according National Institute of Health.
Too much sodium, however, causes high blood pressure, heart diseases, and kidney disease.
Foods containing excessive levels of sodium include cereals, salad dressings, crackers, and bread.

 (Paul J. Richards/AFP/Getty Images)
Trans Fats
Don't be misled by some labels on products that state "0 trans fat." According to an article on Health.com, a labeling loophole allows foods with up to 0.5 grams of trans fat per serving to be labeled "0 trans fat."
Generally when the ingredients list partially hydrogenated oil, the food contains trans fats. In New York City, trans fat has been outlawed in restaurants—but the NYC Department of Health also allows for 0.5 grams per serving.
The ban in New York City restaurants does not apply to sealed packages, such as crackers, made with shortening or partially hydrogenated oil.
Why are trans fats bad? According to the Mayo Clinic, "Trans fat raises your 'bad' (LDL) cholesterol and lowers your 'good' (HDL) cholesterol."