Australian Defence Minister Peter Dutton has defended his comments about potential conflict with China in Taiwan after criticism by both Chinese Communist Party (CCP) spokesman Zhao Lijian and Labor foreign affairs spokesperson Senator Penny Wong.
"This is the propaganda of the Communist Party," Dutton told Sky News Australia Tuesday, referring to Zhao's comments that the defence minister was serving "selfish political gains."
Dutton said that Australia wanted peace in the Indo Pacific region and a good relationship with China. But should the United States get involved in a conflict in Taiwan, then under the ANZUS alliance, he said that it would be "inconceivable" for Australia not to join its ally.
He, therefore, dismissed remarks by both Zhao and Wong, where Zhao said Dutton sought to criticise the CCP for political gain, and Wong said he was "amping up the prospect of war" ahead of the 2022 federal election.
"I don't think I've done anything more than enunciate what I thought was a bipartisan position, but it seems the Labor Party now is questioning their commitment to the [ANZUS] alliance," Dutton said.
In remarks to the Australian National University on Nov. 23, Labor foreign affairs spokesperson, Senator Penny Wong, while outlining the Australian Labor Party's foreign policy initiatives, said the defence minister was "amping up the prospect of war," instead of trying to maintain the "status quo."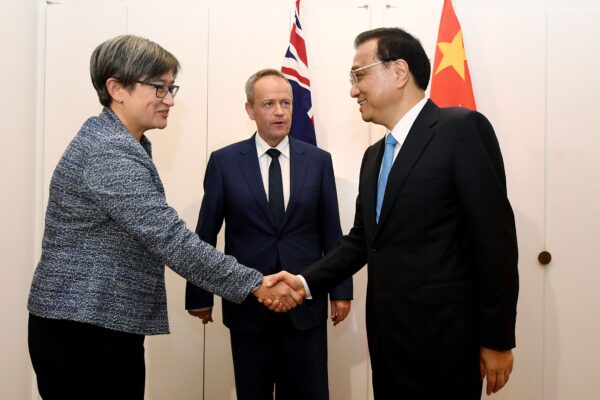 She called it "the most dangerous election tactic in Australian history."
"[When] Peter Dutton talks about it being 'inconceivable' that Australia would not 'join' a war over Taiwan, he is wildly out of step with the strategy long adopted by Australia and our principal ally," Wong said, referring to the U.S. policy of "strategic ambiguity" around the island's sovereignty.
Australia, under its "one China" policy, does not officially recognise Taiwan as an independent country but does have unofficial trade relationships.
Meanwhile, she acknowledged that China was being "more assertive" and insisted that Australia had to "face the reality" that the Indo Pacific region was being "re-shaped" by it.
"The world's demands are changing, and what we offer will need to change with it in order to maintain our economic strength," she said.
Meanwhile, Dutton said the Labor Party must be clear if it would adhere to the alliance with the United States.
Australia is a middle power with "significant equities in the Indo Pacific," where smaller nations look to Australia as a responsible country that would "stand by our principles," he said.
Dutton said that Europe and the United States shared Australia's concern about China's actions, including the "ramping up of their military activity," not just in the South China Sea but also in the East China Sea and across the Indo Pacific.
"Let's be clear about where China is. They've got 20 points of presence in the South China Sea. They are bumping up against Japanese assets in the East China Sea.
He noted Beijing has a fleet of 355 ships and submarines, which are expected to grow to over 400 by 2030.
"There's $20 billion worth of economic coercion against our own country," he said, referring to trade restrictions Beijing placed on Australian exports after Canberra called for an inquiry into the origins of the CCP virus.